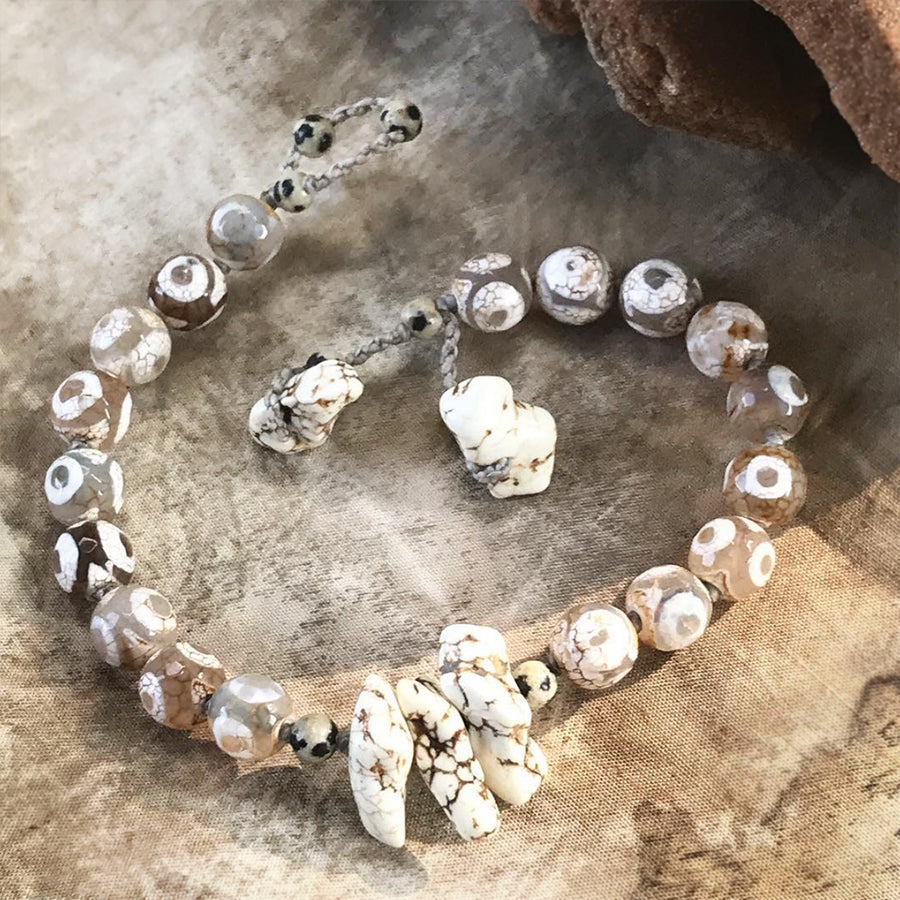 Dzi Agate mala bracelet with Magnesite & Dalmatian Jasper
DESCRIPTION
Mala bracelet with 18 dzi Agate counter beads with a divider of Magnesite and Dalmatian Jasper. The two toggle closures are Magnesite (you can slip both toggle strands through the knotted loop to fasten the bracelet). Tibetan dzi Agate is traditionally used as meditation mala counter beads. These counter beads are knotted individually for strength and flexibility, using light grey micro-macrame cord.
This is a handy meditation / mantra aid for times when you'd like something smaller than a full mala. You can still count up to 108 with these bracelet beads - or in multiples of 27 if you prefer. Simply count back and forth over the divider as many rounds as needed. Use the toggle crystals as the guru bead.
Whilst the total length of this bracelet, including the toggle, is 21 cm (8.3") it would make a good fit for up to a 7" wrist circumference, although if you prefer a more loose fit, this is fine for a smaller wrist too (loose fit but won't slip over your hand even if you wrist is 6"). The counter bead diameter is 0.8 cm (0.3").
This mala comes in one of my handmade leather pouches for safe-keeping. If you would rather have a fabric pouch, please let me know at the time of purchase.

Gift-wrapped at no extra charge.

Read more about Spirit Carrier mala beads
CRYSTAL PROPERTIES
AGATE
The oldest good luck amulet. In ancient times Persian magicians were, according to legend, diverting storms with the powers of Agate. Considered a protective stone (especially for travel), said to shield its keeper against dangers. Increases inner stability, enhances personal courage and fosters self-confidence. Grounding and soothing. Balancing stone for one's energy system to experience oneness instead of duality.
MAGNESITE
Opens up higher realms and states of consciousness, bringing visions and emotional balance. Assists in hearing your heart's desires. High ascension stone that awakens one to spiritual growth. Offers the gift of direct knowing by opening the third eye and crown chakras. Has the potential to create blissful changes in one's life.
DALMATIAN JASPER
Helps in removing barriers that prevent you from moving forward in life, and to discover your true purpose of being in the world. Brings joy and playfulness into one's life. The black spots in this stone are Black Tourmaline, which adds to this stone's protective qualities.
Recently Viewed