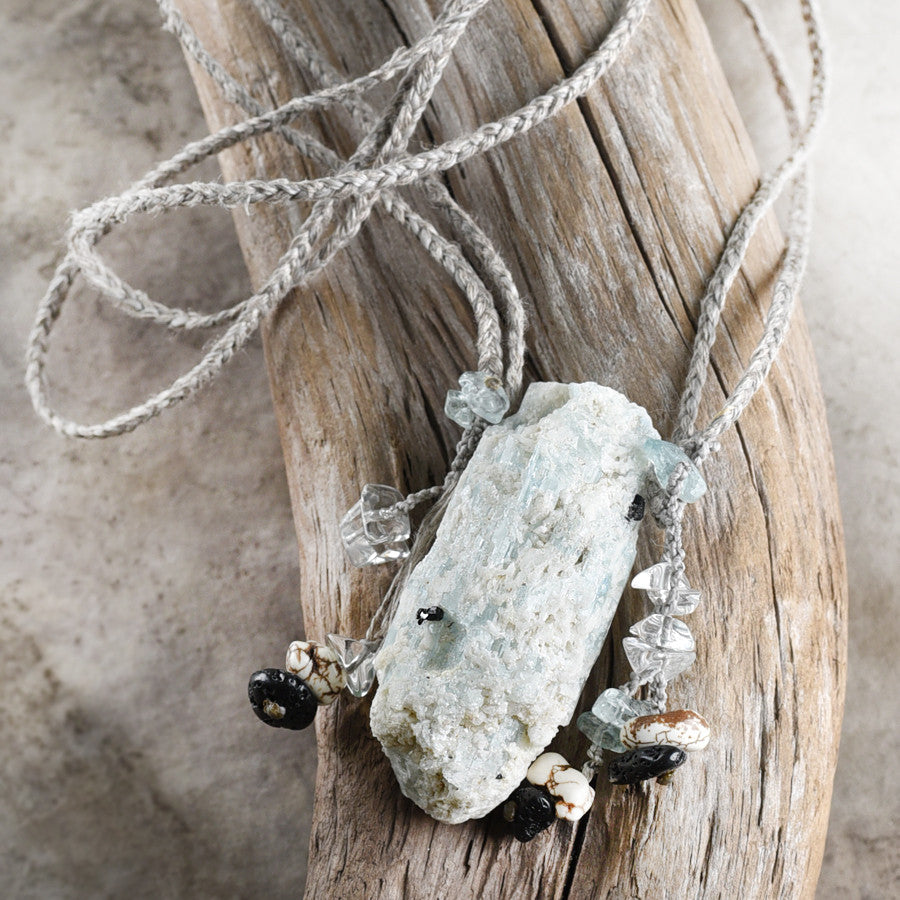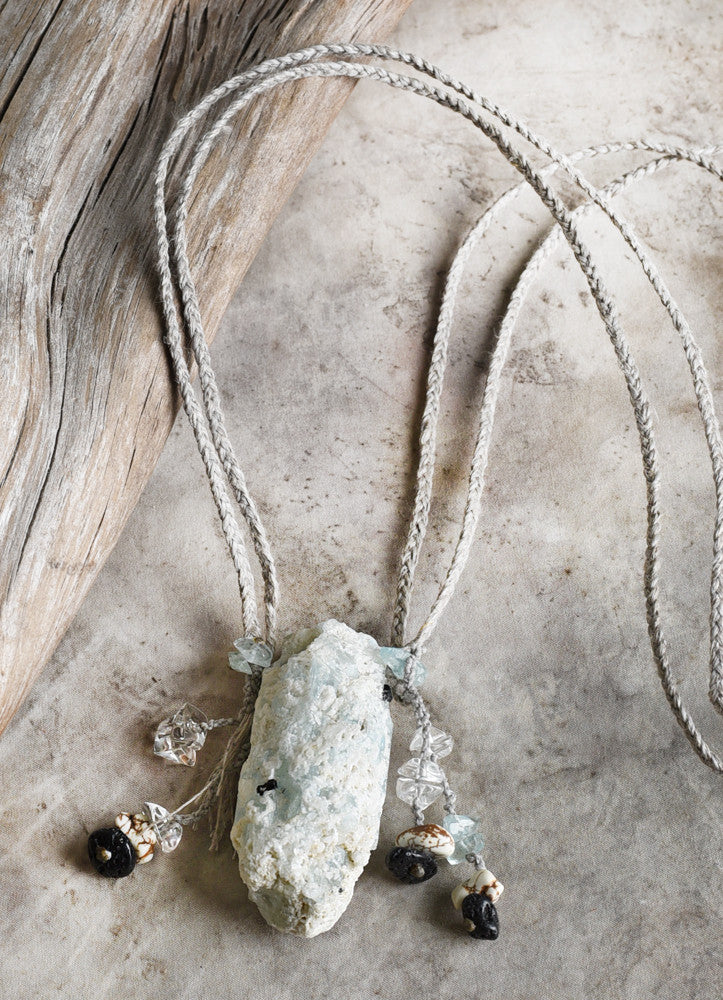 'Earth, Air, Fire, Water' ~ stone talisman with Aquamarine, Lava Stone, Magnesite & clear Quartz
DESCRIPTION
Raw, un-polished Aquamarine in organic, un-bleached double linen braid combined with light grey micro-macrame cord. The Aquamarine also happens to have a tiny Black Tourmaline crystal lodged into it at some point of the crystal's growth cycle. The Aquamarine is accompanied with crystals strands of clear Quartz, Magnesite and Lava Stone, dangling on both sides.
The double linen necklace braid is set length, with an all around measurement of approx. 61 cm (24"). The Aquamarine is approx. 6 cm (2.4") tall and approx. 2.5 cm (1") at its widest.
You'll receive this crystal healing necklace in one of my handmade fabric draw-string pouches - great for the safe-keeping of the necklace. Gift-wrapped at no extra charge.
CRYSTAL PROPERTIES
AQUAMARINE
Connected with the throat chakra, easing verbal self-expression. Helps you communicate your own truth and find your voice. Helps in looking at emotional situations from other perspectives, assists in opening up intuition and to calmly be in the flow of life. Aquamarine also aids in reaching deep meditative states. Resonates with the energy of the ocean. Stone of courage and protection.
LAVA STONE
Stone of vitality, assertiveness and passion. Provides stability in times of change. Grounding and protective. Supports courage and decisiveness. Helps in finding one's 'life path'. Encourages personal development and growth.
MAGNESITE
Opens up higher realms and states of consciousness, bringing visions and emotional balance. Assists in hearing your heart's desires. High ascension stone that awakens one to spiritual growth. Offers the gift of direct knowing by opening the third eye and crown chakras. Has the potential to create blissful changes in one's life.
CLEAR QUARTZ
The universal master crystal that has a harmonising effect on all levels of being. Programmable by intention, so can be used for versatile purposes. Quartz can clear, enhance, amplify, transmute, balance, focus and transmit energy. Raises one's energetic vibration. Attunes its keeper to their higher self. Known as the "Stone of Power" and "Master Healer".
Recently Viewed