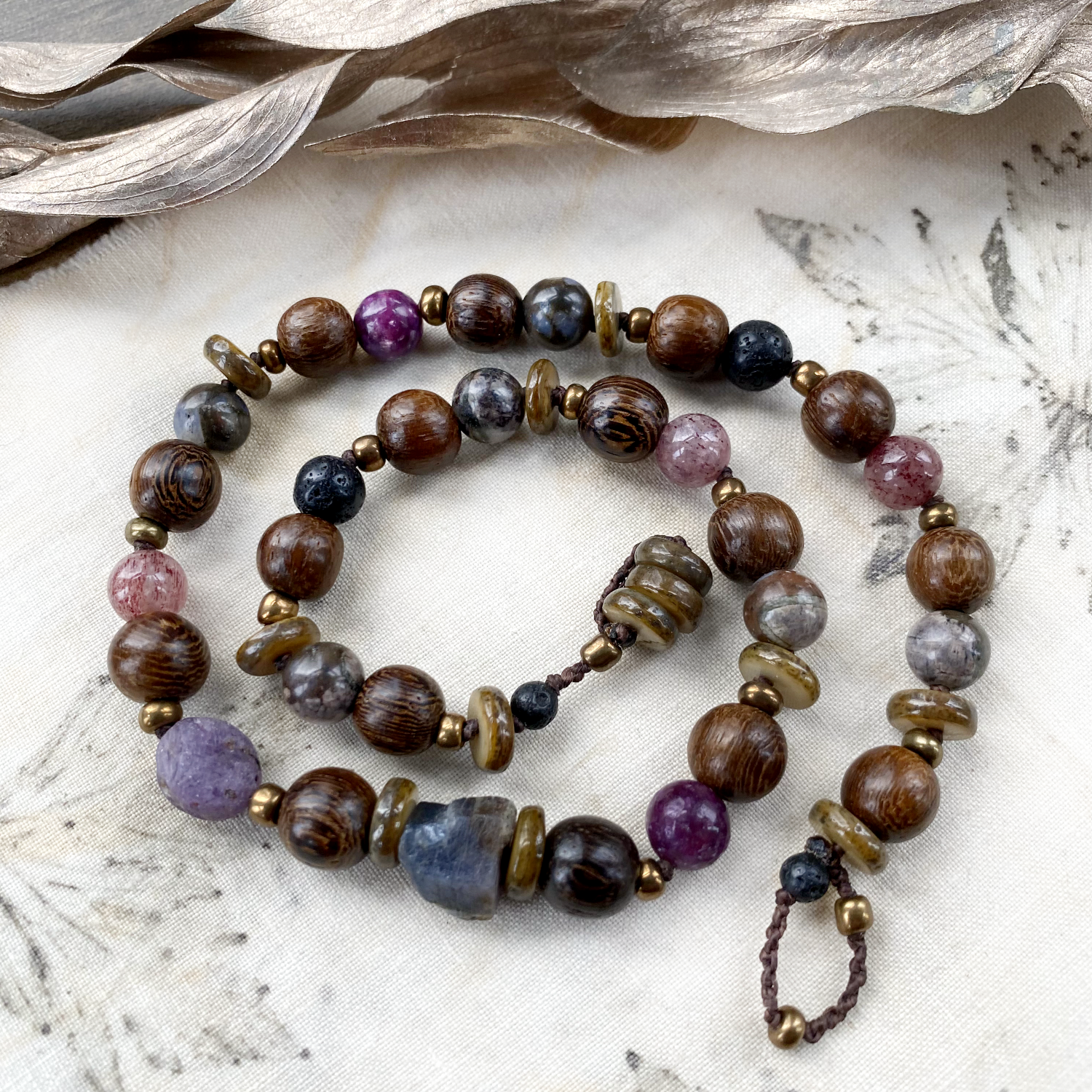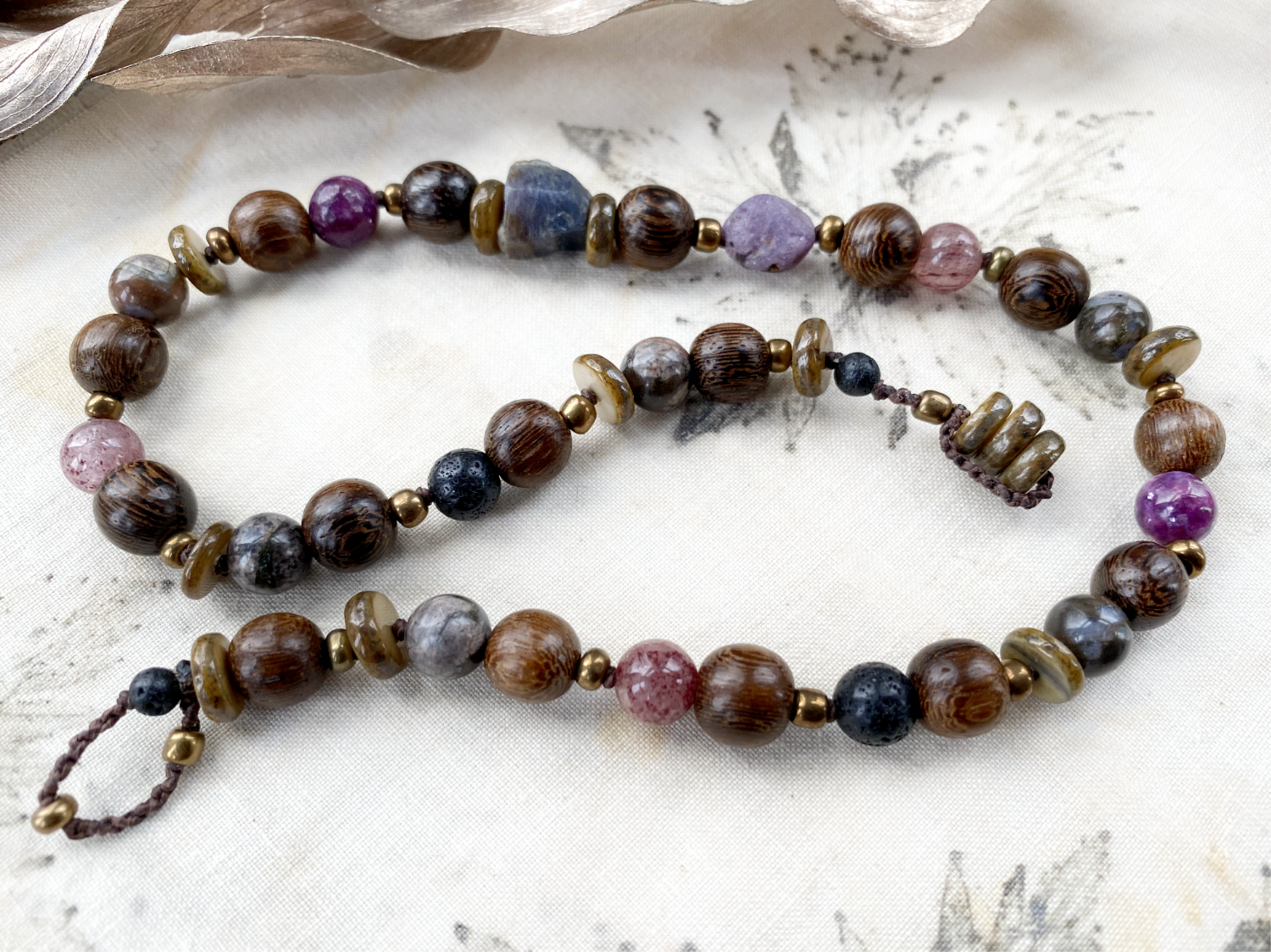 Earthy double-wrap bracelet with crystals & wood ~ for up to 6.5" wrist
DESCRIPTION
Easy to wear daily favourite that matches many outfits too ~ a 15.5" (40 cm) long line of energy activated crystals combined with dark brown roble wood, sea shell disc beads and small organically shaped ceramic beads in matte gold shade. Wraps snuggly around a 6.5" wrist twice (or a smaller wrist if you prefer a slightly more loose fit). The closing toggle clasp is a trio of sea shell disc beads.
The collection of gems in this bracelet create a smooth energy flow - along the strand you'll find rough cut Sapphire, Ruby, Llanite, Lepidolite, Lava Stone and Lepidochrosite included Quartz. The bracelet is strung and knotted with brown micro-macrame cord.
This one-of-a-kind bracelet comes in a fabric drawstring pouch, and gift-wrapped at no extra charge.

Read here how to take care of your crystal jewellery.
CRYSTAL PROPERTIES
SAPPHIRE
A stone of psychic activation, enhances insight and focus. Revered through ages as bringing good fortune and spiritual insight. Highly protective. Grounds higher knowledge and helps one to stay centred. Evokes the wisdom needed to see past any situation into its underlying truth. Helpful in channeling healing energy from the highest source, facilitating access to deeper levels of consciousness and freeing it's wearer from mind-made fears. Increases learning ability. Attracts prosperity.
RUBY
Increases vitality and one's life-force energy, very energising, excellent for women. Promotes clear mind, motivation and concentration. Associated with love, passionate commitment and heart-based closeness, offering help in shedding past hurts. Encourages you to 'follow your bliss' and have courageous attitude. Supports closeness and commitment. Shielding crystal to keep your energy field in your own command. 
LEPIDOLITE
An open, inviting stone, offering its gentle love readily when you just hold it in your hand. Useful in reducing depression and stress, it can assist in moving calmly through life transitions. In crystal healing practice, Lepidolite has been used to ease emotional traumas, panic attacks and addictions. Lepidolite is said to help you to nurture yourself and be optimistic, and to clear out ties to the past, assisting you in moving freely forward in joy and happiness.
LLANITE
Stone of harmony. Helps you bring together all your powers: physical, mental, emotional, spiritual and use this focus to increase awareness of your possibilities, opportunities and options in creating your ideal life. Empowers you to maintain healthy boundaries and to remain in your own core power. Deeply healing, and helpful in discovering your soul's true purpose. Stimulates creativity. Shields against EMFs.
LAVA STONE
Stone of vitality, assertiveness and passion. Provides stability in times of change. Grounding and protective. Supports courage and decisiveness. Helps in finding one's 'life path'. Encourages personal development and growth.

LEPIDOCHROSITE IN QUARTZ
Stimulates intuitive spiritual awareness, at the same time gently grounding to Earth energy. Raises consciousness, and can be used for focusing intent during energy healing sessions. Calming and soothing, aids in releasing fears and aligning one with Divine will. A stone of 'allowing' and trusting the flow of life.
Recently Viewed