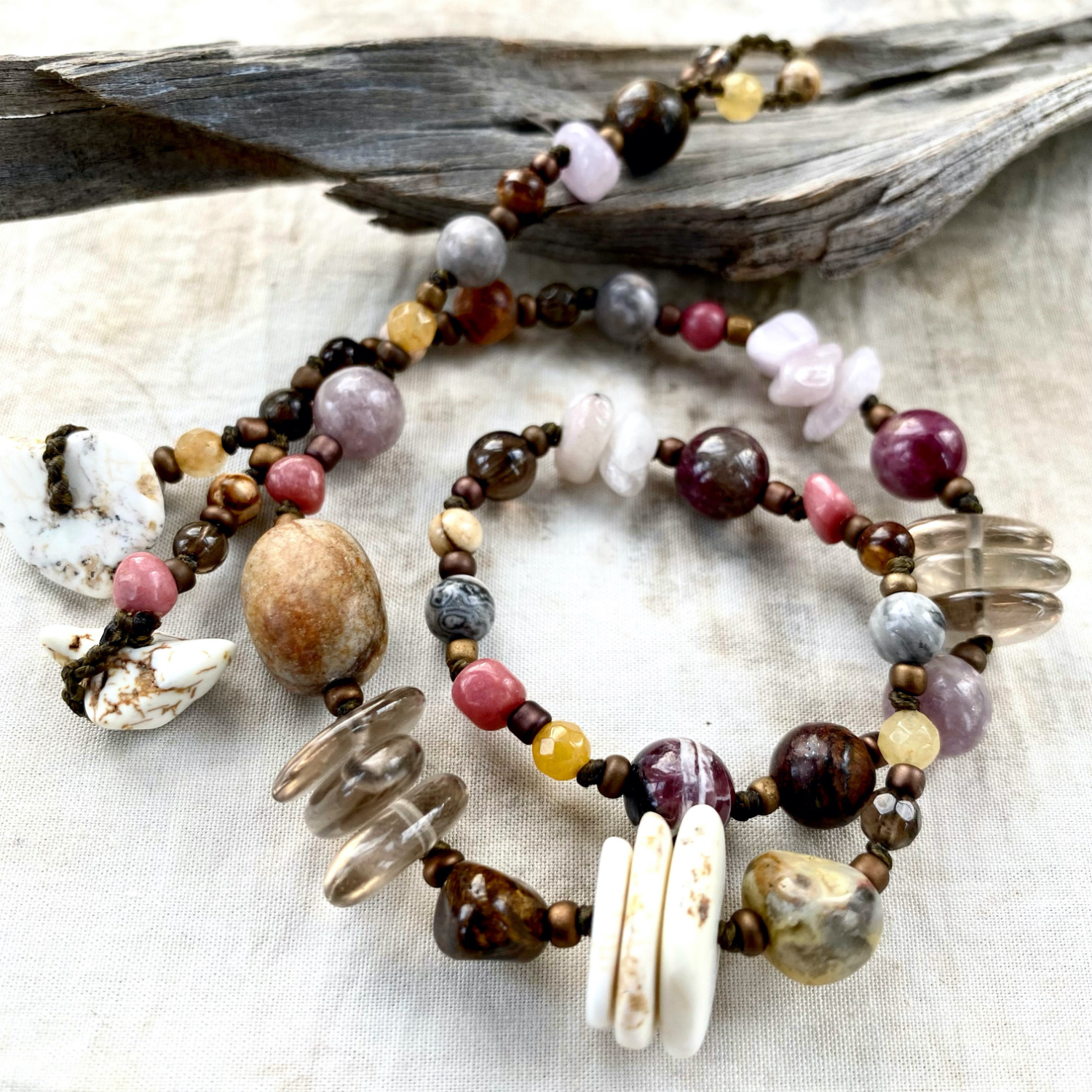 Double-wrap crystal healing bracelet in earthy tones ~ for up to 6.5" wrist
DESCRIPTION
Easy to wear daily favourite that matches many outfits too ~ a 15" (38 cm) long line of energy activated crystals that wraps comfortably around 6.5" wrist twice. The closing toggle clasp consists of two strands ending in Magnesite - both can be slipped through the knotted loop to close the bracelet securely.
The collection of gems in this bracelet is a veritable feast! Along the strand you'll find Smokey Quartz, Kunzite, Magnesite, Dzi Agate, Tourmaline, Yellow Calcite, Bronzite, Zebra Jasper, Rhyolite, Silver Leaf Jasper, Rhodonite and Crazy Lace Agate. The bracelet is strung on dark brown micro-macrame cord, alternating the crystals with matte brown glass seed beads.
This crystal healing bracelet comes in a fabric drawstring pouch, and gift-wrapped at no extra charge. 
Read here how to take care of your crystal jewellery.
CRYSTAL PROPERTIES
The energies of the four most prominent crystals in the bracelet:

MAGNESITE
Opens up higher realms and states of consciousness, bringing visions and emotional balance. Assists in hearing your heart's desires. High ascension stone that awakens one to spiritual growth. Offers the gift of direct knowing by opening the third eye and crown chakras. Has the potential to create blissful changes in one's life.
SMOKEY QUARTZ
A grounding and calming stone that elevates moods and dissipates negative emotions. "A Stone of Serenity", it is comforting and protective for one's aura. Smokey Quartz is thought to assist in creative endeavours and also in setting personal boundaries. Offers protection against electromagnetic rays. A good healing stone for improving general feeling of well-being. Relieves anxiety and worry, wards off confusion. Shielding crystal to create a calm, safe environment.

SILVER LEAF JASPER
Harmonious, protective stone. Considered a good amulet for times of travel (whether physical or astral). Instils a feeling of wholeness and serenity, a sense that all is well. Great support for one's will power and personal courage. Healing effect on emotional tension. Has been called a "stone of natural wisdom", awakening one's sense of joy in life.
KUNZITE
Stone of emotion, connecting heart and mind for optimum healing. Beneficial for those who find it hard to adjust to life on the earth plane. Helps in overcoming heartache and loss. Soothing in discordant situations and protective against harm. Good for those who wish to open up to life more to receive its gifts and opportunities. Assists in connecting with others and to embrace unconditional love.
Recently Viewed