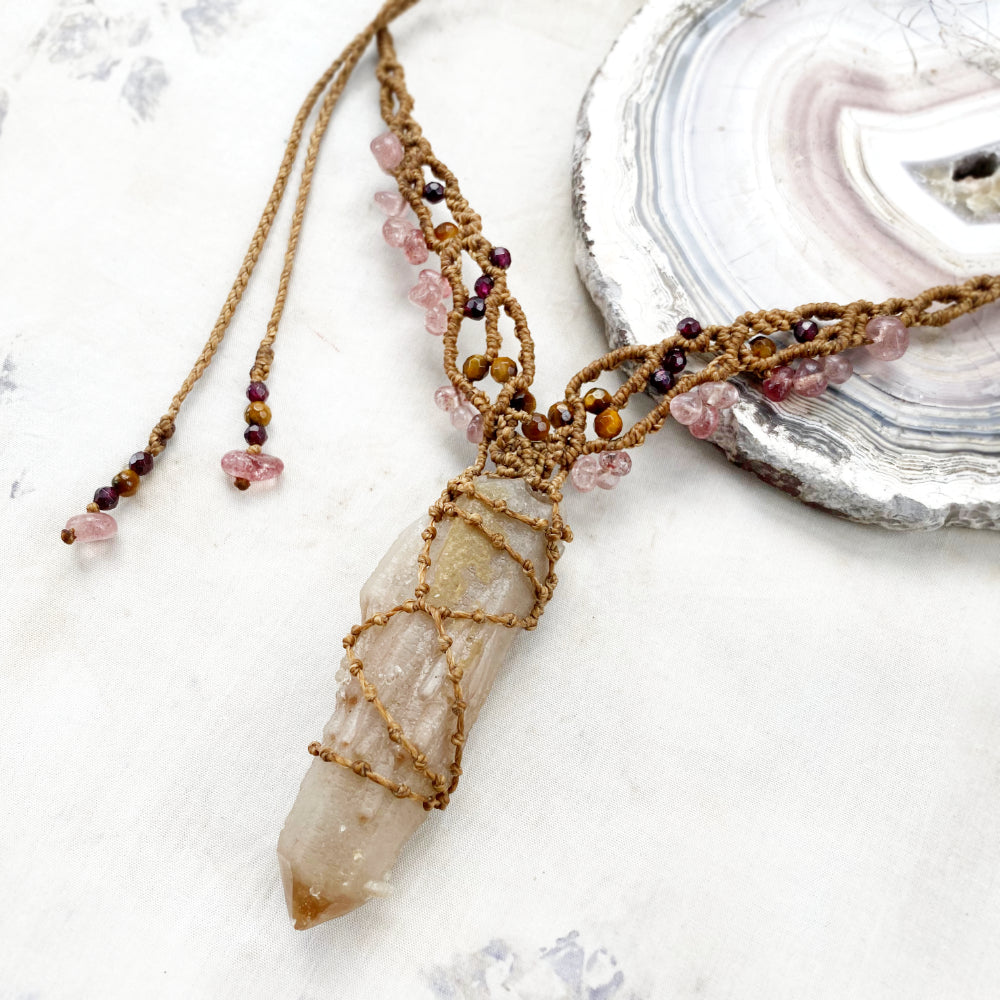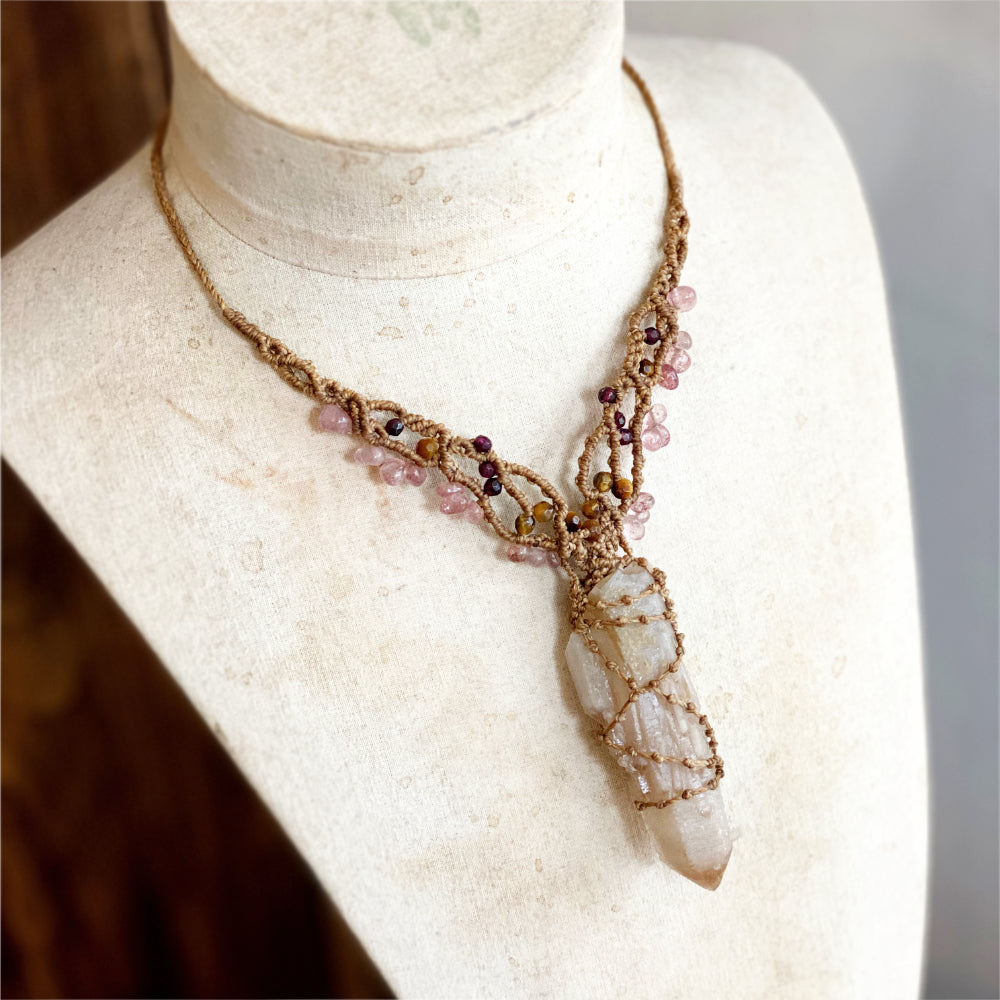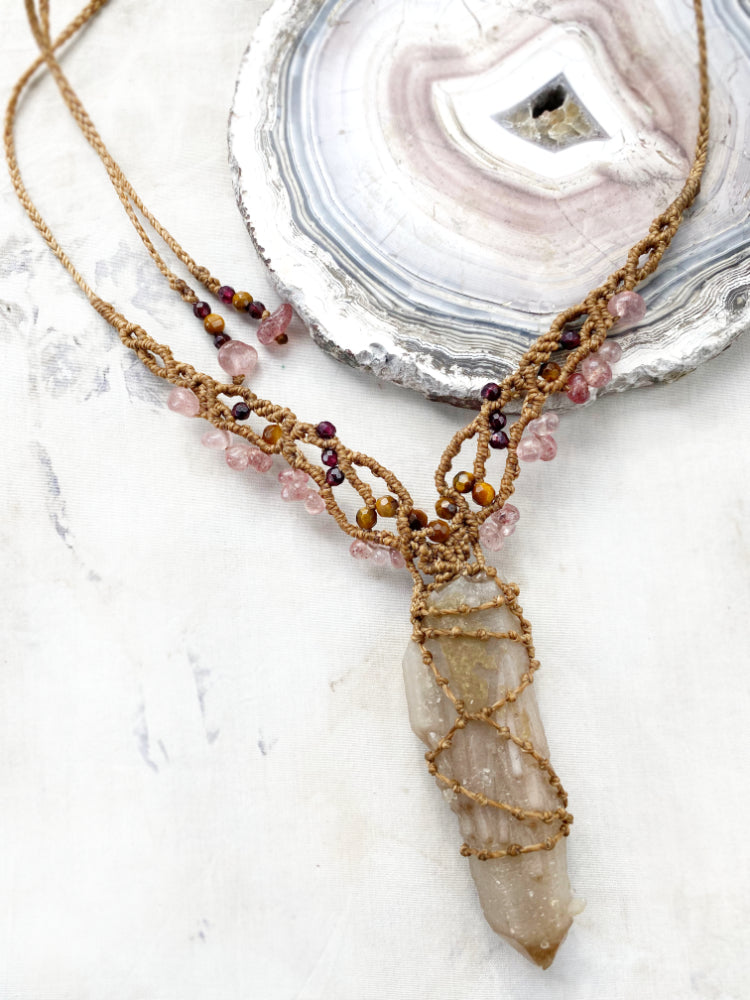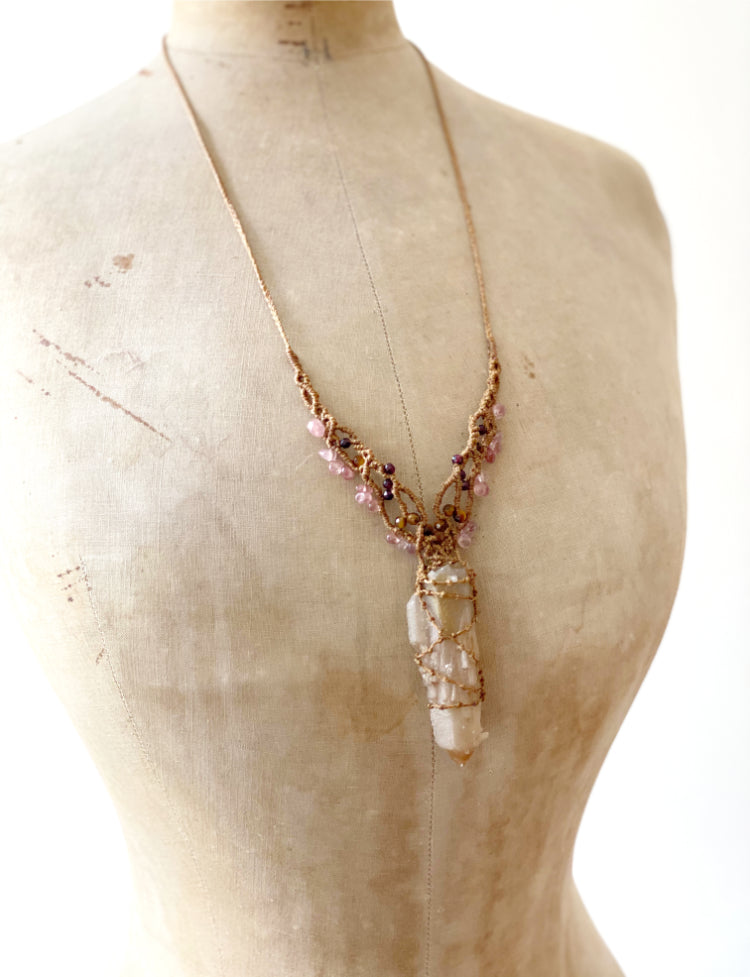 Elestial Candle Quartz crystal healing amulet
DESCRIPTION
Crystal healing amulet with large Candle Quartz point. A wonderful 'old soul' crystal showing elestial markings and a mysteriously darker tip. The necklace is intricately knotted and braided with golden brown micro-macrame cord, with highlights of Tiger Eye, Lepidochrorite in Quartz and Almandine Garnet. The ends of the adjustable necklace cords are decorated with matching crystals.
The length of the necklace is adjustable from very short down to solar plexus level. The Candle Quartz point is approx. 7 cm (2.8") tall and approx. 2 cm (0.8") at its widest.
There are no metals in this necklace so would be particularly suitable for those with metal sensitivities, energy workers and those who simply prefer not to wear metal.
You'll receive this crystal healing necklace in one of my fabric draw-string pouches, great for the safe-keeping of the necklace. Gift-wrapped at no extra charge.

Read here how to take care of your crystal jewellery.
CRYSTAL PROPERTIES
CANDLE QUARTZ
Also known as 'Atlantean Lovestar', a great tool for seekers of truth to replace sorrow and depression with hope and comfort. Opens, balances and smooth the heart chakra. Offers access to ancient insights, and can bring a sense of abundance in one's daily life.

Elestial crystals carry deep spiritual healing energy. They have a majestic vibe to them. They link multiple dimensions, timelines and levels of consciousness, integrating increasingly higher vibrations of light into its keeper's energetics. When an Elestial comes to your life, you're ready to fully delve into the depths and the heights of your own inner wisdom, which accelerates your spiritual progress. Attuned to the angelic domain, elestials make great crystal companions that will no doubt journey with you for long-term.
TIGER EYE
Helpful stone for learning to feel connected to one's personal strength. Excellent stone for attracting prosperity. But it has also a highly spiritual energy and is useful in understanding any life cycle that one is living through. Helps in seeing through illusions and discerning the truth in any situation. A highly protective stone. Good for strengthening the solar plexus (3rd) chakra and developing one's will power and courage.
LEPIDOCHROSITE IN QUARTZ
Stimulates intuitive spiritual awareness, at the same time gently grounding to Earth energy. Raises consciousness, and can be used for focusing intent during energy healing sessions. Calming and soothing, aids in releasing fears and aligning one with Divine will. A stone of 'allowing' and trusting the flow of life.
ALMANDINE GARNET
Stimulates one's life force. Opens the root chakra while drawing earth energy into the body, helping you to feel secure and centred. Awakens the "inner fire" of creativity. Highly protective stone and a great companion to keep you energised. Excellent good fortune and 'success' stone in both social and career ventures, adding positive vibes both in your personal or business life. Stone of purification and cleansing. Symbolises passionate, devoted love.
Recently Viewed