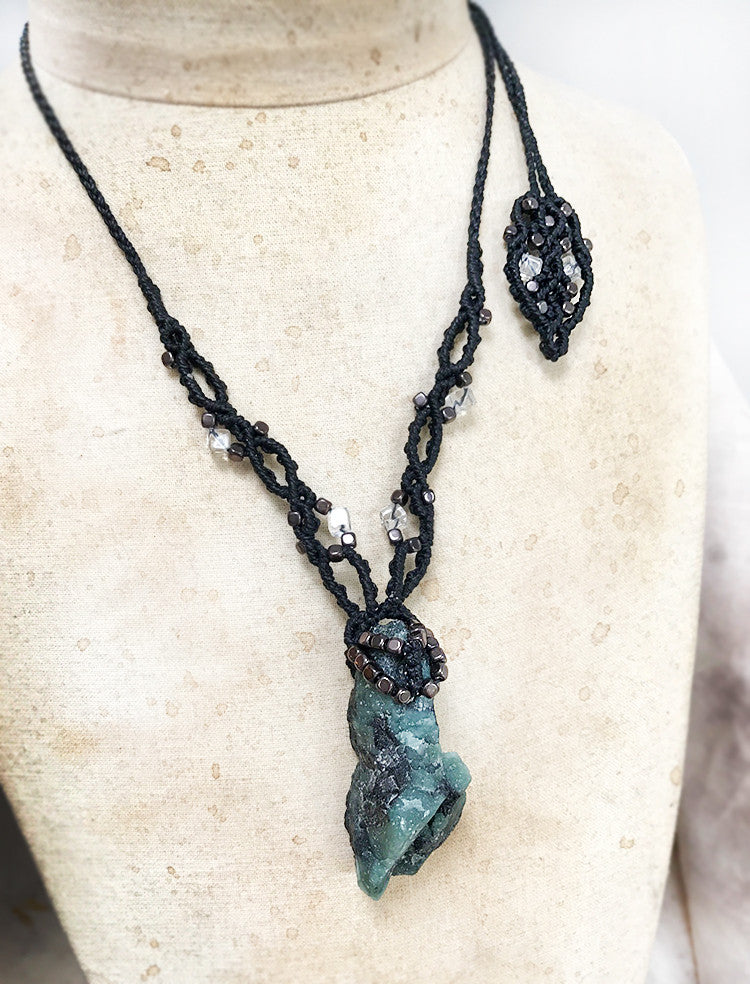 Emerald crystal healing amulet
DESCRIPTION
Crystal healing necklace with raw Emerald, knotted with black micro-macrame cord and highlighted with small Hematite and clear Quartz crystals. This would be a stylish crystal energy pendant to wear with that little black dress for example - the tiny Hematites offer some sparkle, and there's an intricate detail at the back of the neck: when worn short, the braid end decoration adorns the wearer's back.
Please note that whilst the length of this necklace is adjustable, the range is shorter than other Spirit Carrier amulets normally. This one can be worn from very short down to just above the heart level - the longest all-around length being approx. 70 cm (27.5"). The Emerald is approx. 5 cm (2") tall and just over 2 cm (0.8") at its widest.
You'll receive this crystal healing necklace in one of my fabric draw-string pouches, great for the safe-keeping of the necklace. Gift-wrapped at no extra charge.
CRYSTAL PROPERTIES
EMERALD
Stone of love. Opening and nurturing to the heart chakra. Benefits heart-based intuition. Promotes joyous emotions, enhances emotional and spiritual balance. Restores confidence where needed. Brings visionary insight, especially relating to one's vocation. In crystal lore, Emerald is the sacred stone of the goddess Venus. It was the symbol of eternal life in ancient Egypt. (Emerald is one of the four 'precious' gemstones, the other three being Ruby, Sapphire & Diamond. Other gemstones are considered 'semi-precious'.)
HEMATITE
Creates a strong sense of self and enhances the creative flow. Relieves stress. Revitalises, enhancing personal magnetism and optimism. Helps in releasing self-imposed limitations to find your own unique gifts. A stone of balance and equilibrium. Grounds when feeling scattered, increases alertness and vigilance.
CLEAR QUARTZ
The universal master crystal that has a harmonising effect on all levels of being. Programmable by intention, so can be used for versatile purposes. Quartz can clear, enhance, amplify, transmute, balance, focus and transmit energy. Raises one's energetic vibration. Brings clarity and filters out distractions. A deep soul cleanser, attuning its keeper to their higher self. Each Quartz crystal is unique with its own character and teachings it offers, all are known as "Stones of Power" and "Master Healers".
Recently Viewed