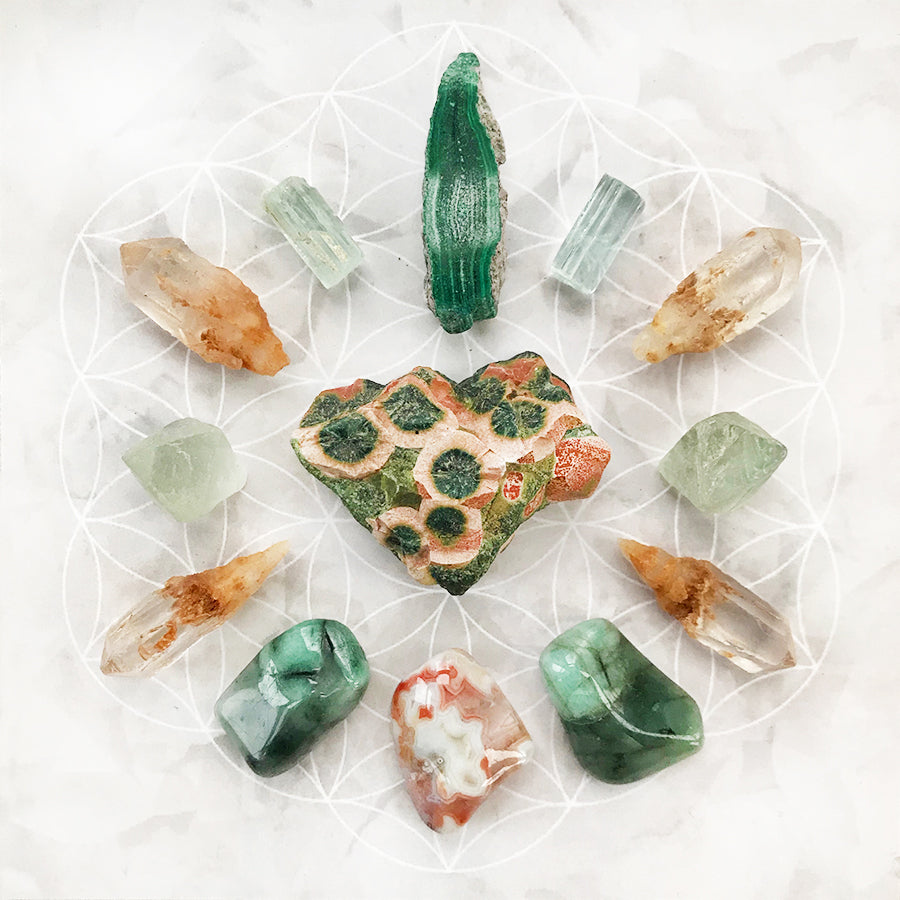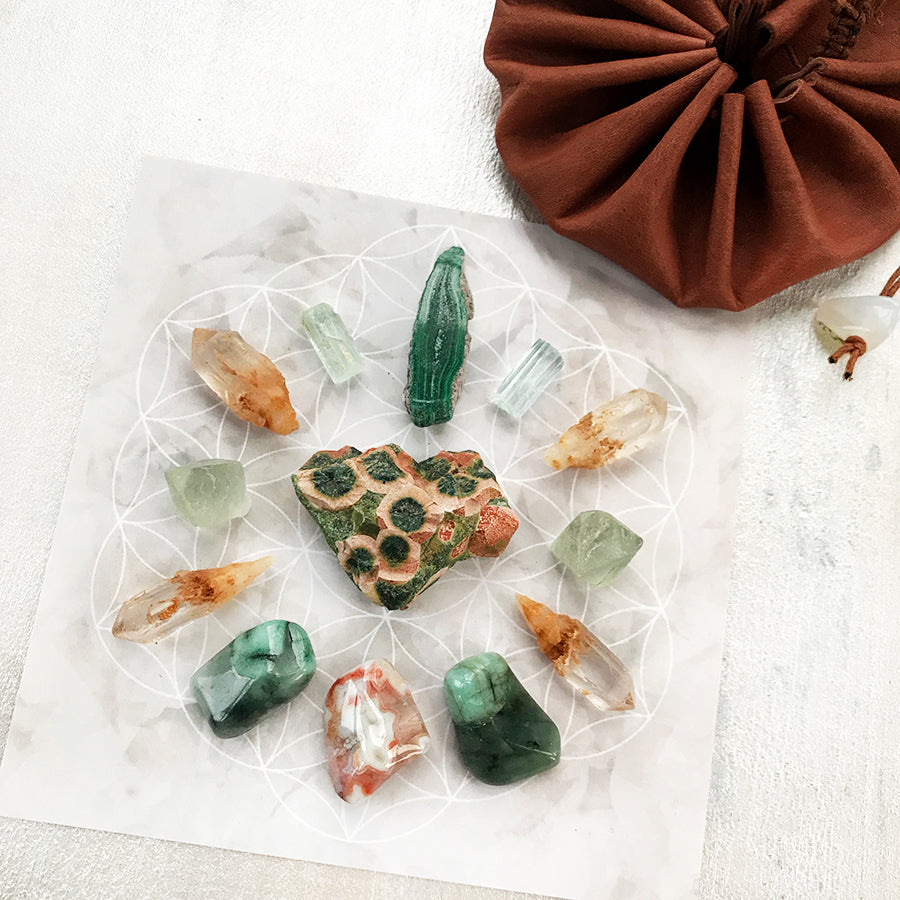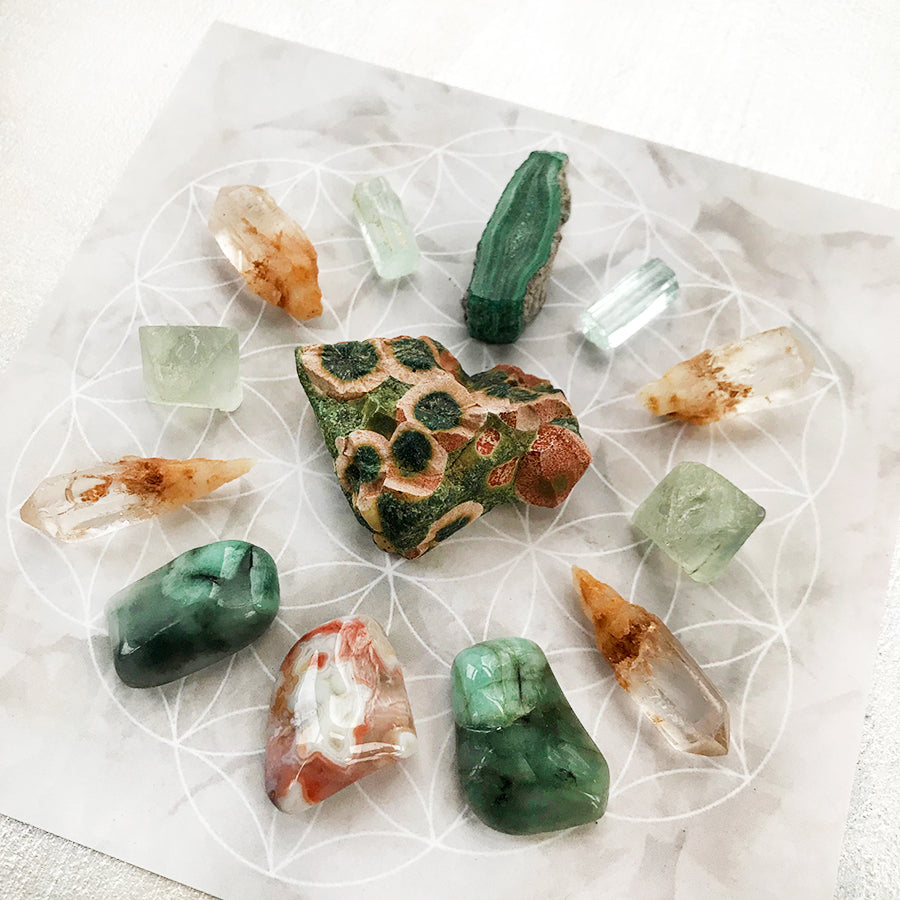 'Emotional Healing' ~ crystal grid set
DESCRIPTION 
One-of-a-kind crystal grid set with 13 crystals in a leather drawstring pouch, comes with Spirit Carrier's 'Flower of Life' sacred geometry base. You can use the photo here as a guide how to set the crystals on the grid when you receive it, or you may choose to change the positions according to your own intuitive guidance - as well as substituting some with crystals from your own collection (or adding more).
The crystals in this grid (pictured) that you receive, are not programmed as such by me because it is important that your energy is what sets your own intention for the grid. However, these crystals are selected and chosen specifically with the purpose of creating deep-reaching healing on emotional level that may or may not yet have given you physical symptoms. Each crystal in the grid has a multitude of skills which, woven together into a group, will amount to a greater whole than each crystal would achieve on its own. This is the beauty of combining crystals, their joint synergies create a resonance that activates with your personal intention to serve your highest good.

These crystals are cleansed and energised with the efficient methods I use when I send crystals onwards from my studio, and they're empowered to purely embody their own full potential and crystal soul essence. Please read the individual crystal properties associated with the seven types of crystals in this grid and when you set up the grid, do so with a clear intention - whatever it might be personally for you in terms of creating emotional balance: whether it is about healing heartache, or wanting to feel safe in the world, or shedding the weight of past hurts, or simply creating a healing space for yourself in which to recuperate from emotional upheavals. Once your grid is set in your chosen calm place, focus on your intention. If you have adopted your own methods for activating a crystal grid, do what feels natural to you. If you're new to crystal grids, there's no complexity needed. Simply hold your focus, state your intention clearly and feel a heart connection with the grid. You may use your hand/fingers to touch the centre stone (followed by the others) if this helps your focus. You will begin to feel a flow of energy and will learn to notice, whether through a physical sensation in your body or a general shift in emotions within, when the grid activation resonates as complete and you can allow it to be. But do not forget about the grid completely so that it starts to gather dust! Every few days you may want to say hello to your grid, perhaps light a candle, and/or touch the centre stone and feel gratitude for the fact that what you intend, you manifest - with the healing first taking shape on energetic level, entering into your awareness one sensation at a time.
Most of all relax, follow your own intuition and enjoy!

Crystals included for this grid (13):

1x Ocean Jasper (natural, roughly heart-shape)
1x Malachite
1x Crazy Lace Agate
2x Emerald
2x Fluorite
2x Aquamarine
4x Quartz points
Included is also the pictured 'Flower of Life' crystal grid base which is sized 12 x 12 cm (4.7" x 4.7") 
You'll receive the above crystals in a handmade drawstring leather pouch. If you'd rather have a fabric pouch, please let me know at the time of purchase.
CRYSTAL PROPERTIES
OCEAN JASPER
Deep reaching healing stone, assists in seeing the past in a new light in order to create a future filled with joy and happiness. Known as the 'Atlantis stone'. Helps elevate mood and dispel stress-related energies. Ignites feelings of self-worth. Increases patience, elevates mood, releasing old hurts. Works with solar plexus, heart and throat chakras, aligning you with your own personal power.
MALACHITE
Known as a stone transformation. Brings abundance, helps in manifestation and when setting intentions. Draws emotions to the surface to be cleared, especially heart-related matters, and can be used for deep energy clearing, as well as for creating balance in the matters of the heart. Assists in reaching your core self without fear, and to create new beginnings. Malachite's effects in clearing energy blockages may be sudden. Also used for protecting its wearer from the effect of electromagnetic fog (EMF).
EMERALD
Stone of Love. Opening and nurturing to the heart chakra. Benefits heart-based intuition. Promotes joyous emotions, enhances emotional and spiritual balance. Restores confidence where needed. Brings visionary insight, especially relating to one's vocation. In crystal lore, Emerald is the sacred stone of the goddess Venus. It was the symbol of eternal life in ancient Egypt. Also known as a great aid for manifesting prosperity.
CRAZY LACE AGATE
A stone of laughter and happiness, offering support and encouragement, elevating one's mood and promoting optimism. Uplifting stone that alleviates emotional pain and promotes self-acceptance. Useful for overcoming any kind of trauma, encouraging one to start over. Promotes inner stability.
FLUORITE
Excellent for cleansing one's aura, also detaching unwanted energy cords. Grounds excessive energy, beneficial for all levels of healing. Helpful in achieving spiritual wholeness. Protective, stabilising and harmonising stone. Facilitates personal growth. Awareness expanding. Anchors intuitive insights into the physical plane. Offers strong psychic protection, helping to discern energies one comes in contact with. Helps in being objective and focusing on what is essential. Also known as absorbing environmental EMF.
AQUAMARINE
Connected with the throat chakra, easing verbal self-expression. Helps you communicate your own truth and find your voice. Helps in looking at emotional situations from other perspectives, assists in opening up intuition and to calmly be in the flow of life. Aquamarine also aids in reaching deep meditative states. Resonates with the energy of the ocean. Stone of courage and protection.
QUARTZ
The universal master crystal that has a harmonising effect on all levels of being. Programmable by intention, so can be used for versatile purposes. Quartz can clear, enhance, amplify, transmute, balance, focus and transmit energy. Raises one's energetic vibration. Brings clarity and filters out distractions. A deep soul cleanser, attuning its keeper to their higher self. Each Quartz crystal is unique with its own character and teachings it offers, all are known as "Stones of Power" and "Master Healers".
Recently Viewed