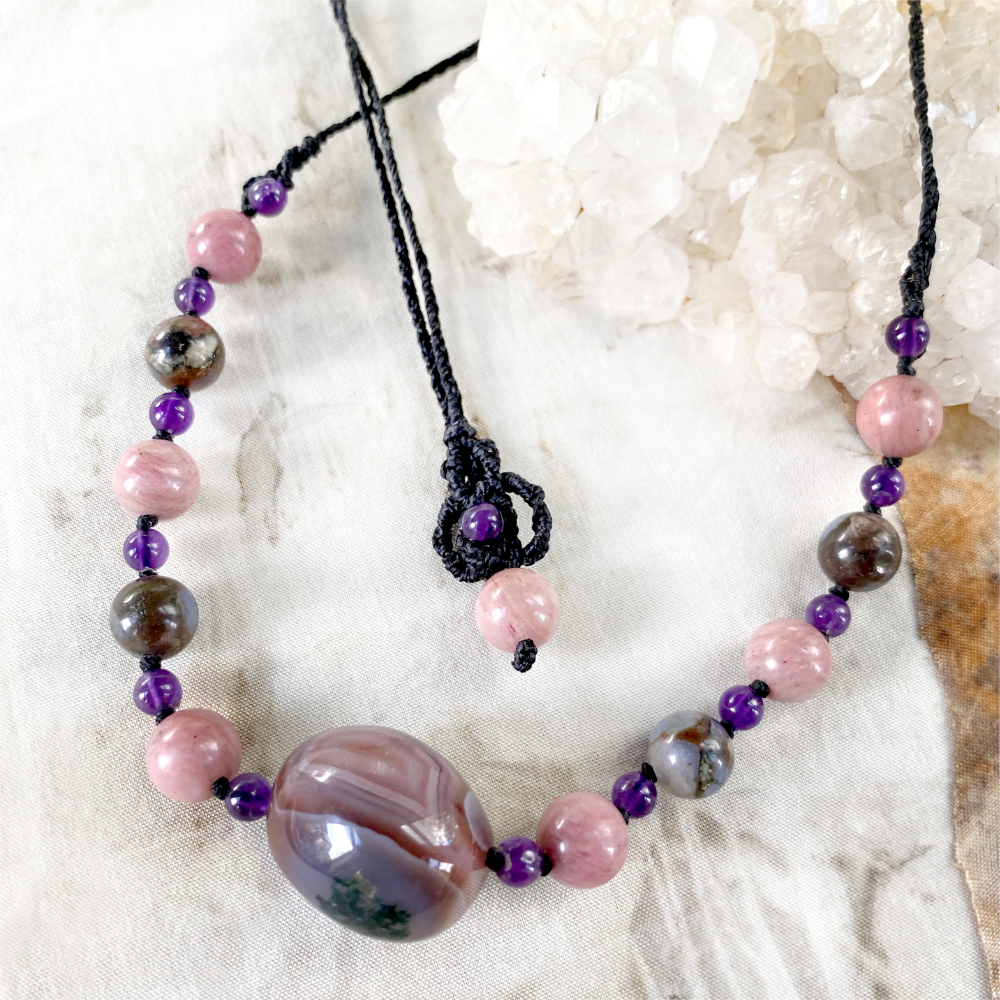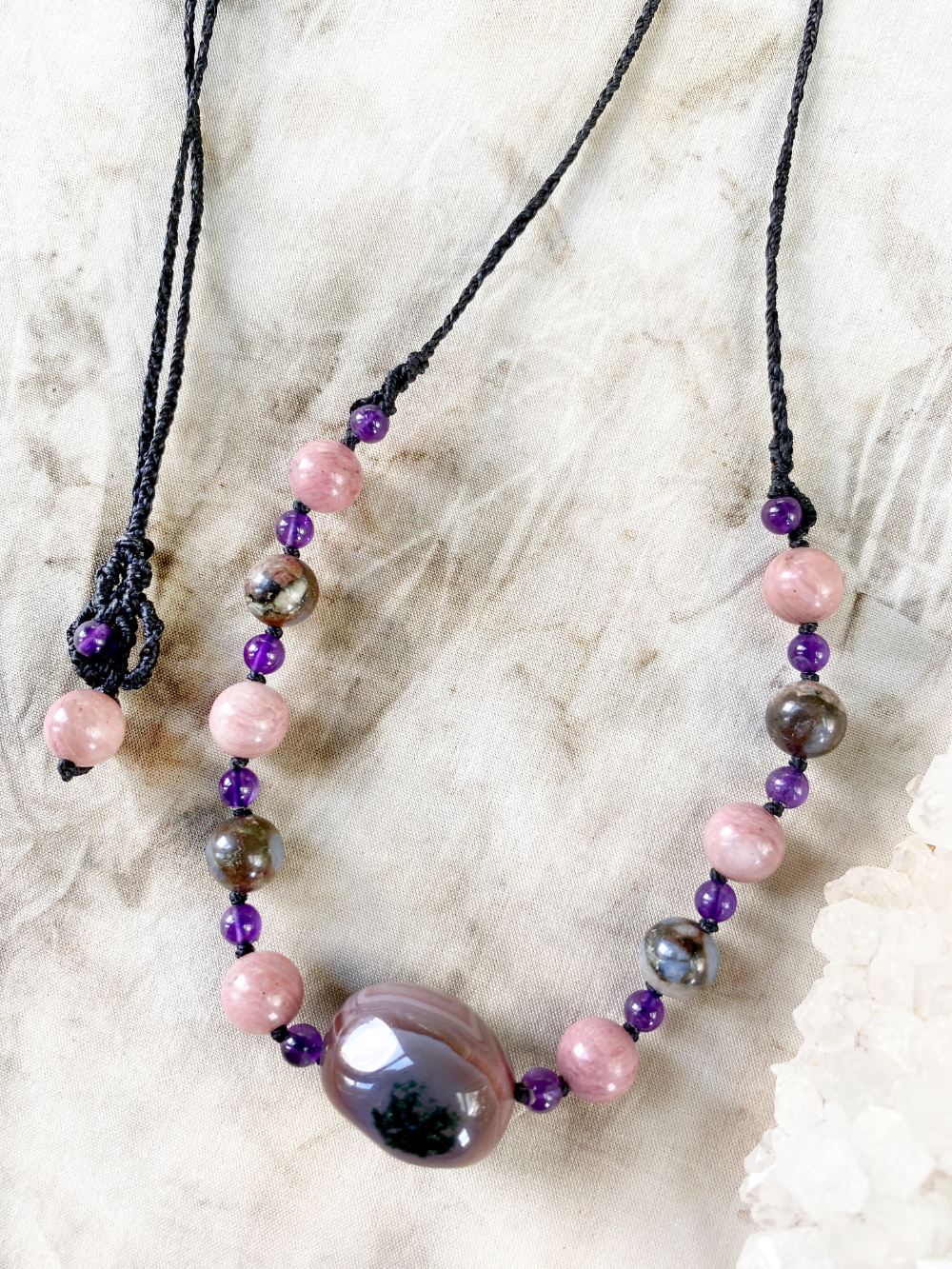 'Energy Flow' crystal healing amulet with Botswana Agate
DESCRIPTION
Crystal healing necklace with a row of smooth crystal beads, energy-activated and ready to benefit from in a style that's subtle and goes with most outfits. This necklace combines the energies of Botswana Agate, Rhodonite, Llanite and Amethyst. The ends of the black necklace braids are joined into a decorative 'seal' with matching crystals. This is easy daily wear with pure crystal energy that offers a multitude of properties to benefit your life.
The row of crystals is approx. 18 cm (7") wide, and the central Agate is 2 cm (1") in width. As this necklace will look best worn at a shorter length, it is adjustable from as short as you wish to just above the heart level.
There are no metals in this necklace so would be particularly suitable for those with metal sensitivities, energy workers and those who simply prefer not to wear metal.
You'll receive this crystal healing necklace in one of Spirit Carrier's fabric draw-string pouches, great for the safe-keeping of the necklace. Gift-wrapped at no extra charge.

Read here how to take care of your crystal jewellery.
CRYSTAL PROPERTIES
BOTSWANA AGATE
Fosters acceptance of the past and helps one to move on. Helps in dispelling resentments and hurts, connecting with inner peace and serenity. Assists in understanding life's lessons and to build courage to face whatever comes your way. Anchors inner stability amidst chaos. Enhances perception and focus, and being more proactive.

RHODONITE
Known for its capacity to bring emotional healing, releasing blockages in the heart chakra. Balances emotions during chaotic times. Restores calm after emotional upheavals. Beneficial for the harmony of close relationships. A beautiful stone specifically for discovering one's inner gifts and can act as a catalyst for fulfilling one's life purpose. Stone of self-confidence that supports you in trusting your own heart.

LLANITE
Stone of harmony. Helps you bring together all your powers: physical, mental, emotional, spiritual and use this focus to increase awareness of your possibilities, opportunities and options in creating your ideal life. Empowers you to maintain healthy boundaries and to remain in your own core power. Deeply healing, and helpful in discovering your soul's true purpose. Stimulates creativity. Shields against EMFs.
AMETHYST
Instils inner peace, promotes self-discovery and aids in relaxation. Associated with the crown chakra, known as a "stone of balance" and positive transformation. Thought to increase spiritual awareness and psychic abilities, initiating higher knowing and greater understanding. Helps in assimilating new ideas and manifesting thoughts into action. Symbolises a connection to the Divine. A well-known support stone for those wanting to break old patterns to create a new, harmonious life.
Recently Viewed