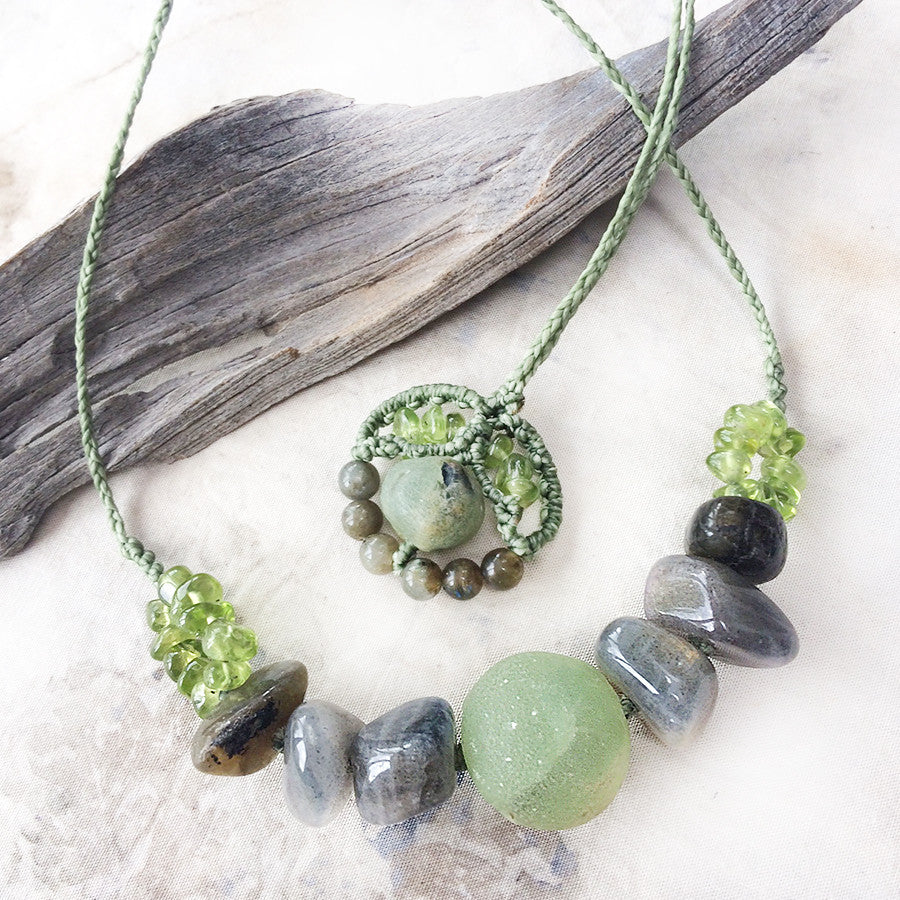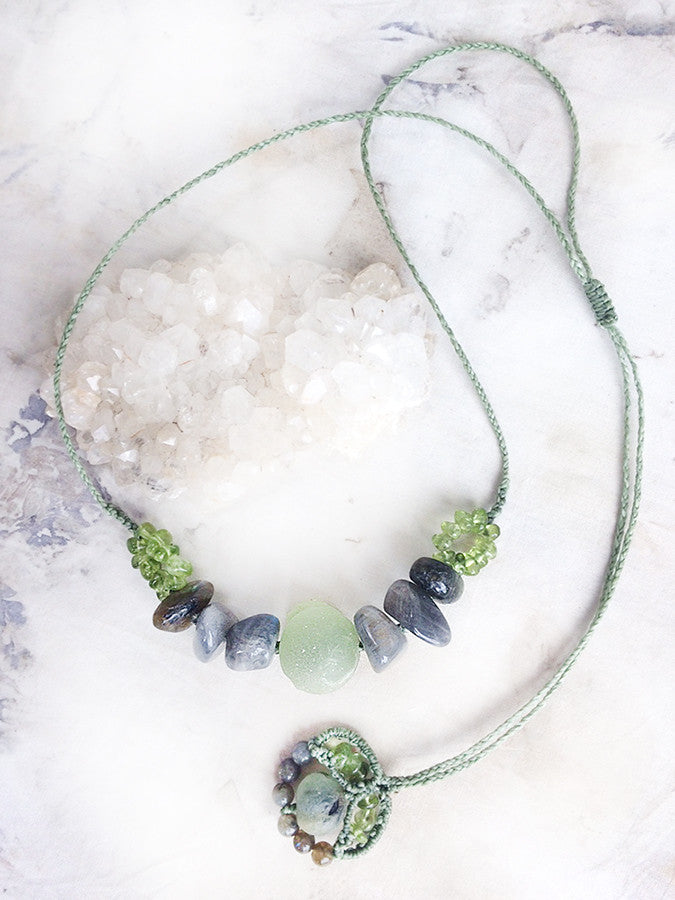 Energy flow necklace with Prehnite, Labradorite & Peridot
DESCRIPTION
Crystal healing necklace with a row of crystals in green energy flow: raw. natural Prehnite in the middle, combined with polished Labradorite and small Peridot crystals extending to the sides. The necklace is minimally knotted with light green micro-macrame cord and is fully adjustable in length. There is an intricate, decorative counter weight at the back - this lace-like crystal 'seal' will hang down the back when the necklace is worn. The closer the neck the row of crystals is worn, the lower down the back the 'seal' dangles. This would be a particularly beautiful feature worn with an open back summer dress.
The length of the necklace braid is adjustable from as short as you wish down to solar plexus level. The row of crystals is approx. 10.5 cm (4") wide and the approx. diameter of the Prehnite is just over 1.6 cm (0.6") wide. The decorative 'seal' is approx. 2.5 cm x 2.5 cm (1" x 1") in size.
There are no metals in this necklace so would be particularly suitable for those with metal sensitivities, energy workers and those who simply prefer not to wear metal.
You'll receive this crystal healing necklace in one of my fabric draw-string pouches, great for the safe-keeping of the necklace. Gift-wrapped at no extra charge.

Read here how to take care of your crystal jewellery.
CRYSTAL PROPERTIES
PREHNITE
Protective on all levels, strengthening one's life force. Fosters a sense of trust in the Universe and helps you protect your boundaries so it's easier to say "no" when needed. Stimulates inner knowing of oneself and guides in fulfilling one's potential. Helps to let go of unpleasant memories. Enhances spiritual "knowing". Revitalising and said to bring inner peace. Also said to be "a healer's healer".
LABRADORITE
One of the most powerful, versatile crystal tools for healing. Creates an auric shield and strengthens your innate energy and life force, preventing energy leakages. Enhances intuitive abilities and assists in spiritual transformation. Helps the wearer align with their highest destiny and discover their inner worth. Strengthens willpower and brings in new ideas. Often referred to as the 'Stone of Destiny', believed to help you to find your true path in life, and as 'Temple of the Stars', anchoring higher dimensional light into your being.
PERIDOT
Upbeat and comforting, Peridot reduces stress and amplifies intuitive awareness. Soothes hurt feelings, supporting renewal and personal growth. Brings in-depth heart based awareness, extending from healing to understanding and offering protection against negative emotions. Known also as the stone of prosperity and happiness.
Recently Viewed