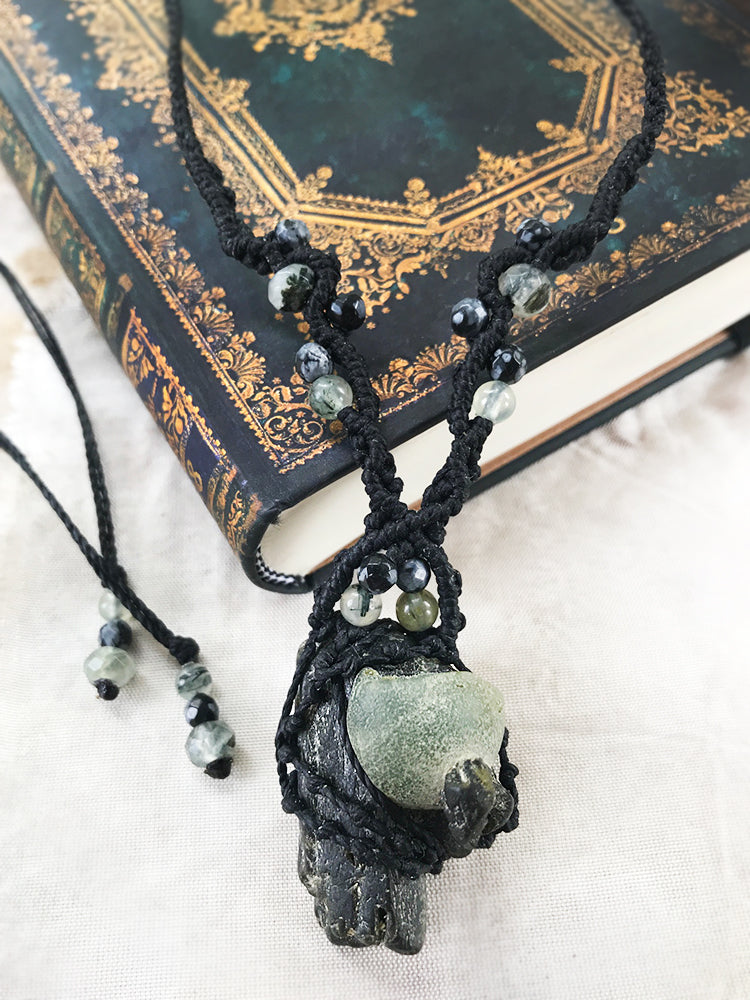 Epidote-Prehnite crystal healing amulet
DESCRIPTION
Crystal healing necklace combining the energy of Epidote and Prehnite with highlighting crystals of Snowflake Obsidian. The raw, natural chunk of joint Epidote and Prehnite is not drilled, but instead wrapped with the cord to secure it in place. It has a very unusual, sculptural shape. The almost black, dark green part is Epidote, the half dome like light green stone is Prehnite. The necklace is knotted with black micro-macrame cord, strong and durable yet soft and comfortable to wear. 

The length of the necklace cords is adjustable from very short down to solar plexus level. The Epidote Prehnite is not large at just under 3.5 cm (1.4") tall and just over 2 cm (0.8") at its widest.
There are no metals in this necklace so would be particularly suitable for those with metal sensitivities / metal allergy, energy workers and those who simply prefer not to wear metal jewellery.
You'll receive this crystal healing necklace in one of my fabric draw-string pouches, great for the safe-keeping of the necklace. Gift-wrapped at no extra charge.

Read here how to take care of your crystal jewellery.
CRYSTAL PROPERTIES
EPIDOTE
Encourages you to approach life with a positive outlook, clearing emotional residue and confusion from the heart chakra. Good for feeling grounded and connected to nature even in a city environment. Aids clear thinking and connecting to your own power. Considered a magnet for prosperity and abundance for those who are generous at heart.
PREHNITE
Protective on all levels, strengthening one's life force. Fosters a sense of trust in the Universe and helps you protect your boundaries so it's easier to say "no" when needed. Stimulates inner knowing of oneself and guides in fulfilling one's potential. Helps to let go of unpleasant memories. Enhances spiritual "knowing". Revitalising and said to bring inner peace. Also said to be "a healer's healer".
SNOWFLAKE OBSIDIAN
Promotes a sense of calm and inner equilibrium, bringing balance to body, mind and spirit. A grounding, protective stone. Eases worries and when carried/worn helps one to stay balanced and centred throughout the day. Native American shamans often carried Snowflake Obsidian as a powerful talisman to avert evil and bring good fortune, also considering it to be the guardian of the Great Spirit.
Recently Viewed