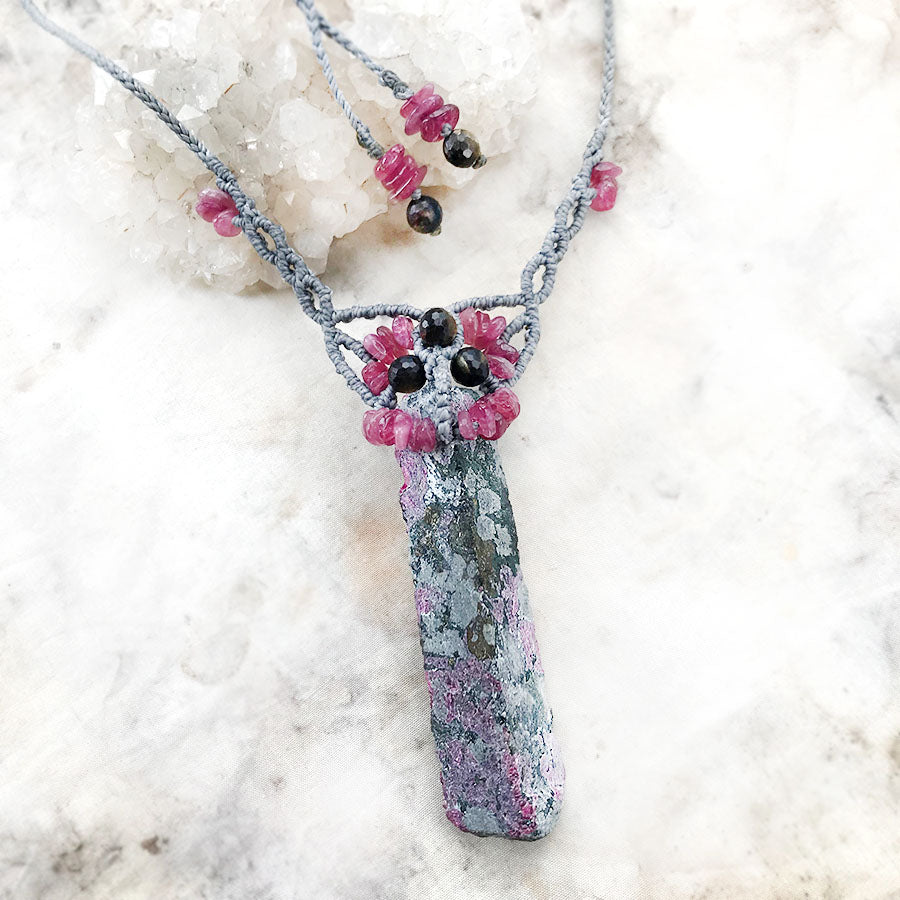 Eudialyte crystal healing amulet
DESCRIPTION
Crystal healing necklace with a stunning piece of rough cut Eudialyte, combined with the energy of Rubellite and faceted golden Mica. The long Eudialyte is knotted with grey micro-macrame cord with matching crystals adorning the ends of the adjustable necklace braids.
The length of the necklace can be adjusted from very short down to solar plexus level. The Eudialyte is approx. 7 cm (2.8") tall and just under 2 cm (0.8") at its widest.
There are no metals in this necklace so would be particularly suitable for those with metal allergy or sensitivity and for energy workers and those who simply prefer not to wear metal.
You'll receive this crystal healing necklace in one of my fabric draw-string pouches, great for the safe-keeping of the necklace. Gift-wrapped at no extra charge.

Read here how to take care of your crystal jewellery.
CRYSTAL PROPERTIES
EUDIALYTE
A personal power stone, strengthening trust in one's abilities. Psychically protective stone, increasing psychic skills. Also known as stone of the heart, aligning the root chakra and the heart chakra, helping with confidence and bringing deep healing energy to the heart centre. Believed to help in recognising a soulmate when coming in contact with one. Brings happy coincidences into one's life.
RUBELLITE (aka Pink Tourmaline)
Considered a rare, valuable crystal, Rubellite (pink Tourmaline) stimulates the heart chakra and life-force energy. A stone of quiet authority, instilling peaceful vibes in the midst of disputes. Harmonises one's feminine energies and has a nurturing energy. Helps in overcoming fears of lack and supports those who might not feel like belonging in this world to find joy of life.
MICA
Uplifting mineral. Increases compassion towards others. A peace keeper that shields against anger and jealousy. Said to improve stamina and strength. Helps one to see situations for what they are, while staying heart-centred. Releases energetic blocks within the body and aligns chakras. Works in a light and joyous way while helping one to see what needs changing in one's outlook.
Recently Viewed