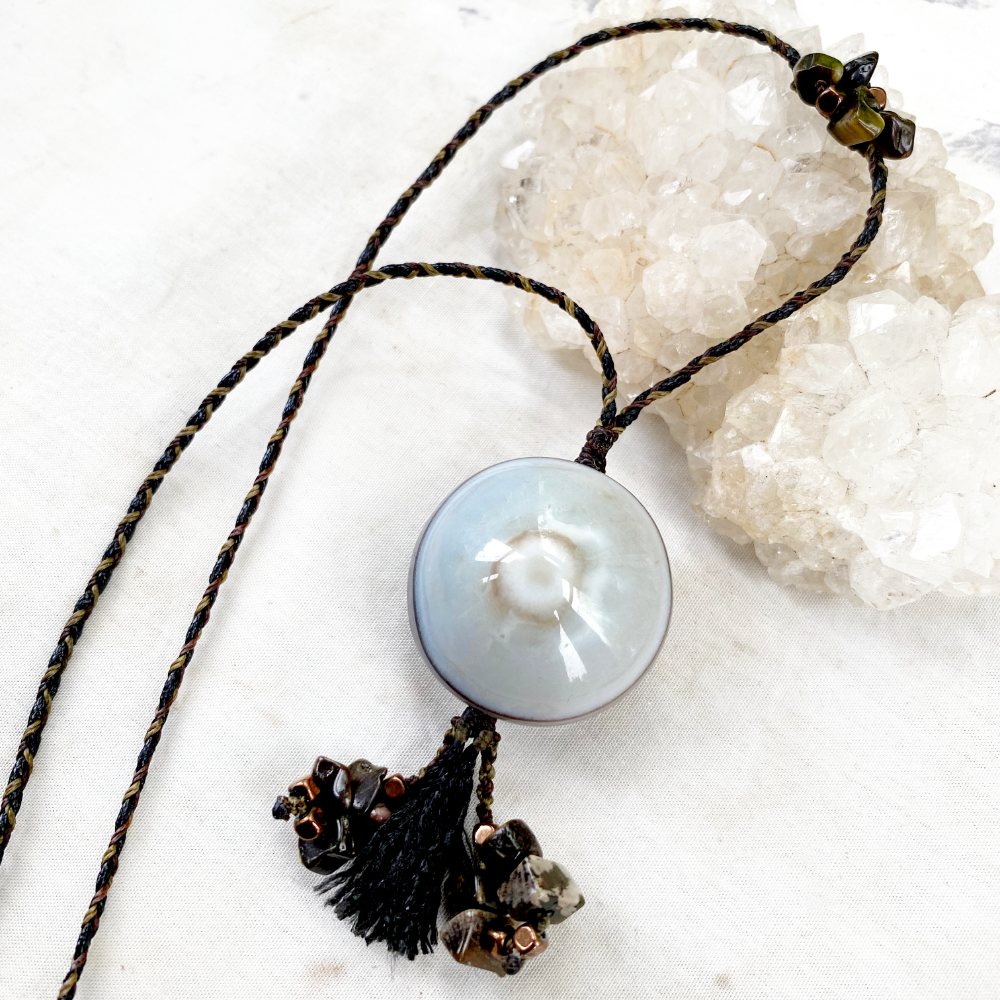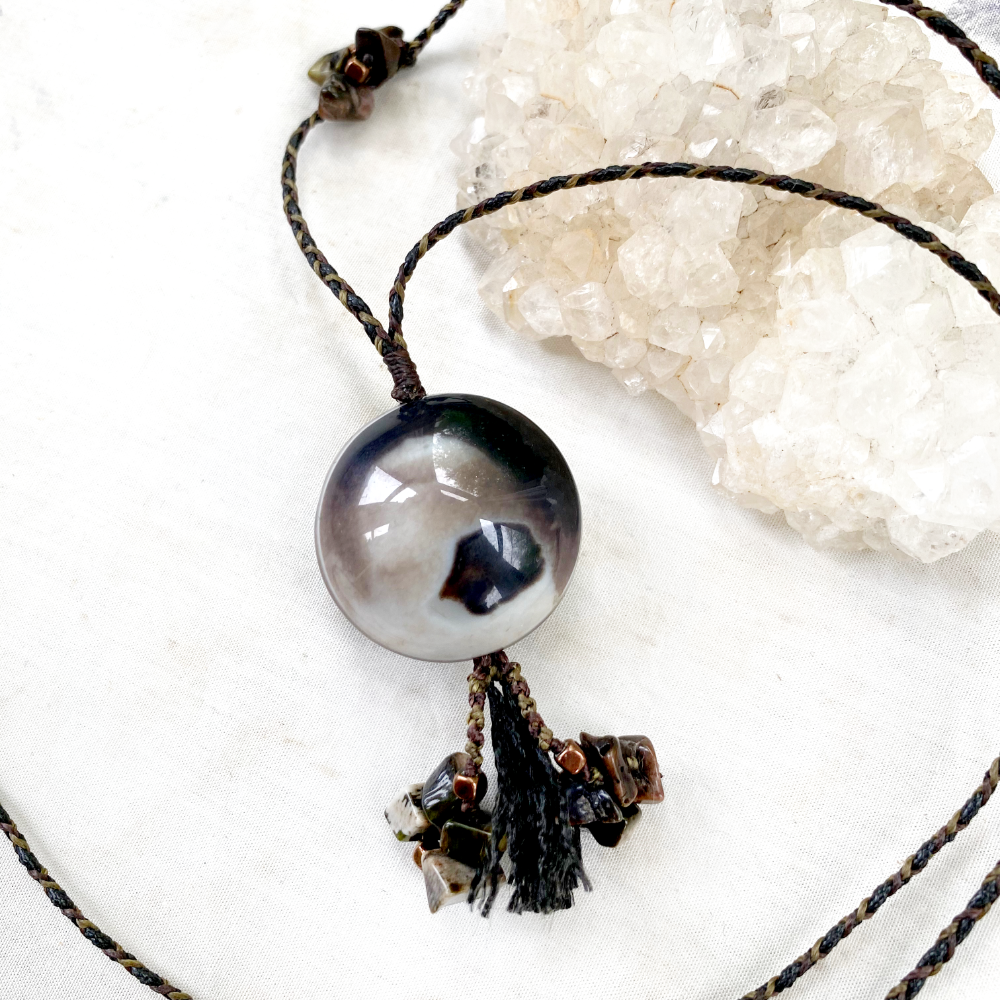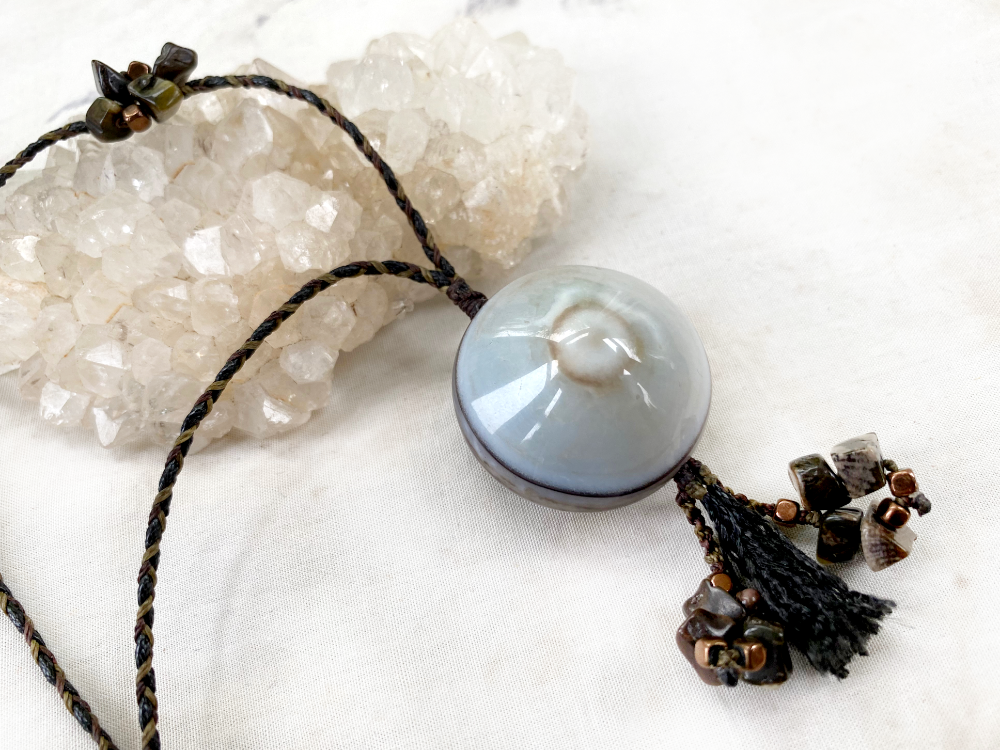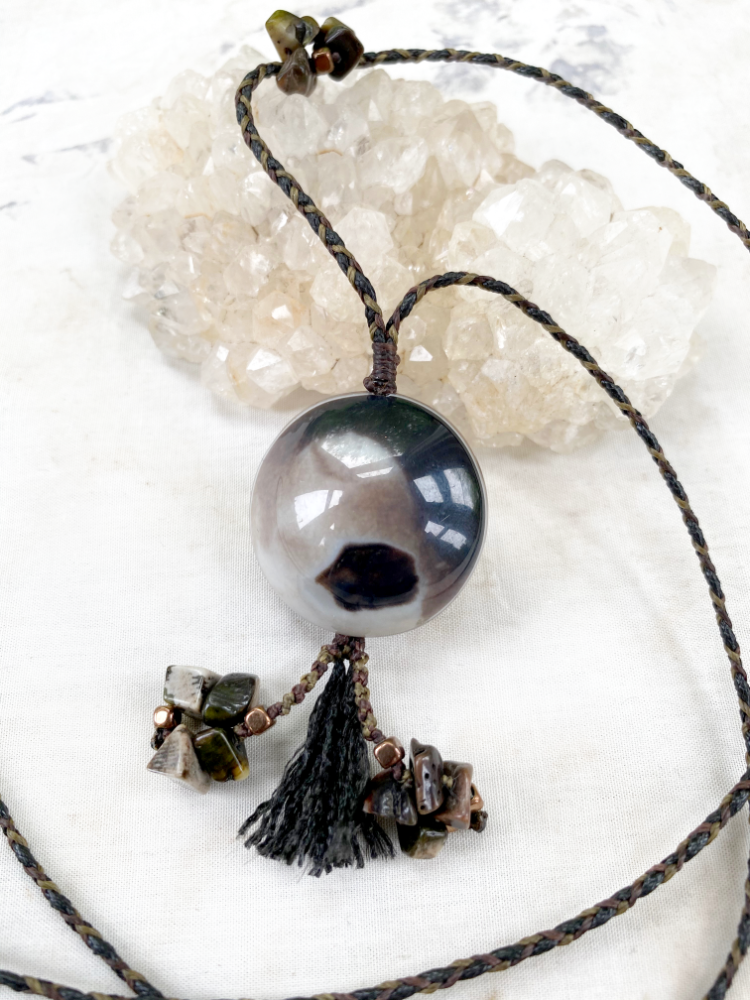 Eye Agate crystal healing amulet
DESCRIPTION
Crystal healing talisman with a circular Eye Agate. The necklace is minimally braided with a combination of black satin ribbon and two tones of brown micro-macrame cord. The necklace braid is of set length and includes a small floret of copper-plated Hematite and Black Coral along one side of the braid. The photos show both sides of the Eye Agate - the natural pattern on both sides is strikingly different, perhaps one like a full moon, the other like lunar eclipse. There is a tassel of soft satin and two braided strands extending down from the base of the Agate. The crystal accents in the knotted strands are copper-plated Hematite and Black Coral.
The necklace braid has an all-around length of 74 cm (29") and easily slips over head without a need for a clasp. The diameter of the circular Eye Agate is approx. 3 cm (1.2").
You'll receive this crystal healing necklace in one of Spirit Carrier's fabric draw-string pouches, great for the safe-keeping of the necklace. Gift-wrapped at no extra charge.

Read here how to take care of your crystal jewellery.
CRYSTAL PROPERTIES
EYE AGATE
Protective stone, one of the most powerful Agates. Known as 'stone of sensuality', increasing one's stamina. Also a success stone, helping one to achieve and cope with success. Said to offer relief from depression. In stone lore, considered to "ward off the evil eye".
HEMATITE
Creates a strong sense of self and enhances the creative flow. Relieves stress. Revitalises, enhancing personal magnetism and optimism. Helps in releasing self-imposed limitations to find your own unique gifts. A stone of balance and equilibrium. Grounds when feeling scattered, allows one to maintain a natural alertness while remaining calm.
BLACK CORAL
Generates serenity and peace while absorbing negative energy. Excellent for psychic protection and for guarding one's personal space. Inspires creativity and enhances the flow of creative ideas. Associated with the third chakra, the 'seat of the soul', guarding one's personal power and strength from outside influences. Digs deep to heal hidden emotions that might hold you back in life. Energetically cleansing, and said to help in detoxing the body.
Recently Viewed