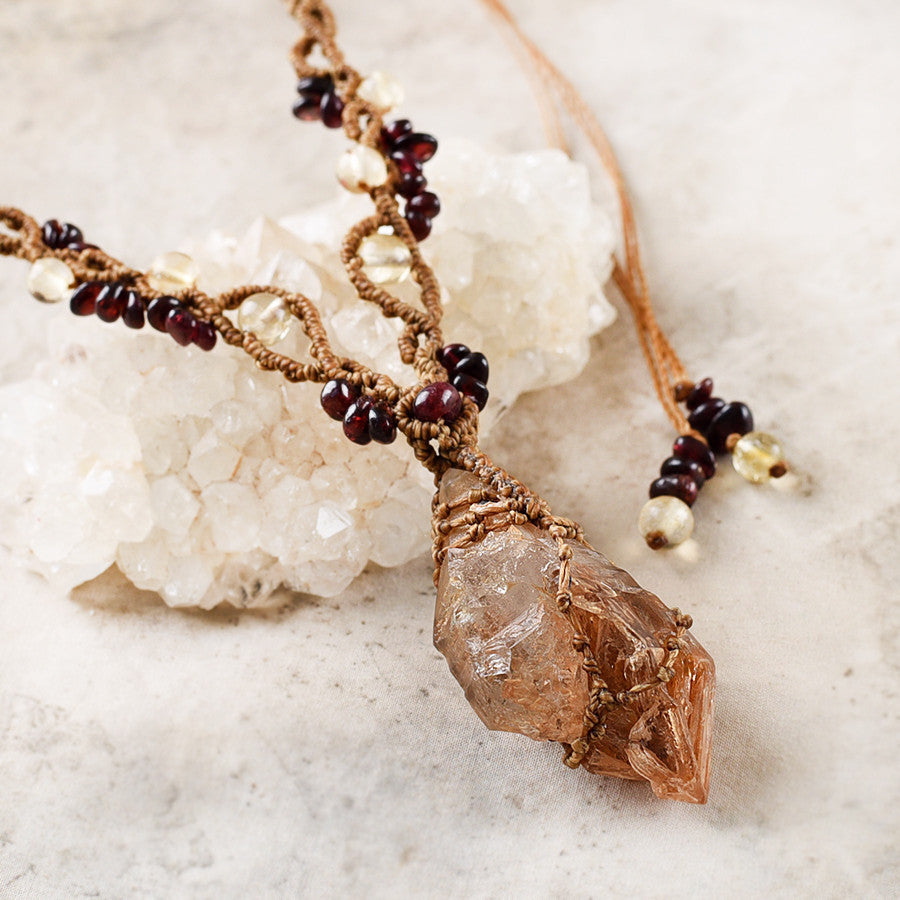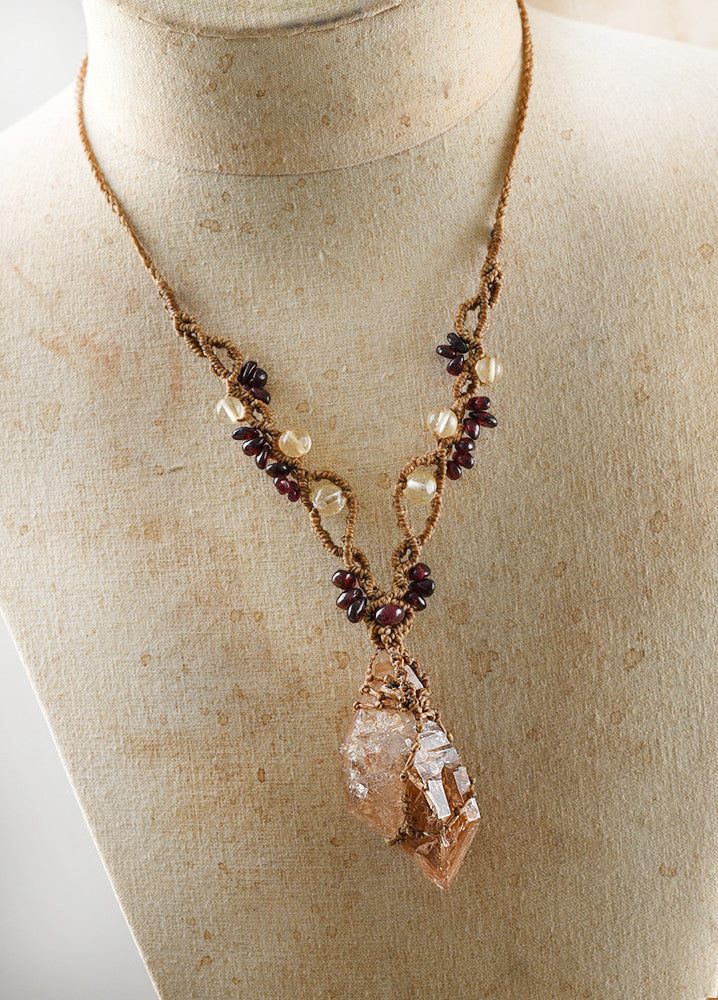 Fenster Quartz crystal healing amulet
DESCRIPTION
Stunning natural, un-drilled, double-terminated Fenster Quartz crystal with beautiful skeletal structure showing indentations and elestial markings. Like there was a whole world hidden within this crystal treasure. The necklace is knotted with golden brown micro-macrame cord which is strong and durable, yet soft to wear. The highlighting crystals are Almandine Garnet and Citrine. Matching crystals also adorn the ends of the adjustable necklace cords.
The length of the necklace is adjustable from very short down to solar plexus level. The Fenster Quartz is approx. 5 cm (2") tall and 2 cm (0.8") at its widest.
There are no metals in this necklace so would be particularly suitable for those with metal sensitivities, energy workers and those who simply prefer not to wear metal.
You'll receive this crystal healing necklace in one of my fabric draw-string pouches, great for the safe-keeping of the necklace. Gift-wrapped at no extra charge.
Read here about how to take care of your natural crystal jewellery.
CRYSTAL PROPERTIES
FENSTER QUARTZ
Excellent crystal to aid spiritual growth. Stimulates psychic visions and clairvoyance. Good for healing emotional issues, particularly past life issues of karmic nature. Helps in connecting with one's 'soul energy' in order to gain understanding of one's soul path in this lifetime. Useful crystal tool for those working in the field of energy healing.
ALMANDINE GARNET
Stimulates one's life force. Opens the root chakra while drawing earth energy into the body, helping you to feel secure and centred. Awakens the "inner fire" of creativity. Highly protective stone and a great companion to keep you energised. Excellent good fortune and 'success' stone in both social and career ventures, adding positive vibes both in your personal or business life. Stone of purification and cleansing. Symbolises passionate, devoted love.
CITRINE
Affects a powerful alignment with the higher self. Balances the emotions and helps in uplifting one's mood to be more sunny and cheerful. Brings clarity of thought, and attracts abundance through joy. Powerful transformer in healing work. Increases self-confidence and optimism, cleanses the surrounding energies and promotes creative thinking. Releases, dissipates and transforms denser energies on all levels, mental, emotional and physical. Works to release limitations and blockages particularly around the sacral / solar plexus area.
Recently Viewed