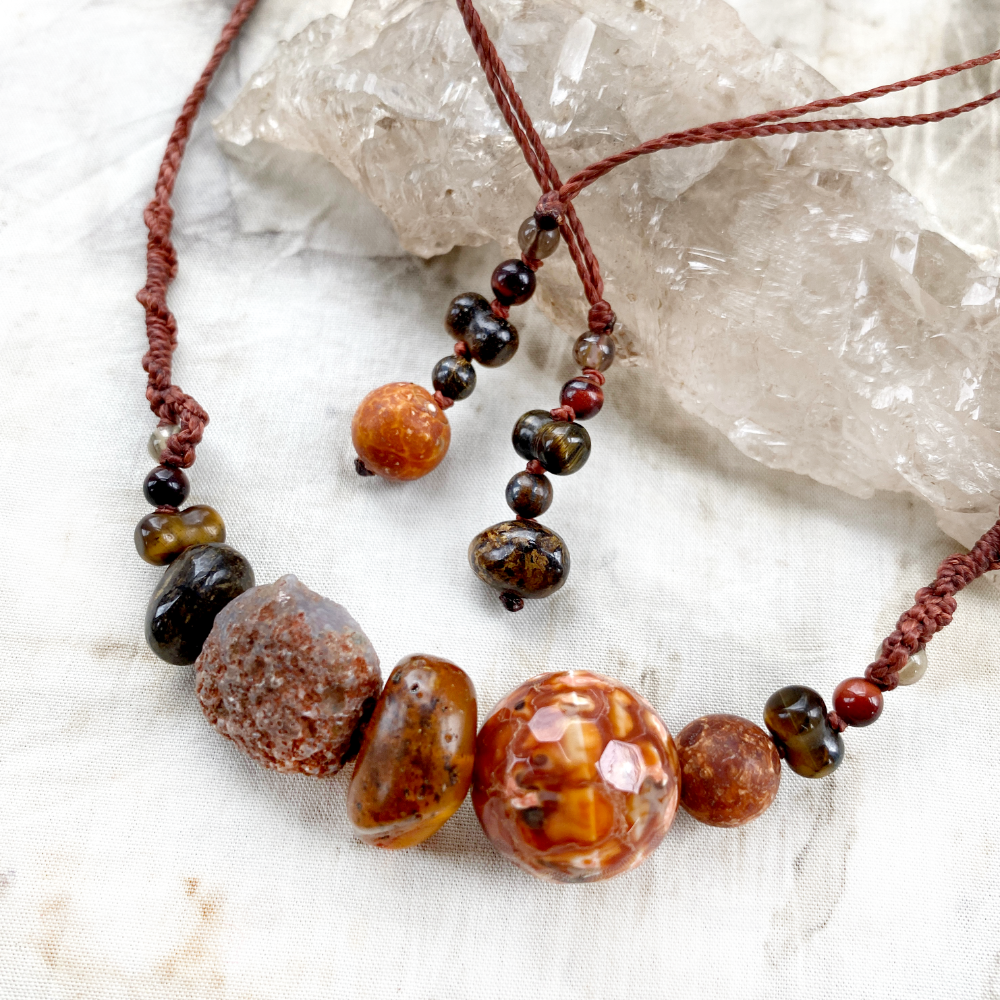 'Fire Walk' crystal healing amulet
DESCRIPTION
Crystal healing necklace with a row of crystals in red energy flow: Amber in the middle, joined with Fire Agate and Gobi Desert Agate on both sides and extending to the sides with further Agate, Bronzite and Tiger Eye, both yellow and red. The necklace is minimally knotted with brick red micro-macrame cord and the ends of the necklace braids are decorated with matching crystals. 
The length of the necklace braid is adjustable from as short as you wish down to just above solar plexus level. The row of crystals is approx. 8 cm (3") wide and the approx. diameter of the faceted Fire Agate is 1.8 cm (0.7"). 
There are no metals in this necklace so would be particularly suitable for those with metal sensitivities, energy workers and those who simply prefer not to wear metal.
You'll receive this crystal healing necklace in one of Spirit Carrier's fabric draw-string pouches, great for the safe-keeping of the necklace. Gift-wrapped at no extra charge.

Read here how to take care of your crystal jewellery.
CRYSTAL PROPERTIES
FIRE AGATE
Assists in taking decisive action in unclear situations. Connects with one's inner courage to go after one's goals. Helpful in overcoming creative blocks of any kinds. Promotes inner stability. Forms a protective auric shield. Grounding and revitalising.  It can alleviate the emotional charge in problems, and enhances all healing energies. Helps you to tap into your own perfection.
GOBI DESERT AGATE
Stone of transformation and resilience. Helps you to remain flexible when facing challenges, and open up to help from higher dimensions. Expands understanding of your life path so that wiser choice are possible. A gentle stone to help you with self-compassion and to restore your inner balance.
AMBER
Amber is like sunshine solidified, offering a wonderful sense of health and wellbeing. Transmutes negative energies into positive, excellent for psychic protection. Cheers you up and helps you take action to make your ideas reality - ideal manifestation aid. Cleansing effect on the body, mind and spirit, promoting self-confidence and creative self-expression. Encourages spontaneity, patience and inner wisdom.
BRONZITE
Encourages loving, non-judgemental mindset. Helps in gaining certainty about one's decisions and the right course of action. Bronzite is said to bring harmony into discordant situations, protective when the wearer might feel a lack of control. Instils a feeling of calmness when having "many irons in the fire". A stone of focused action. Grounds you into the knowing that "All Is Well".
TIGER EYE
Powerful stone to connect with one's personal strength. Excellent for attracting prosperity. Highly spiritual energy, useful in understanding any life cycle that one is living through. Helps in seeing through illusions and discerning the truth in any situation. A highly protective stone. Good for strengthening one's boundaries and developing will power and courage.
RED TIGER EYE
Helps to find motivation and to feel inspired in all aspects of life. Instils harmony into situations and brings confidence to deal with any task or person graciously from a place of your inner wisdom. Encourages you to tap into all the skills that allow you to prosper and flourish. Promotes self-care. Stone of integrity, helping you to be your own champion.
SMOKEY QUARTZ
A grounding and calming stone that elevates moods and dissipates negative emotions. "A Stone of Serenity", it is comforting and protective for one's aura. Smokey Quartz is thought to assist in creative endeavours and also in setting personal boundaries. Offers protection against electromagnetic rays. A good healing stone for improving general feeling of well-being. Relieves anxiety and worry, wards off confusion. Shielding crystal to create a calm, safe environment.
Recently Viewed