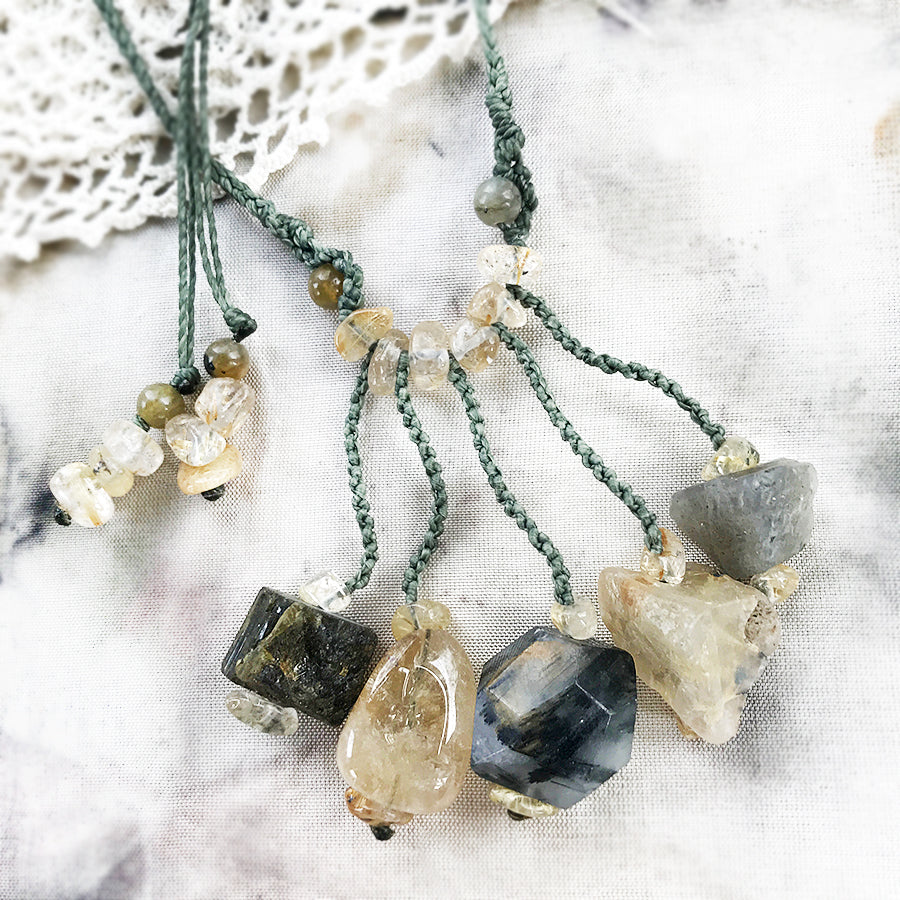 'Five stone talisman' ~ Verdelite, Citrine, Tourmalinated Quartz, Gold Rutile Quartz, Labradorite
DESCRIPTION
Crystal healing necklace with a combination of five stones: Verdelite, Citrine, Tourmalinated Quartz, Gold Rutile Quartz and Labradorite. I have selected all five crystals carefully, for them to combine harmoniously as individual stones within this grouping. These five work gently yet powerfully together, and while wearing this pendant, you may like to occasionally hold the crystals in the palm of your hand to clearly feel the connection. The necklace is minimally braided with moss green micro-macrame cord, very strong and durable, yet soft and comfortable to wear. The highlighting crystals are Gold Rutile Quartz and Labradorite.
The length of the necklace is adjustable from very short down to solar plexus level. The crystal strands dangle down approx. 4.5-5 cm (1.8"-2") and each crystal is max. 1.5 cm (0.6") in its largest dimension.
There are no metals in this necklace so would be particularly suitable for those who have metal sensitivities, energy workers and those who simply prefer not to wear metal.
You'll receive this crystal healing necklace in one of my fabric draw-string pouches, great for the safe-keeping of the necklace. Gift-wrapped at no extra charge.

Read here how to take care of your crystal jewellery.
CRYSTAL PROPERTIES
VERDELITE (aka Green Tourmaline)
Connects to the energy of compassion, opening up pathways to self-healing and letting go of old heart wounds. Helpful in implementing new projects with the aim of bringing your true desires to fruition. Balancing and rejuvenating, attracting luck and prosperity.
CITRINE
Affects a powerful alignment with the higher self. Balances the emotions and helps in uplifting one's mood to be more sunny and cheerful. Brings clarity of thought, and attracts abundance and prosperity through joy. Powerful transformer in healing work. Increases self-confidence and optimism, cleanses the surrounding energies and promotes creative thinking. Releases, dissipates and transforms denser energies on all levels, mental, emotional and physical. Works to release limitations and blockages particularly around the sacral / solar plexus area.
TOURMALINATED QUARTZ
Combines the energies of master healer Quartz with Black Tourmaline inclusions. Highly protective for the aura, clearing one's energy field from blockages. Spiritually grounding while infusing the energy body with more light. Harmonising crystal for all aspects of life.
GOLD RUTILE QUARTZ
A master assistant in self-discovery, a companion in finding one's inner truth, purpose and destiny. Joyful and energising. Thought to offer protection against psychic attacks and helps in opening up to one's Divine strength. Assists in activating one's creativity and manifesting dreams into reality.

LABRADORITE
One of the most powerful, versatile crystal tools for healing. Creates an auric shield and strengthens your innate energy and life force, preventing energy leakages. Enhances intuitive abilities and assists in spiritual transformation. Helps the wearer align with their highest destiny and discover their inner worth. Strengthens willpower and brings in new ideas. Often referred to as the 'Stone of Destiny', believed to help you to find your true path in life, and as 'Temple of the Stars', anchoring higher dimensional light into your being.
Recently Viewed