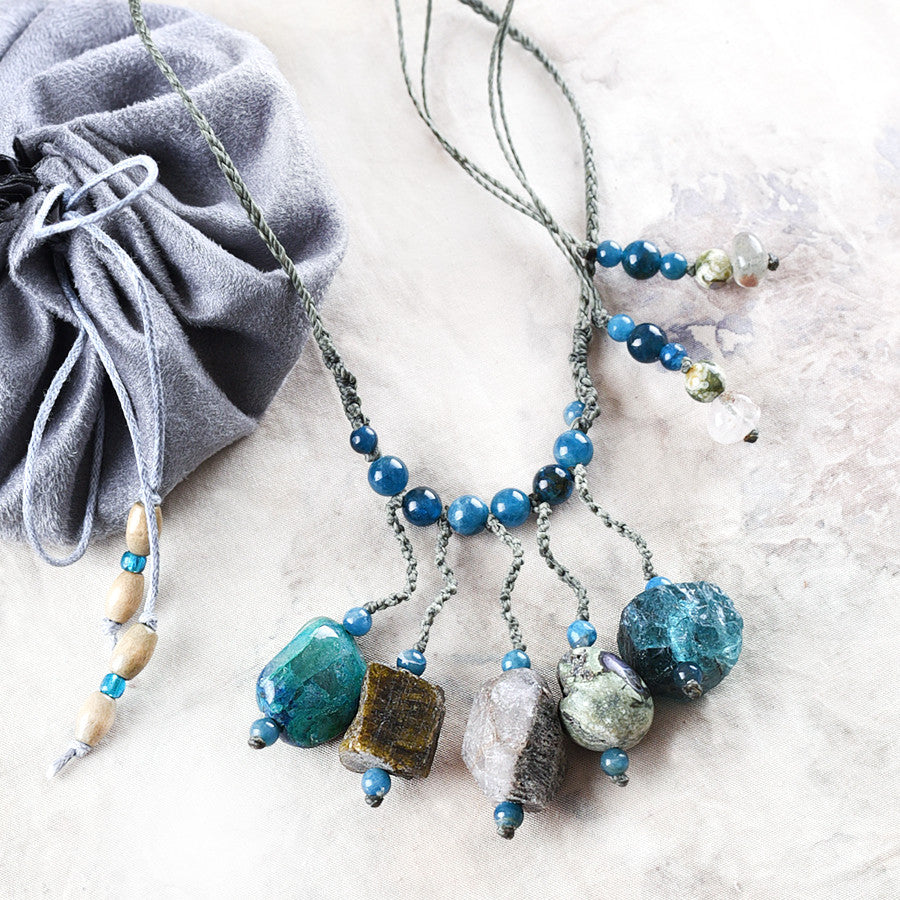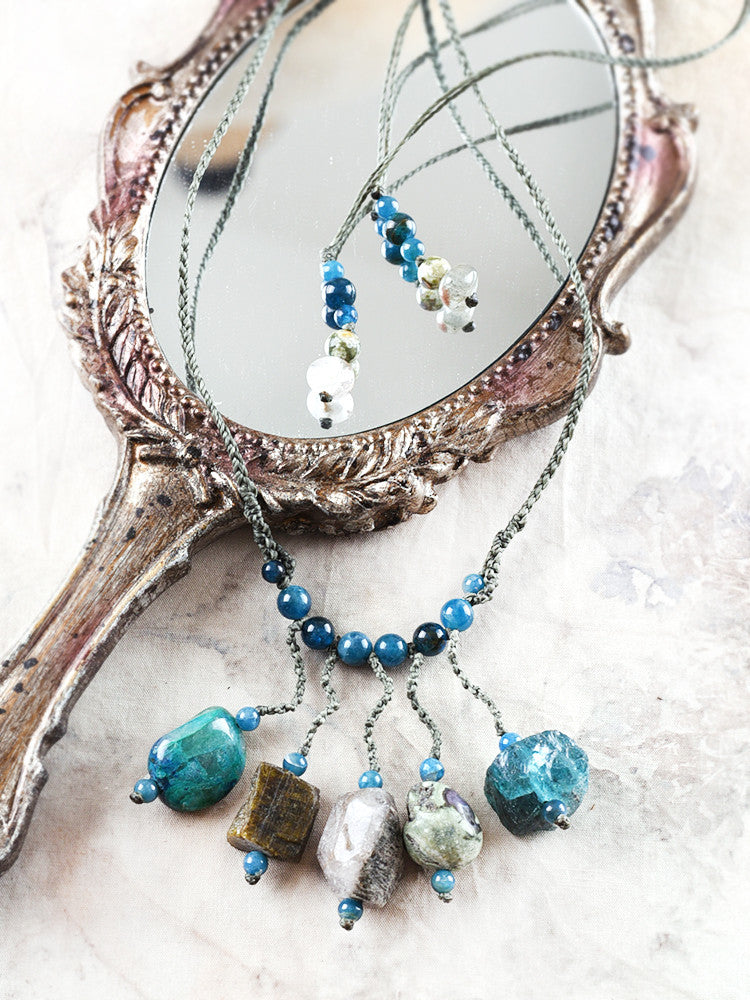 'Five Stone Talisman' ~ Apatite, Rhyolite, Lodolite, Verdelite & Chrysocolla
DESCRIPTION
This healing crystal charm combines the energies of Apatite, Rhyolite, Lodolite, Verdelite and Chrysocolla. I have selected all five carefully, for them to combine harmoniously as individual stones within this grouping. These five work gently yet powerfully together, and while wearing this pendant, you may like to occasionally hold the crystals in the palm of your hand to clearly feel the connection.

The five crystals are strung on a minimal, braided, moss green colour micro-macrame cord, very strong and durable, yet soft and comfortable to wear. The spacer crystals in the necklace between each hanging stone strand are Apatite. The ends of the adjustable necklace cords are decorated with Apatite and Rhyolite. There's no metal in this necklace so it's particularly suitable for those with sensitivities to metals.

The length of the necklace is adjustable from very short down to just above solar plexus level. Each of the five crystal strands hang down about 5-5.5 cm (2"-2.2"). The largest crystal (Lodolite, in the middle) is approx. 2 cm (0.8") tall.
You'll receive this crystal healing necklace in one of my fabric draw-string pouches, great for the safe-keeping of the necklace. Gift-wrapped at no extra charge.
CRYSTAL PROPERTIES
CHRYSOCOLLA
Stone of the Wise Woman, of feminine empowerment. Associated with tranquility and intuition. Brings out one's inner strength, releasing old hurts such as feelings of guilt. Heals heartaches and promotes confidence, sensitivity and motivation. Helps those in position of guiding or teaching others, to communicate their knowledge and experience lovingly to others. Excellent stone for emotional balance and creative endeavours.
VERDELITE (aka green Tourmaline)
Connects to the energy of compassion, opening up pathways to self-healing and letting go of old heart wounds. Helpful in implementing new projects with the aim of bringing your true desires to fruition. Balancing and rejuvenating, attracting luck and prosperity.
LODOLITE (aka Shaman Dream Stone, Garden Quartz)
Associated with the crown chakra, enhances one's sensitivity to invisible energies, helps in manifesting one's desires, brings harmony to one's aura, emanates strong yet gentle healing energies. Harmonises the higher vibrational energies of the aura and the light body. Gazing into this stone is said to bring about a cosmic shift of consciousness.
RHYOLITE
Balancing stone on all levels, alleviating anxiety and worries. Builds emotional strength in view of fulfilling ones dreams and goals. Shifts energy towards moving forward, assists in visualising desired change. Ignites creativity, helping to make things happen in one's life and to tap into one's innate abilities. Also thought to help its keeper to look and feel younger!
APATITE
Enhances one's insight and imagination, and gives increased self-confidence. Blue Apatite connects to high level of spiritual guidance and is helpful in letting go of anything that no longer serves your highest good. Apatite crystal is also said to be a good aid in curbing one's appetite!
Recently Viewed