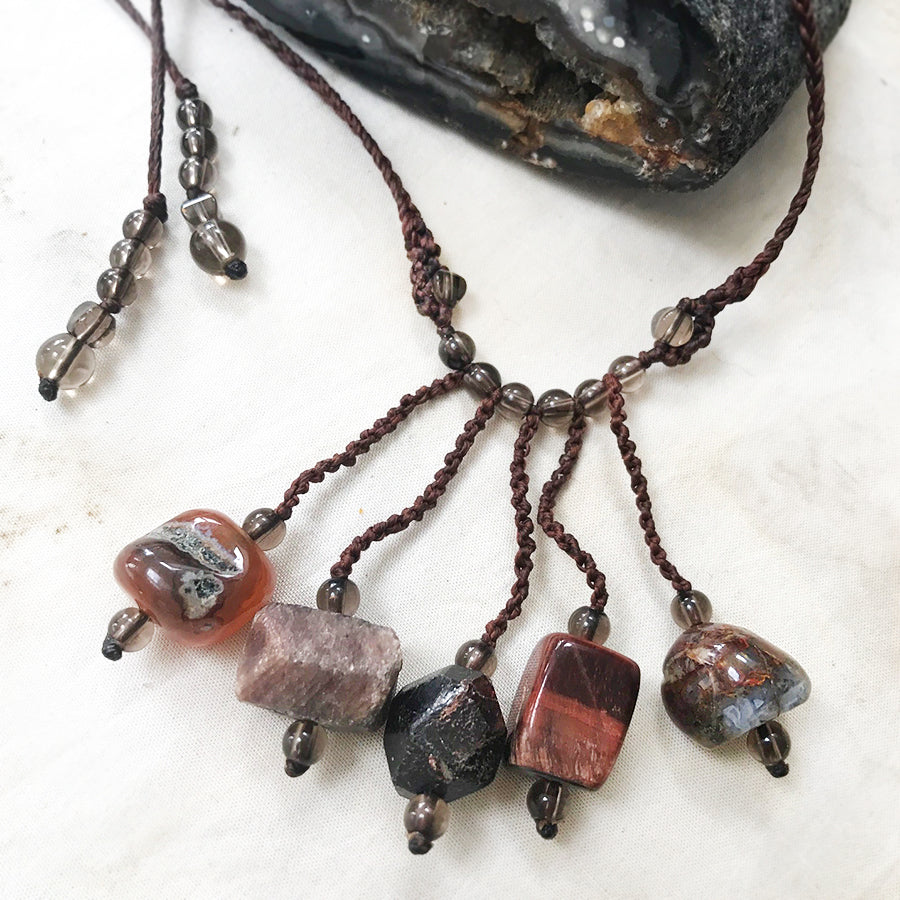 Crystal healing amulet with Carnelian, Sapphire, Almandine Garnet, Tiger Iron & Pietersite
DESCRIPTION
This healing crystal charm combines the energies of Carnelian, Sapphire, Almandine Garnet, Tiger Iron and Pietersite. I have selected all five carefully, for them to combine harmoniously as individual stones within this grouping. These five work gently yet powerfully together, and while wearing this pendant, you may like to occasionally hold the crystals in the palm of your hand to clearly feel the connection.

The five crystals are strung on a minimal, braided, dark brown micro-macrame cord, very strong and durable, yet soft and comfortable to wear. The spacer crystals in the necklace between each hanging stone strand are Smokey Quartz. The ends of the adjustable necklace cords are adorned with Smokey Quartz.

The length of the necklace is adjustable from very short down to just above solar plexus level. Each of the five crystal strands hang down about 5 cm (2"). Each of the five crystals are up to 1.5 cm (0.6") in their longest dimension.
You'll receive this crystal healing amulet in one of my fabric draw-string pouches, great for the safe-keeping of the necklace. Gift-wrapped at no extra charge.

Read here how to take care of your crystal jewellery.
CRYSTAL PROPERTIES
CARNELIAN
Known as a stone of motivation and courage. Stimulates creativity and increases one's sense of self-worth. Balancing for body's energy levels, restoring vitality and motivation. Said to attract prosperity, new resources and good luck. A success stone that helps you follow through with plans. Stone of action that aids in overcoming procrastination. Helps in gaining more understanding of one's inner self. Stimulating to the Sacral Chakra, which, when in balance, allows one to enjoy life, feel its joys and pleasures, be flexible and 'go with the flow'.
SAPPHIRE
A stone of psychic activation, enhances insight and focus. Helps the throat and third eye chakras to work in unison to strengthen and express one's inner vision. Grounds higher knowledge and helps one to stay centred. Evokes the wisdom needed to see past any situation into the underlying truth. Helpful in channeling healing energy from the highest source, allowing access to deeper levels of consciousness. (Sapphire is one of the four 'precious' gemstones, the other three being Ruby, Emerald & Diamond. Other gemstones are considered 'semi-precious'.)
ALMANDINE GARNET
Stimulates one's life force. Opens the root chakra while drawing earth energy into the body, helping you to feel secure and centred. Awakens the "inner fire" of creativity. Highly protective stone and a great companion to keep you energised. Excellent good fortune and 'success' stone in both social and career ventures, adding positive vibes both in your personal or business life. Stone of purification and cleansing. Symbolises passionate, devoted love.
TIGER IRON
A stone of vitality, confidence and motivation, bringing energy and strength. Beneficial for empaths who may easily feel drained from taking on other people's emotions. A creativity stone that assists in bringing out one's hidden talents.
PIETERSITE (aka Tempest Stone)
Fosters calm and joyous peacefulness. Enhances intuition and insight. Aids in the acceptance and tolerance of others and life. Dispels illusions and aids one seeing the beauty within. High vibration stone used by many energy healers.
SMOKEY QUARTZ
A grounding and calming stone that elevates moods and dissipates negative emotions. "A Stone of Serenity", it is comforting and protective for one's aura. Smokey Quartz is thought to assist in creative endeavours and also in setting personal boundaries. Offers protection against electromagnetic rays. A good healing stone for improving general feeling of well-being. Relieves anxiety and worry, wards off confusion. Shielding crystal to create a calm, safe environment.
Recently Viewed