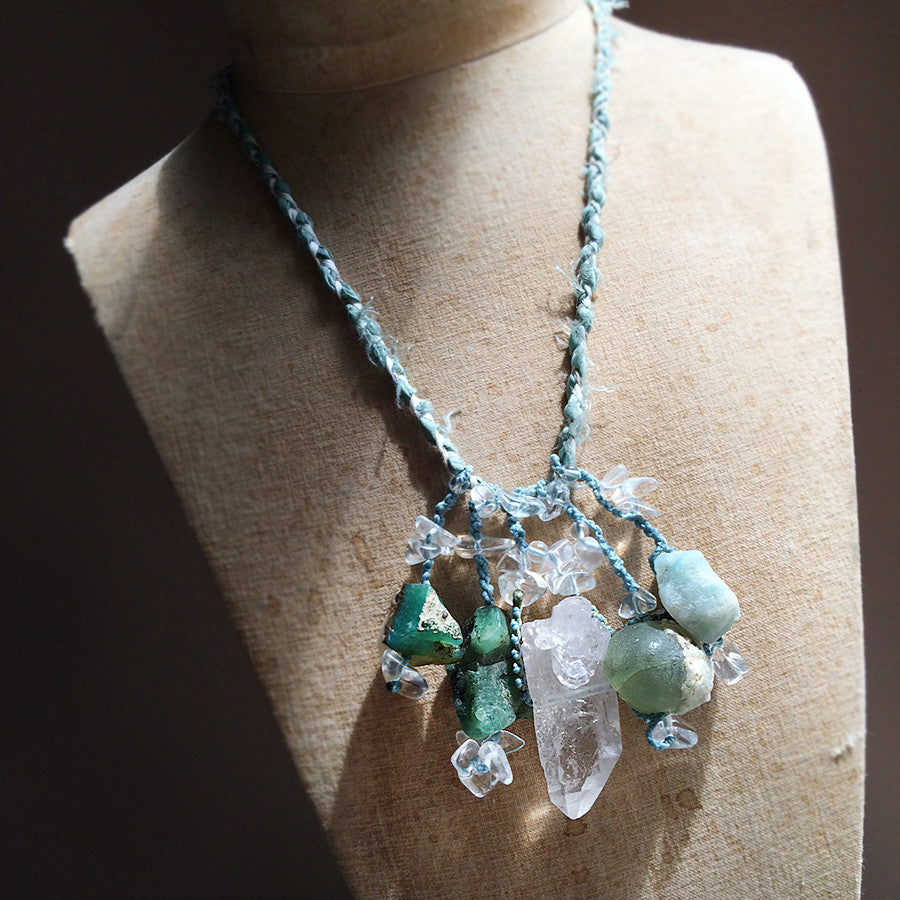 Five stone talisman in silk braid
DESCRIPTION
A stone talisman with five separate, raw and natural healing crystals: Amazonite, Prehnite, Quartz point, Emerald and Chrysocolla. The necklace is braided with a combination of various silk ribbons mainly in light mint green and natural white tones, combined with pale blue micro-macrame cord. I have selected all five crystals carefully, for them to combine harmoniously as individual stones within this grouping. These five work gently yet powerfully together, and while wearing this pendant, you may like to occasionally hold the crystals in the palm of your hand to clearly feel the connection. 
The long braid ends are decorated with clear Quartz and are left open so you can tie the talisman to hang at any desired level. The middle crystal (raw Quartz point) is approx. 4 cm (1.6") tall and 2 cm (0.8") at its widest. These stones aren't as small as in Spirit Carrier's macrame style 'five stone talismans' so would suit someone who prefers a more prominent necklace. This combination would be most beneficial to be worn either near the 5th chakra (communication) or over the 4th chakra (heart).
There are no metals in this necklace so would be particularly suitable for those with metal sensitivities / metal allergy, energy workers and those who simply prefer not to wear metal.
You'll receive this crystal healing necklace in one of my handmade fabric draw-string pouches - great for the safe-keeping of the necklace. Gift-wrapped at no extra charge.
Read here about how to take care of your natural crystal jewellery.
CRYSTAL PROPERTIES
AMAZONITE
A stone of self-respect, confidence and grace. Soothes the spirit and calms the soul. Assists in connecting with one's intuition. Enhances creativity and self-expression. Empowers to move beyond fear, to live in alignment with your truth. A talisman for healing and prosperity, also said to bring in new business.
EMERALD
Stone of love. Opening and nurturing to the heart chakra. Benefits heart-based intuition. Promotes joyous emotions, enhances emotional and spiritual balance. Restores confidence where needed. Brings visionary insight, especially relating to one's vocation. In crystal lore, Emerald is the sacred stone of the goddess Venus. It was the symbol of eternal life in ancient Egypt. (Emerald is one of the four 'precious' gemstones, the other three being Ruby, Sapphire & Diamond. Other gemstones are considered 'semi-precious'.)
PREHNITE
Protective on all levels, strengthening one's life force. Fosters a sense of trust in the Universe and helps you protect your boundaries so it's easier to say "no" when needed. Stimulates inner knowing of oneself and guides in fulfilling one's potential. Helps to let go of unpleasant memories. Enhances spiritual "knowing". Revitalising and said to bring inner peace. Also said to be "a healer's healer".
CLEAR QUARTZ
The universal master crystal that has a harmonising effect on all levels of being. Programmable by intention, so can be used for versatile purposes. Quartz can clear, enhance, amplify, transmute, balance, focus and transmit energy. Raises one's energetic vibration. Brings clarity and filters out distractions. A deep soul cleanser, attuning its keeper to their higher self. Each Quartz crystal is unique with its own character and teachings it offers, all are known as "Stones of Power" and "Master Healers".
CHRYSOCOLLA
Stone of the Wise Woman, of feminine empowerment. Associated with tranquility and intuition. Brings out one's inner strength, releasing old hurts such as feelings of guilt. Heals heartaches and promotes confidence, sensitivity and motivation. Helps those in position of guiding or teaching others, to communicate their knowledge and experience lovingly to others. Excellent stone for emotional balance and creative endeavours.
Recently Viewed