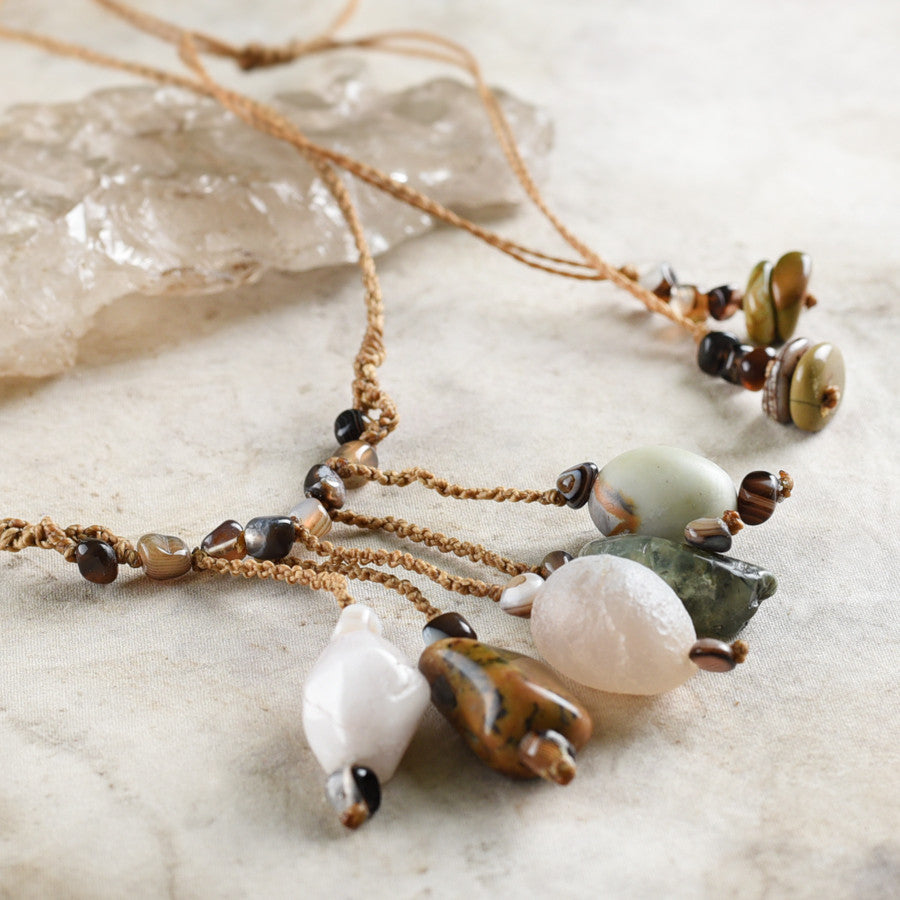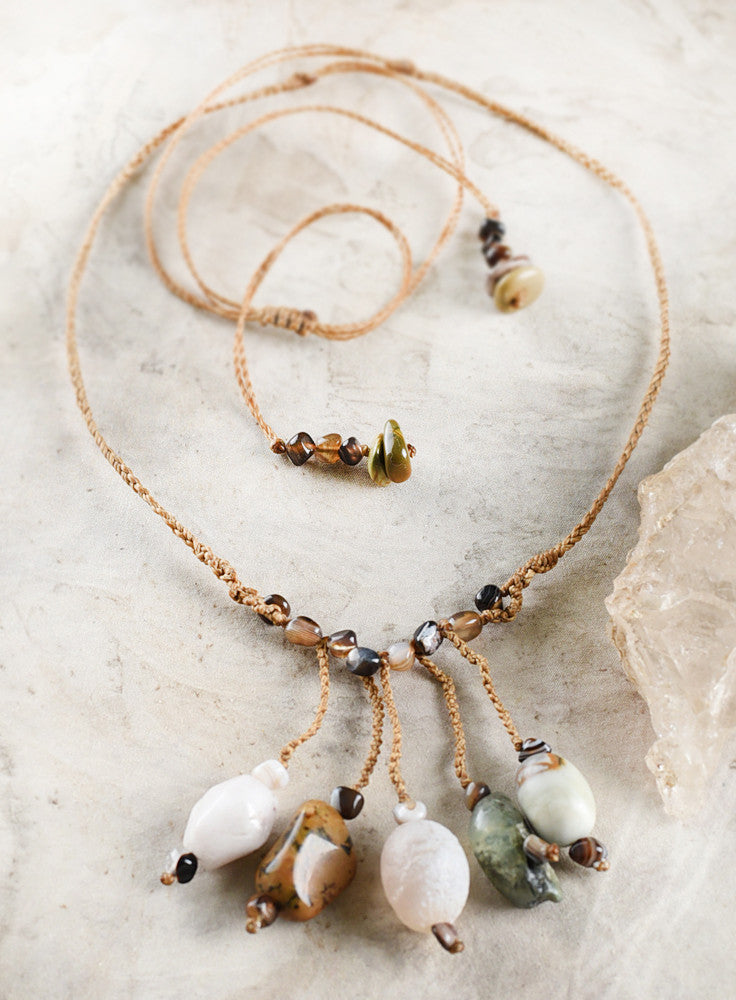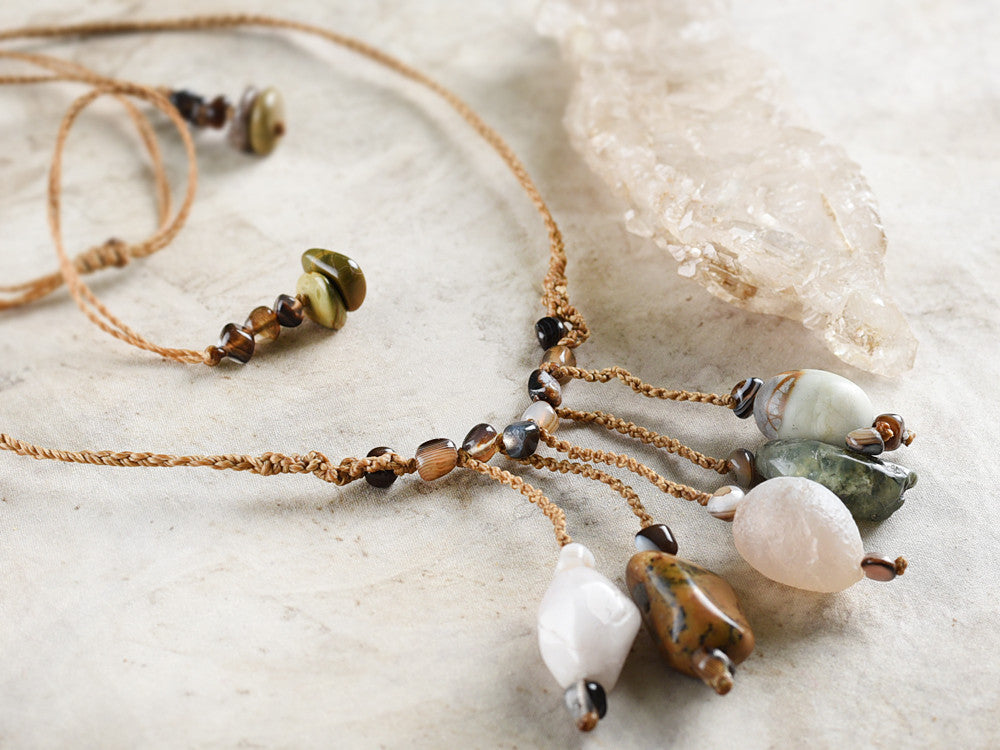 'Five Stone Talisman' ~ with Agate, Merlinite, Morganite, Picasso Jasper & Epidote in Prehnite
DESCRIPTION
This healing crystal charm combines the energies of Agate, Merlinite, Morganite, Picasso Jasper and Epidote in Prehnite. I have selected all five carefully, for them to combine harmoniously as individual stones within this grouping. These five work gently yet powerfully together, and while wearing this pendant, you may like to occasionally hold the crystals in the palm of your hand to clearly feel the connection.

The five crystals are strung on a minimal, braided, golden brown colour micro-macrame cord, very strong and durable, yet soft and comfortable to wear. The spacer crystals in the necklace between each hanging stone strand are Agate. There's no metal in this necklace so it's particularly suitable for those with sensitivities to metals.

The length of the necklace is adjustable from very short down to just above solar plexus level. . Each of the five crystal strands hang down about 5-5.5 cm (2"-2.2"). The longest crystal (Merlinite) is approx. 2 cm (0.8") tall.
You'll receive this crystal healing necklace in one of my fabric draw-string pouches, great for the safe-keeping of the necklace. Gift-wrapped at no extra charge.
CRYSTAL PROPERTIES
AGATE
The oldest good luck amulet. In ancient times Persian magicians were, according to legend, diverting storms with the powers of Agate. Considered a protective stone (especially for travel), said to shield its keeper against dangers. Increases inner stability, enhances personal courage and fosters self-confidence. Grounding and soothing. Balancing stone for one's yin-yang energies.
MERLINITE
Stone of spiritual development, assisting in accessing multiple realms including akashic records. Softens one's emotional guards in aid of making deeper connections with out fellow humans. Helps with integrating one's shadow self as well as attracting spiritual guides.
MORGANITE
Known both as a 'heart stone' and an 'angel stone'. Thought to help bring love into one's life. Increases patience and balances emotions. Morganite is said to be one of the highest frequency stones available.
EPIDOTE IN PREHNITE
Prehnite in the mix is a strongly protective stone. It fosters a sense of trust in the Universe and helps you protect your boundaries so it's easier to say "no" when needed. Prehnite is also revitalising and said to bring inner peace. Epidote within the Prehnite is an energy enhancer, so it gives an extra boost to the crystal energy. Epidote is also great for physical recovery.
PICASSO JASPER
A joyful, harmonious stone, said to effect transformations in the area of relationships, attracting like-minded people and loyal friends. Offers stability and balance in times of change. Releases blocks from the way of one's creativity. Encourages to celebrate life!
Recently Viewed