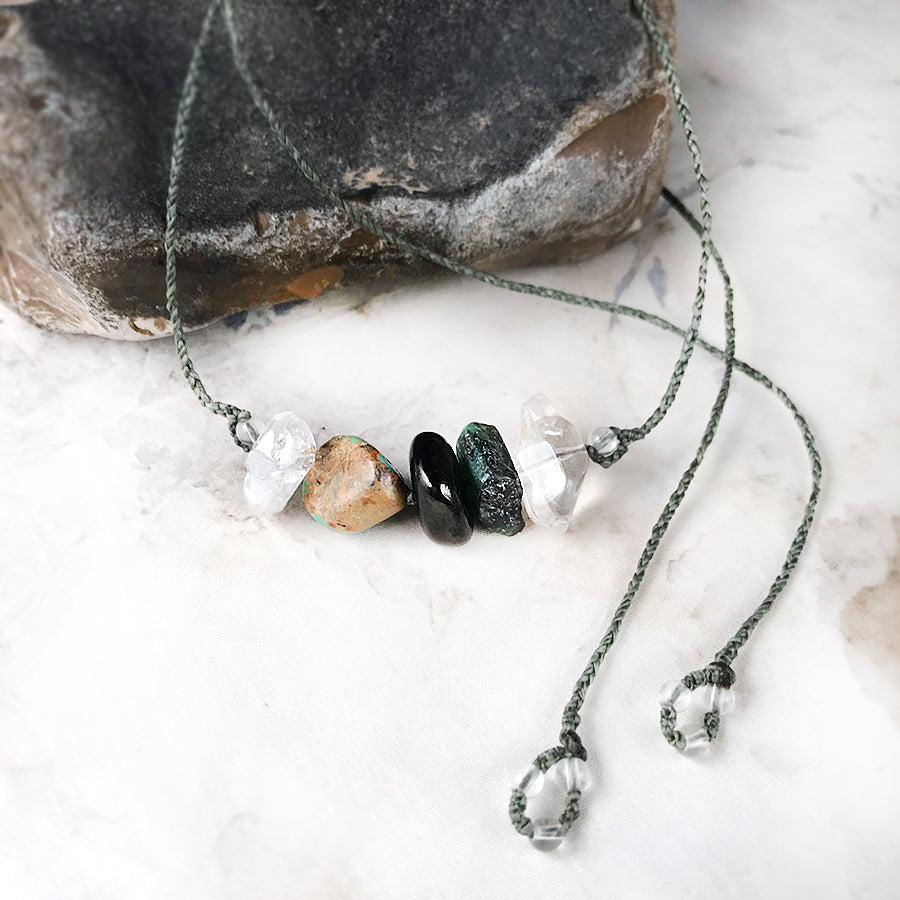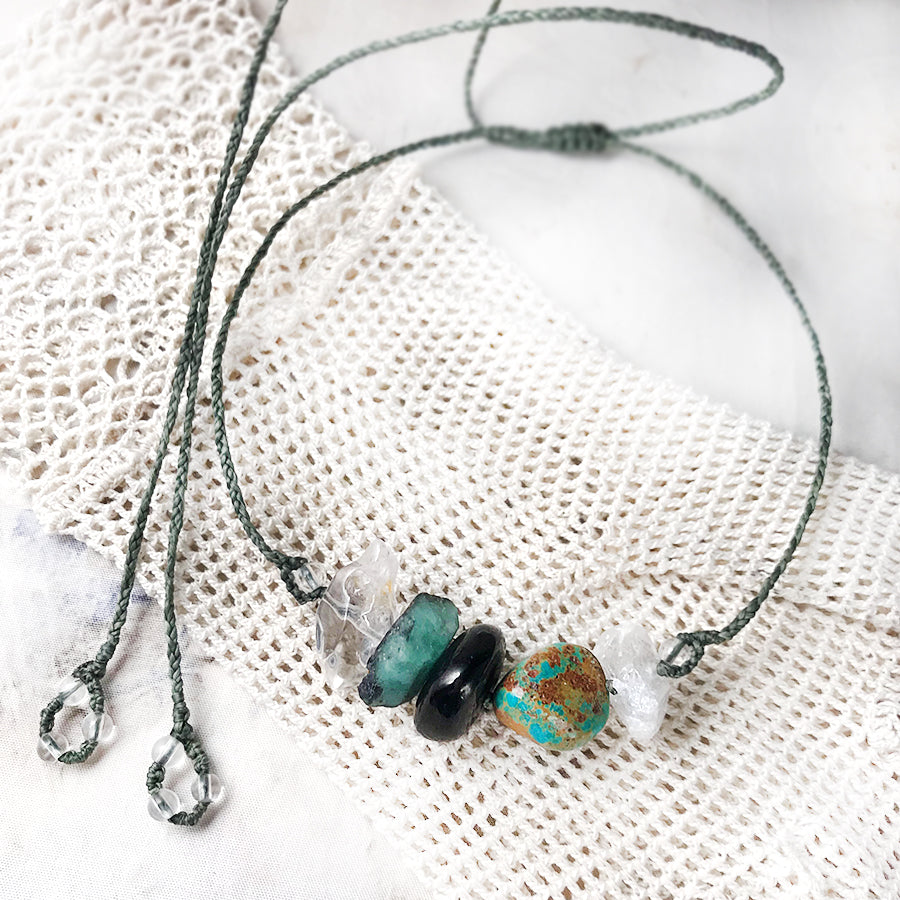 'Five Stone Talisman' ~ with Jet, Emerald, Topaz, Turquoise & Quartz
DESCRIPTION
Crystal healing amulet combining the energies of Jet, Emerald, Topaz, Turquoise and Quartz. Here's crystal energy in delicate size and subtle style, if you want to wear something that energetically packs a punch but does not make a large statement visually. The necklace is minimally knotted in muted dark green micro-macrame cord, very strong and durable, yet soft and comfortable to wear. The ends of the adjustable necklace cords are decorated with clear Quartz.
This necklace is meant to be worn at short length, although there is enough braid length to allow you to wear this longer too. The largest stone, a tumbled smooth Quartz sceptre is approx. 1.5 cm (0.4") in its longest dimension and together the row of stones is approx. 5 cm (2") wide.
There are no metals in this necklace so would be particularly suitable for those with metal allergy or sensitivity and for energy workers and those who simply prefer not to wear metal.
You'll receive this crystal healing necklace in one of my handmade fabric draw-string pouches - great for the safe-keeping of the necklace. Gift-wrapped at no extra charge.

Read here how to take care of your crystal jewellery.
CRYSTAL PROPERTIES
TOPAZ
Stone of success and good fortune. Aligns and recharges body's meridians.  Clear Topaz aids in spiritual development and in clarifying one's life purpose. With the strong magnification energy of Topaz, you may reach your heart's goals and desired manifestations faster. Increases energy and vitality. Increases cosmic awareness by activating the crown and the soul star chakras. In ancient legends, Topaz was said to make its wearer invisible if needed at times of emergency.
TURQUOISE
Turquoise is a strengthening and purifying stone. It fosters honest and clear communication from the heart. Aligns all of the chakras; and can be used to cleanse your energy centres. Balancing stone for the mood and emotions. Promotes self-realisation and aids creative problem-solving.
JET
Stone of protection and purification, helping to keep negativity at bay. Often used to stabilise finances and protect businesses, but also as a shield against psychic attacks and removing energetic attachments. Assists in spiritual advancement and the rise of kundalini energy. Enlists the help of Earth energy in manifesting one's desires. Calming for those battling with difficulties. Comforting stone, mood-balancing, easing anxiety and fears. Increases self-reliance and helps in the process of life changes.
EMERALD
Stone of Love. Opening and nurturing to the heart chakra. Benefits heart-based intuition. Promotes joyous emotions, enhances emotional and spiritual balance. Restores confidence where needed. Brings visionary insight, especially relating to one's vocation. In crystal lore, Emerald is the sacred stone of the goddess Venus. It was the symbol of eternal life in ancient Egypt. Also known as a great aid for manifesting prosperity. (Emerald is one of the four 'precious' gemstones, the other three being Ruby, Sapphire & Diamond. Other gemstones are considered 'semi-precious'.)
CLEAR QUARTZ
The universal master crystal that has a harmonising effect on all levels of being. Programmable by intention, so can be used for versatile purposes. Quartz can clear, enhance, amplify, transmute, balance, focus and transmit energy. Raises one's energetic vibration. Brings clarity and filters out distractions. A deep soul cleanser, attuning its keeper to their higher self. Each Quartz crystal is unique with its own character and teachings it offers, all are known as "Stones of Power" and "Master Healers".
Recently Viewed