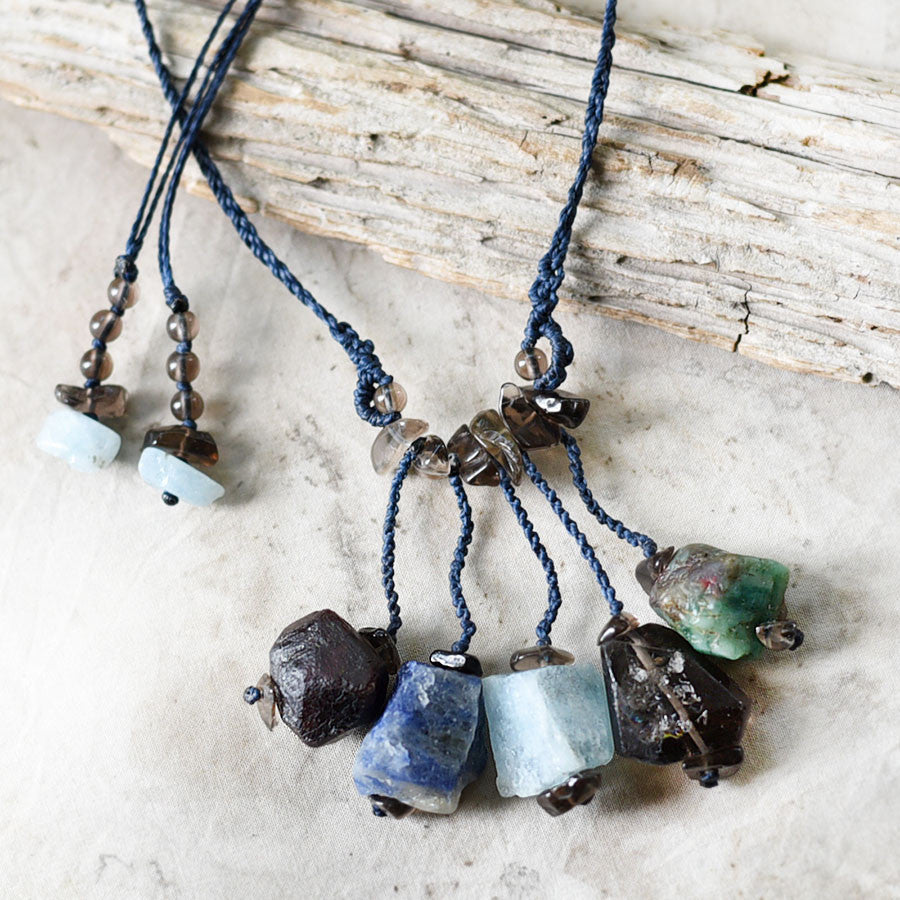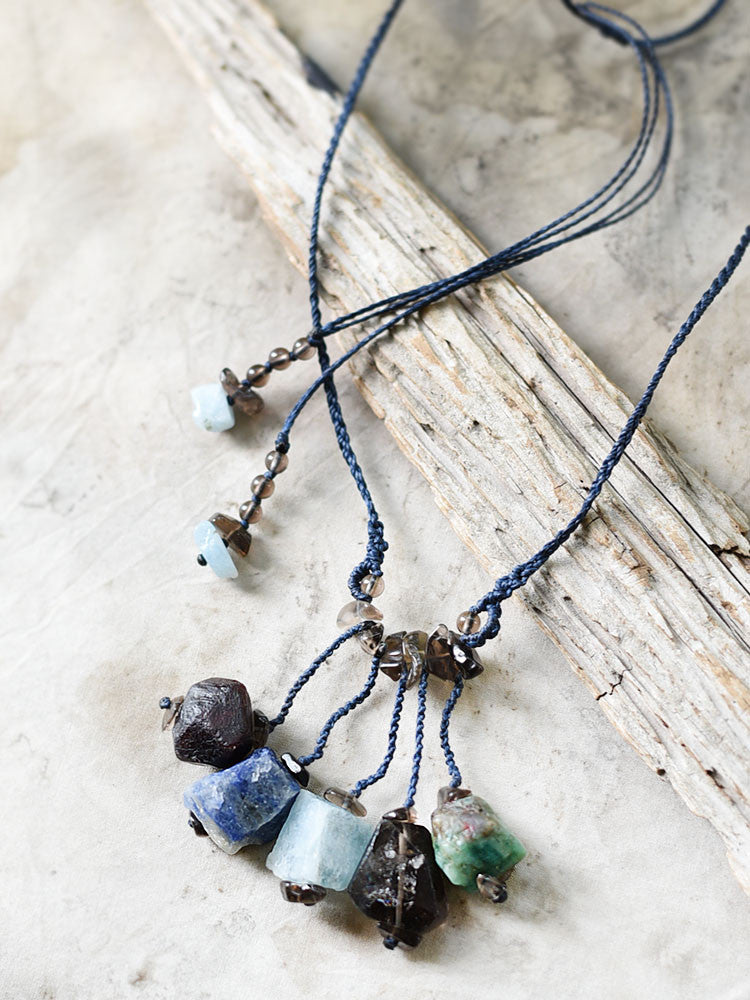 Five stone talisman with Garnet, Sodalite, Aquamarine, Smokey Quartz & Emerald
DESCRIPTION
Crystal healing necklace with a combination of five stones: Garnet, Sodalite, Aquamarine, Smokey Quartz and Emerald. I have selected all five crystals carefully, for them to combine harmoniously as individual stones within this grouping. These five work gently yet powerfully together, and while wearing this pendant, you may like to occasionally hold the crystals in the palm of your hand to clearly feel the connection. The necklace is minimally braided with midnight blue micro-macrame cord, very strong and durable, yet soft and comfortable to wear. The highlighting crystals are Smokey Quartz and Aquamarine (the decorative ends of the necklace cords).
The length of the necklace is adjustable from very short down to solar plexus level. The crystal strands dangle down approx. 5.5 cm (2.2") and each crystal is max. 1.5 cm (0.6") in its largest length.
There are no metals in this necklace so would be particularly suitable for those who have metal sensitivities, energy workers and those who simply prefer not to wear metal.
You'll receive this crystal healing necklace in one of my fabric draw-string pouches, great for the safe-keeping of the necklace. Gift-wrapped at no extra charge.
CRYSTAL PROPERTIES
EMERALD
Stone of love. Opening and nurturing to the heart chakra. Benefits heart-based intuition. Promotes joyous emotions, enhances emotional and spiritual balance. Restores confidence where needed. Brings visionary insight, especially relating to one's vocation. In crystal lore, Emerald is the sacred stone of the goddess Venus. It was the symbol of eternal life in ancient Egypt.
SMOKEY QUARTZ
A grounding and calming stone that elevates moods and dissipates negative emotions. "A Stone of Serenity", it is comforting and protective for one's aura. Smokey Quartz is thought to assist in creative endeavours and also in setting personal boundaries. Offers EMF protection. A good healing stone for improving general feeling of well-being.
AQUAMARINE
Connected with the throat chakra, easing verbal self-expression. Helps you communicate your own truth and find your voice. Helps in looking at emotional situations from other perspectives, assists in opening up intuition and to calmly be in the flow of life. Aquamarine also aids in reaching deep meditative states. Resonates with the energy of the ocean. Stone of courage and protection.
SODALITE
Aids the development of psychic abilities and intuition, accelerating the process. Stimulates latent creative abilities. Supportive for public speaking. May open up insights relating to communication and one's inner truths, as well as assisting in living up to one's ideals. Supports building self-esteem. Known as an EMF shield.
GARNET
Stimulates one's life force. Opens the root chakra while drawing earth energy into the body, helping you to feel secure and centred. Awakens the "inner fire" of creativity. Highly protective stone and a great companion to keep you energised. Excellent good fortune and 'success' stone in both social and career ventures, adding positive vibes both in your personal or business life. Stone of purification and cleansing. Symbolises passionate, devoted love.
Recently Viewed