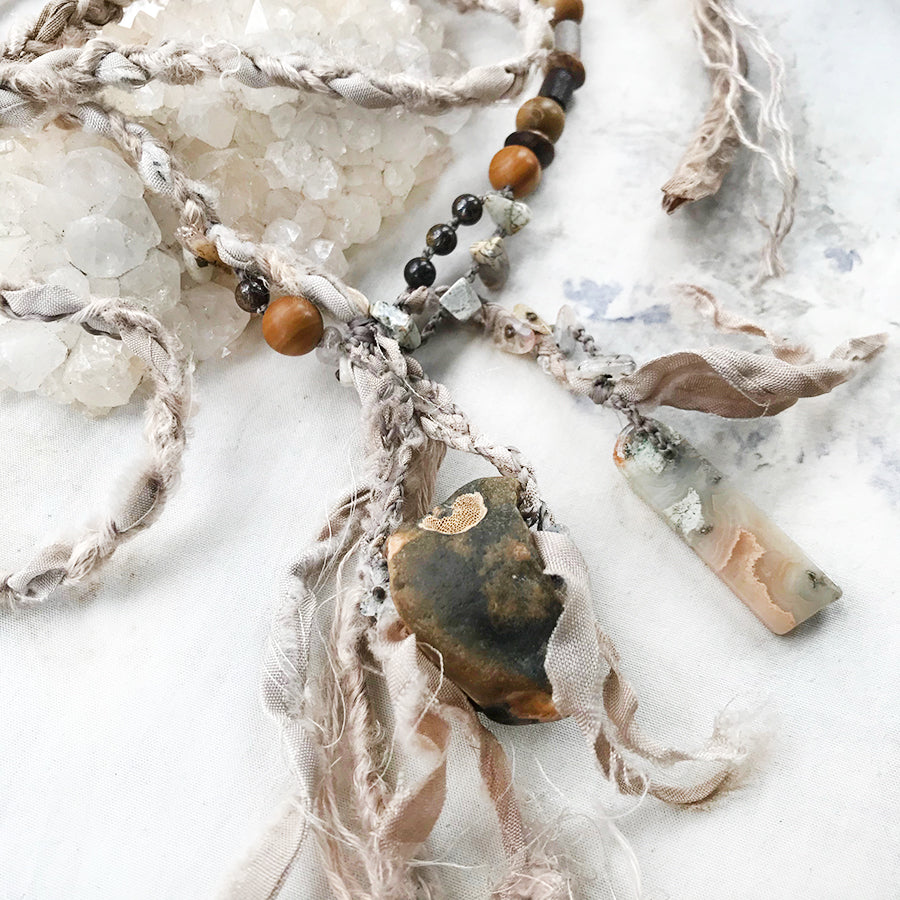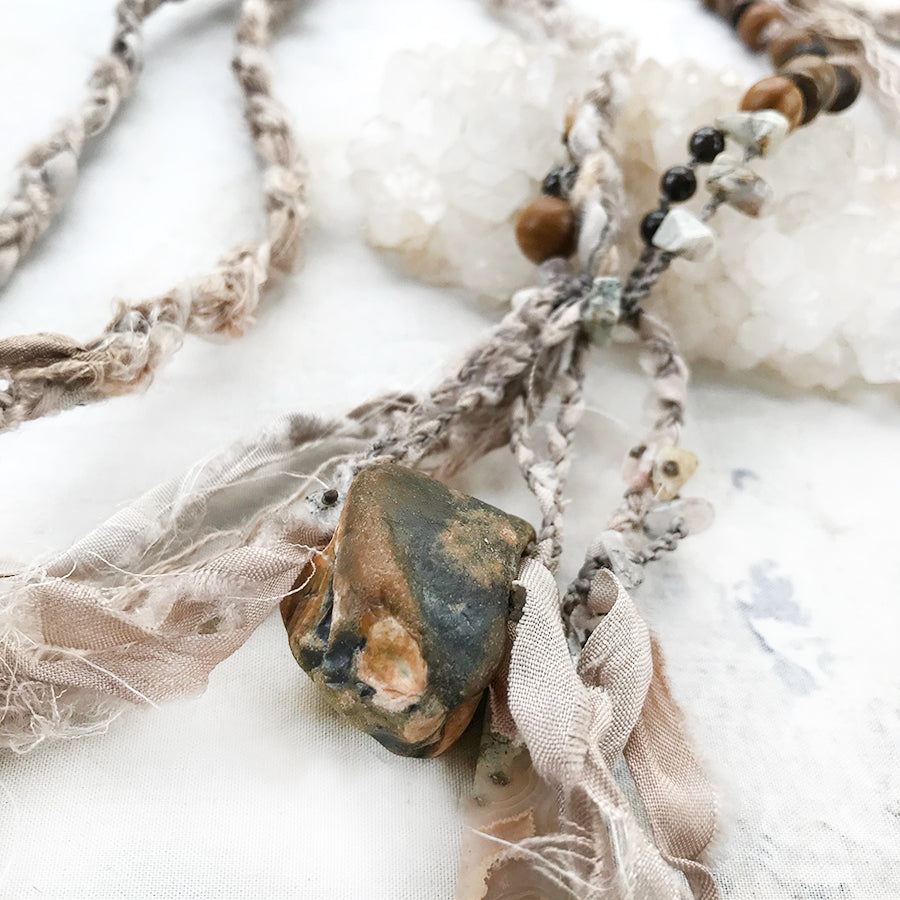 Flint Hagstone lariat necklace with Silver Leaf Jasper
DESCRIPTION
Shamanic and earthy, wabisabi and tactile, this partly braided / partly beaded lariat necklace evokes a time of the ancients. The main stone is a Flint hagstone, natural sea-tumbled holey stone. According to legends, hagstones have special powers in protecting their owners. This stone has been shaped by the waves and attaches to the necklace braid through its natural hole. The lariat is braided with botanically eco-dyed recycled sari silk and banana silk, combined with grey micro-macrame cord for strength. One side of the lariat is beaded with grey and brown wooden beads.
To close this lariat necklace, you slide the Silver Leaf Jasper slice in the other end through the knotted loop in the other end. Alternatively, you may just leave the lariat closed and slip the necklace over your head for ease.
When this lariat is closed with the Silver Leaf Jasper strand through the knotted loop, the all around length of the closed braid is approx. 76 cm (30") with the braided strands dangling down a total length of approx. 10 cm (4"). The Flint hagstonr pebble is approx. 3 cm (1.2") tall.

You'll receive this lariat in a fabric draw-string pouch for safekeeping, and beautifully gift-wrapped at no extra cost.

Read here how to take care of your crystal jewellery.
CRYSTAL PROPERTIES
FLINT
Ancient protection amulet, calling in spiritual guides and allies. Helps cut away anything that is not in your highest good, dissolving energetic blockages and detaching negative etheric ties from the aura and chakras. Increases self-esteem and courage. Excellent electromagnetic conductor, thus useful for those who are sensitive to EMF pollution. Purifies its environment. Said to prevent nightmares. Known as a "Portal Stone", facilitating your connection with higher dimensions and with your true self. Grounding vibe, which resonating with the Earth Star chakra, yet also corresponds to the Soul Star chakra, offering spiritual expansion and allowing you to ground higher spiritual knowledge into your physical existence.
SILVER LEAF JASPER
Harmonious, protective stone. Considered a good amulet for times of travel (whether physical or astral). Instils a feeling of wholeness and serenity, a sense that all is well. Great support for one's will power and personal courage. Healing effect on emotional tension. Has been called a "stone of natural wisdom", awakening one's sense of joy in life.
BRONZITE
Encourages loving, non-judgemental mindset. Helps in gaining certainty about one's decisions and the right course of action. Bronzite is said to bring harmony into discordant situations, protective when the wearer might feel a lack of control. Instils a feeling of calmness when having "many irons in the fire". A stone of focused action. Grounds you into the knowing that "All Is Well".
Recently Viewed