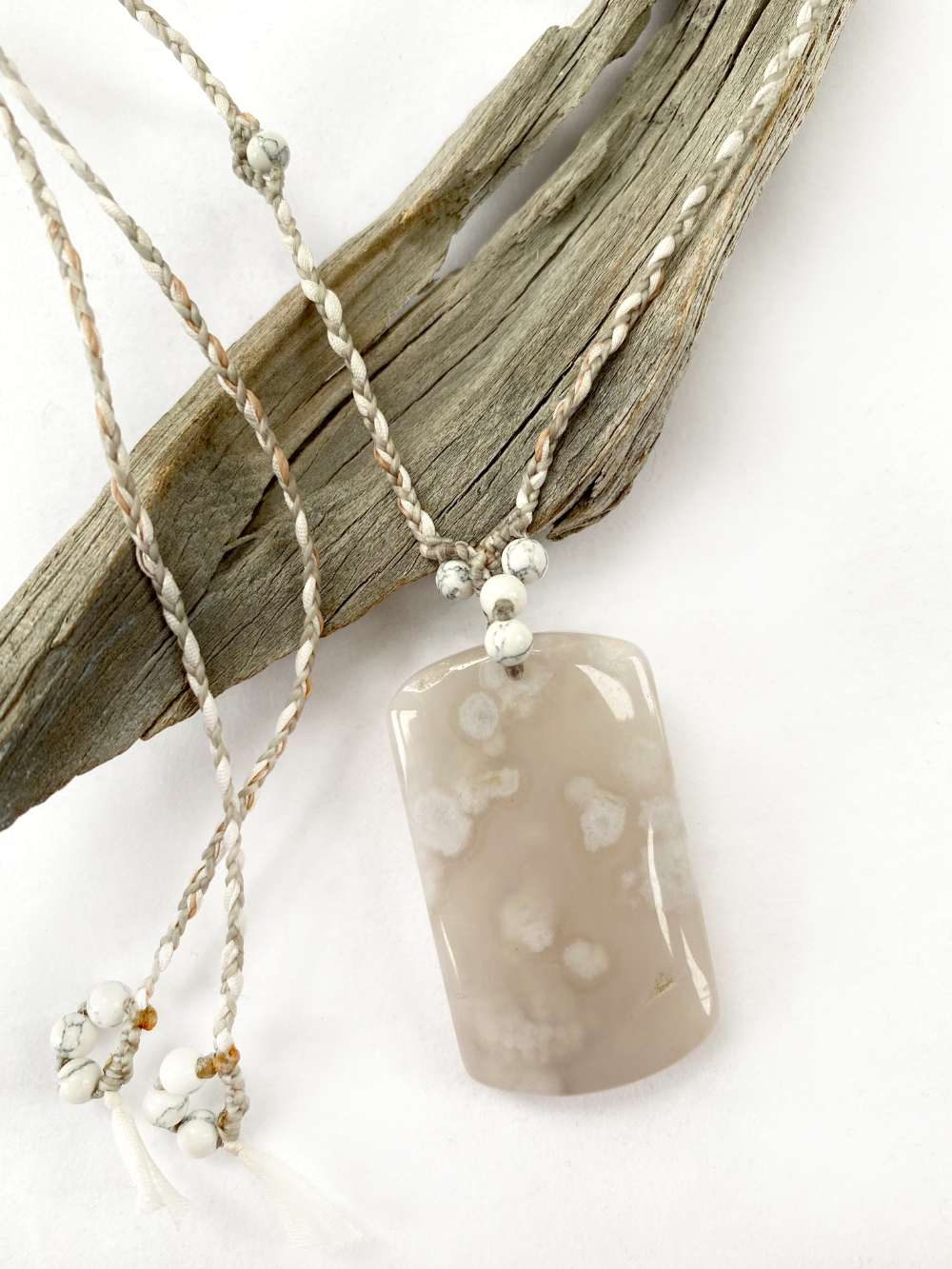 Flower Agate crystal healing amulet
DESCRIPTION
Crystal healing necklace combining the energy of Flower Agate with Howlite. The Flower Agate shows beautiful ethereal landscape within, like an atmosphere you could enter to nurture the dreams you want to bring into reality. 

The necklace is minimally braided with white embroidery silk ribbon and light grey micro-macrame cord, strong and durable yet comfortable to wear. The length of the necklace is adjustable from very short down to solar plexus level. The Flower Agate is just over 4 cm (1.6") tall and 2.5 cm (1") wide.
There are no metals in this necklace so would be particularly suitable for those with metal sensitivities / metal allergy, energy workers and those who simply prefer not to wear metal jewellery.
You'll receive this crystal healing necklace in one of Spirit Carrier's fabric draw-string pouches, great for the safe-keeping of the necklace. Gift-wrapped at no extra charge.

***Free Shipping Worldwide on this item***

Read here how to take care of your crystal jewellery.
CRYSTAL PROPERTIES
FLOWER AGATE
Encourages self-growth so you can develop into the best version of yourself. Assists in bringing to light your hidden talents, thus supporting you to reach your full potential. A feminine power stone, with a gentle yet potent energy. Helps release self-doubt and motivates to take action. Excellent manifestation aid, nurturing your dreams to grow from seed to full blossom, and helping the endeavours dearest to your heart to flourish.
HOWLITE
Belongs to the "attunement" stones, linking its keeper to higher spiritual consciousness. Enhances self-awareness by providing insight into one's own actions and behaviour. Boosts creativity. Encourages you to look inside yourself for answers and is a generally calming and balancing stone. Helps in eliminating rage, anger and frustration, to assist with emotional expression. Opens the Third Eye to connect to wider awareness and spiritual insights.
Recently Viewed