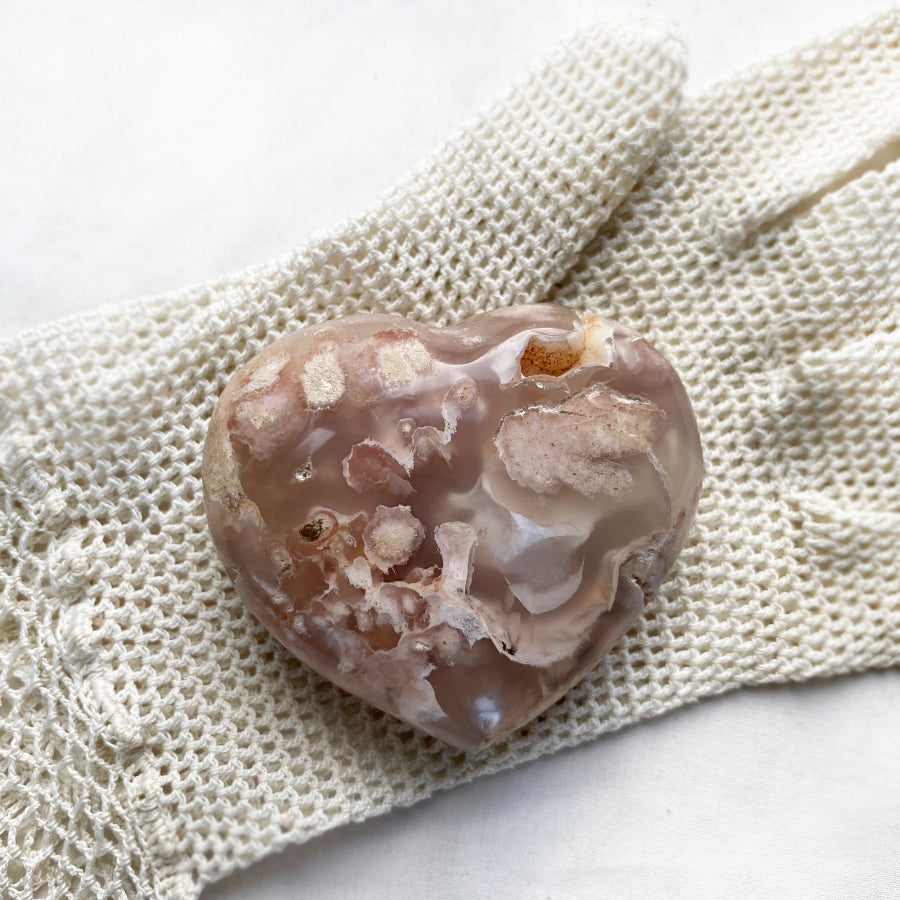 Flower Agate polished heart
Charming, smooth polished Flower Agate heart with a unique plume pattern. Each individual stone varies, usually having a pale warm tone leaning towards dusty pink, this particular individual also with an unusual triangular crevice emphasised with a white pattern. The characteristic pattern shows translucent areas and sculptural depth in the way the bloom markings emerge from within the stone. In addition to general Agate crystal healing properties, this unusual type of Agate has its own set of skills, relating to self-growth and manifestation.
The heart is approx. 6 cm (2.4") wide and 5 cm (2") tall.
Weighs 125 g (4.4 oz).
The two photos show both sides of the stone.
You'll receive this crystal treasure securely padded and wrapped to protect it on the postal journey.
Please note that these hearts occasionally include natural crevices which are not imperfections but part of the natural character of the stone.
~
FLOWER AGATE
Encourages self-growth so you can develop into the best version of yourself. Assists in bringing to light your hidden talents, thus supporting you to reach your full potential. A feminine power stone, with a gentle yet potent energy. Helps release self-doubt and motivates to take action. Excellent manifestation aid, nurturing your dreams to grow from seed to full blossom, and helping the endeavours dearest to your heart to flourish.
AGATE GEODE
Calms and strengthens body and mind. Soothing, instilling one with courage. Enhances creativity and stimulates the intellect. Great for increasing one's sense of self-worth and self-acceptance. Protective, grounding, purifying. Wonderful healing support for anything to do with feminine energies.
Recently Viewed