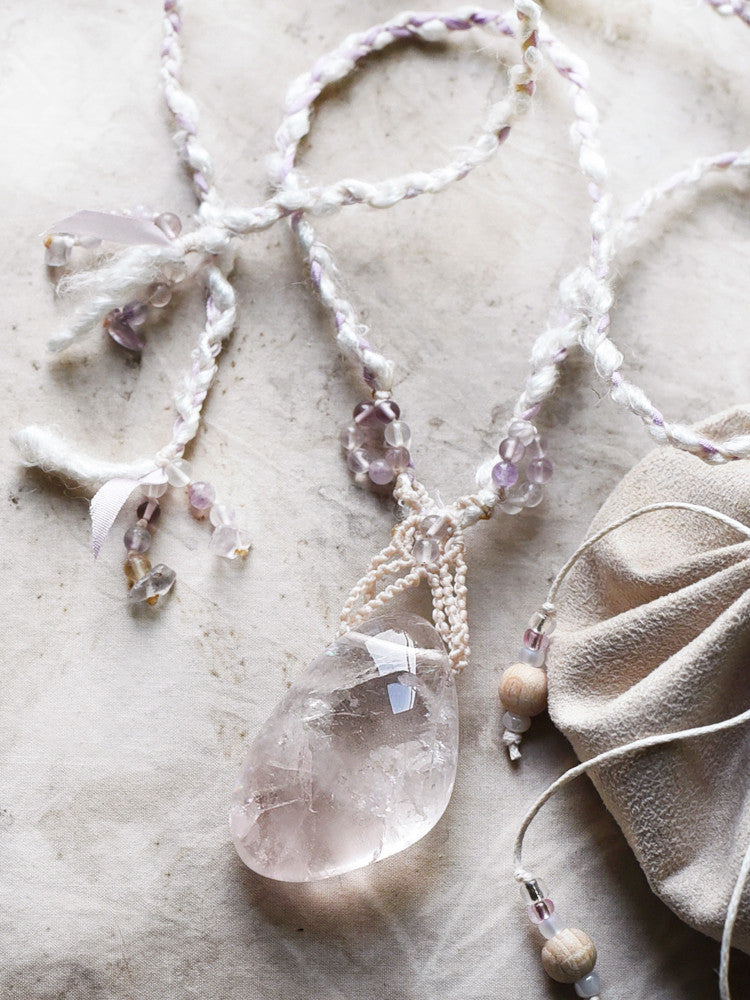 'Heart Harmony' ~ Fluorite crystal amulet in silk braid
DESCRIPTION
Crystal healing amulet with smooth pebble of Fluorite, in rare pale pink/lavender tone and with a beautiful crystalline inner landscape within. The Fluorite attaches to a necklace braid of softly spun white banana silk combined with pale lavender hue silk ribbon and pale cream tone micro-macrame cord. Banana silk is so divinely soft, wearing this necklace feels like a hug. The highlighting crystals are Fluorite as well. The long braid ends are also decorated with small Fluorite crystals and are left open so you can tie the amulet to hang at any desired level.
The Fluorite is approx. 4 cm (1.6") tall and approx. 3 cm (1.2") at its widest.
There are no metals in this necklace so would be particularly suitable for those with metal sensitivities / metal allergy, energy workers and those who simply prefer not to wear metal.
You'll receive this crystal healing necklace in one of my handmade fabric draw-string pouches - great for the safe-keeping of the necklace. Gift-wrapped at no extra charge.
CRYSTAL PROPERTIES
FLUORITE
Excellent for cleansing one's aura, also detaching unwanted energy cords. Grounds excessive energy, beneficial for all levels of healing. Helpful in achieving spiritual wholeness. Stabilising and harmonising stone. Facilitates personal growth. Awareness expanding. Anchors intuitive insights into the physical plane. Offers strong psychic protection, helping to discern energies one comes in contact with. Helps in being objective and focusing on what is essential. Also known as absorbing environmental EMF.
Recently Viewed