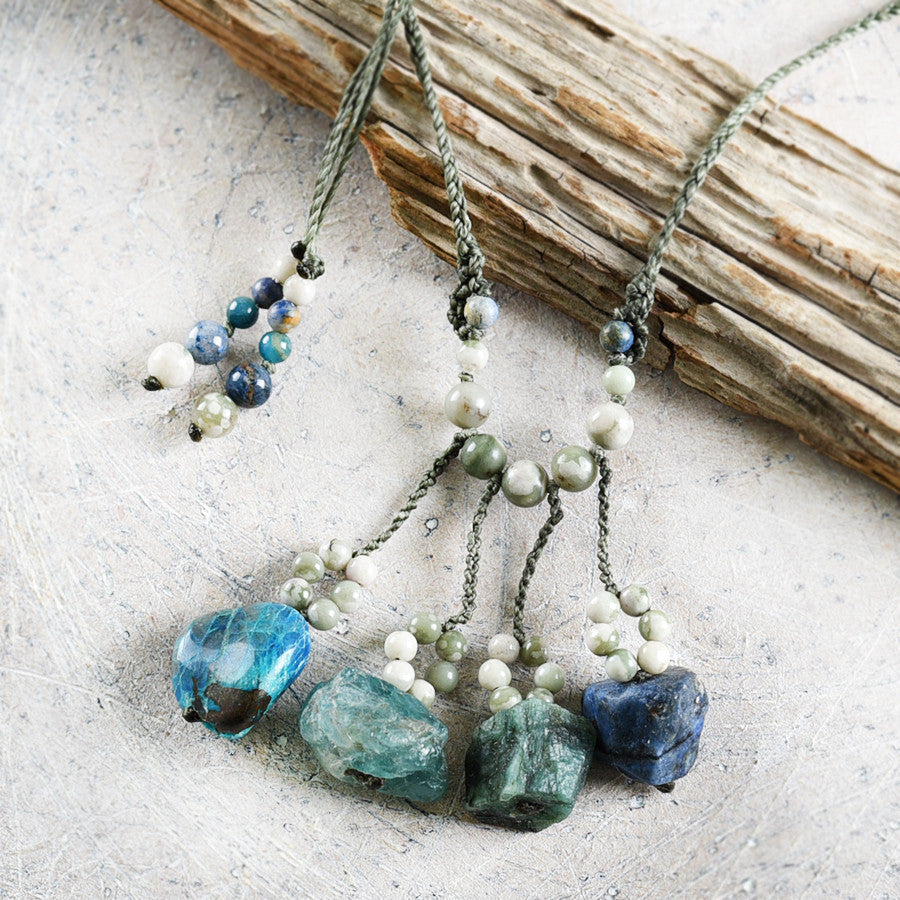 'Fragrant Garden' ~ crystal healing amulet with Chrysocolla, Emerald, Apatite, Dumortierite & Peace Jade
DESCRIPTION
This healing crystal charm combines the energies of Chrysocolla, Emerald, Apatite, Dumortierite and Peace Jade. I have selected this crystal group carefully, for the individual stones to combine harmoniously when together. While wearing this pendant, you may like to occasionally hold the crystals in the palm of your hand to clearly feel the connection.

The four crystal strands are strung on a minimal, braided, dark green micro-macrame cord, very strong and durable, yet soft and comfortable to wear. The spacer crystals in the necklace between each hanging stone strand are Peace Jade. Further highlighting crystals are Apatite and Dumortierite. There's no metal in this necklace so it's particularly suitable for those with sensitivities to metals.

The length of the necklace is adjustable from very short down to just above solar plexus level. Each of the four crystal strands hang down about 4.5-5.5 cm (1.8"-2.2"). The sizes of the crystals vary between 1.5-2 cm (0.6"-0.8") in the longest dimension of each.
You'll receive this crystal healing necklace in one of my fabric draw-string pouches, great for the safe-keeping of the necklace. Gift-wrapped at no extra charge.
CRYSTAL PROPERTIES
CHRYSOCOLLA
Stone of the Wise Woman, of feminine empowerment. Associated with tranquility and intuition. Brings out one's inner strength, releasing old hurts such as feelings of guilt. Heals heartaches and promotes confidence, sensitivity and motivation. Helps those in position of guiding or teaching others, to communicate their knowledge and experience lovingly to others. Excellent stone for emotional balance and creative endeavours.
APATITE
Enhances one's insight and imagination, and gives increased self-confidence. Blue Apatite connects to high level of spiritual guidance and is helpful in letting go of anything that no longer serves your highest good. Apatite crystal is also said to be a good aid in curbing one's appetite!
EMERALD
Stone of love. Opening and nurturing to the heart chakra. Benefits heart-based intuition. Promotes joyous emotions, enhances emotional and spiritual balance. Restores confidence where needed. Brings visionary insight, especially relating to one's vocation. In crystal lore, Emerald is the sacred stone of the goddess Venus. It was the symbol of eternal life in ancient Egypt. 
DUMORTIERITE
Stone of support and inner harmony. Offers soothing vibrations that encourage patience with the natural order of the Universe. Aids one's mental capabilities in overcoming tough situations. Regulates the third eye chakra. Acts as a protective shield against fear. Stabilising for relationships, also said to attract a soulmate.
PEACE JADE
Pure, intensely peaceful vibe which can be easily felt when just holding this stone. Releases internalised stress, allowing you feel serene and in alignment with your core self. Calming when feeling emotionally overwhelmed. Guides you to take that "deep breath" of release to let go of tension and worry. Compassionate heart chakra stone that fills you with divine tranquility.
Recently Viewed