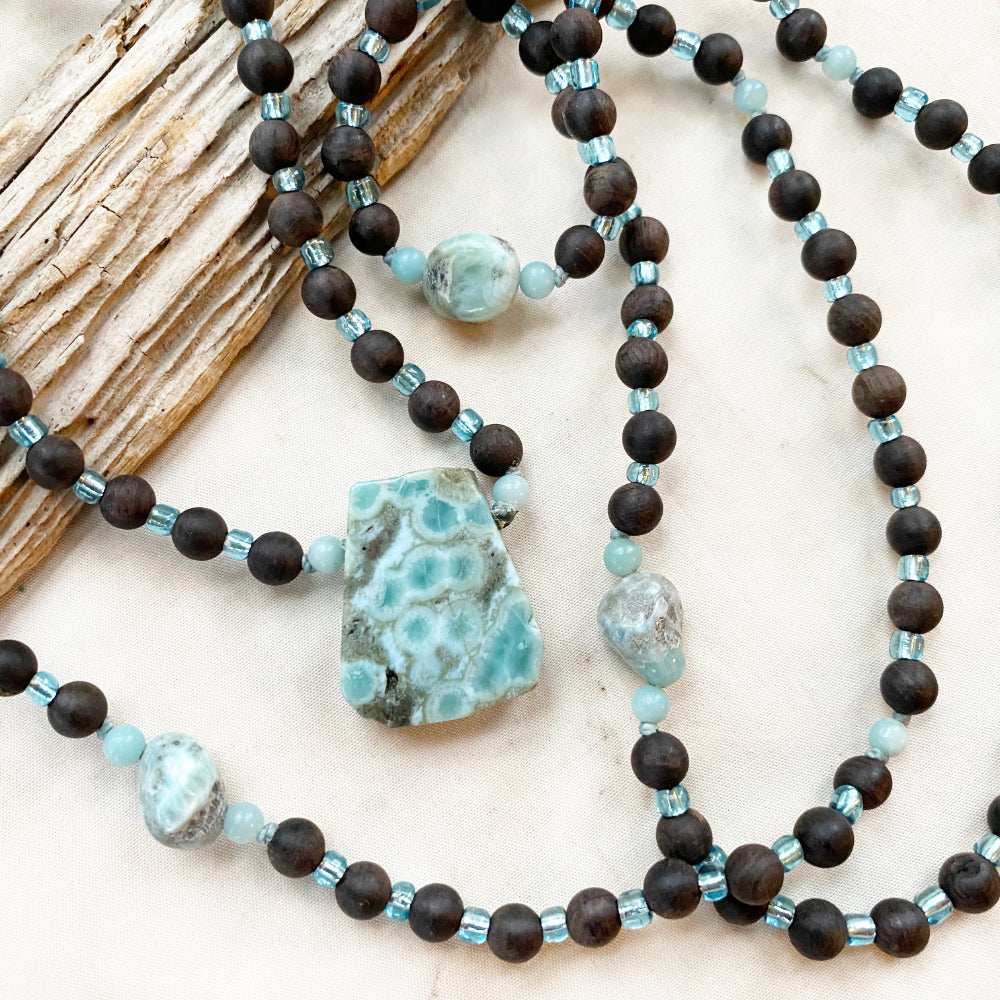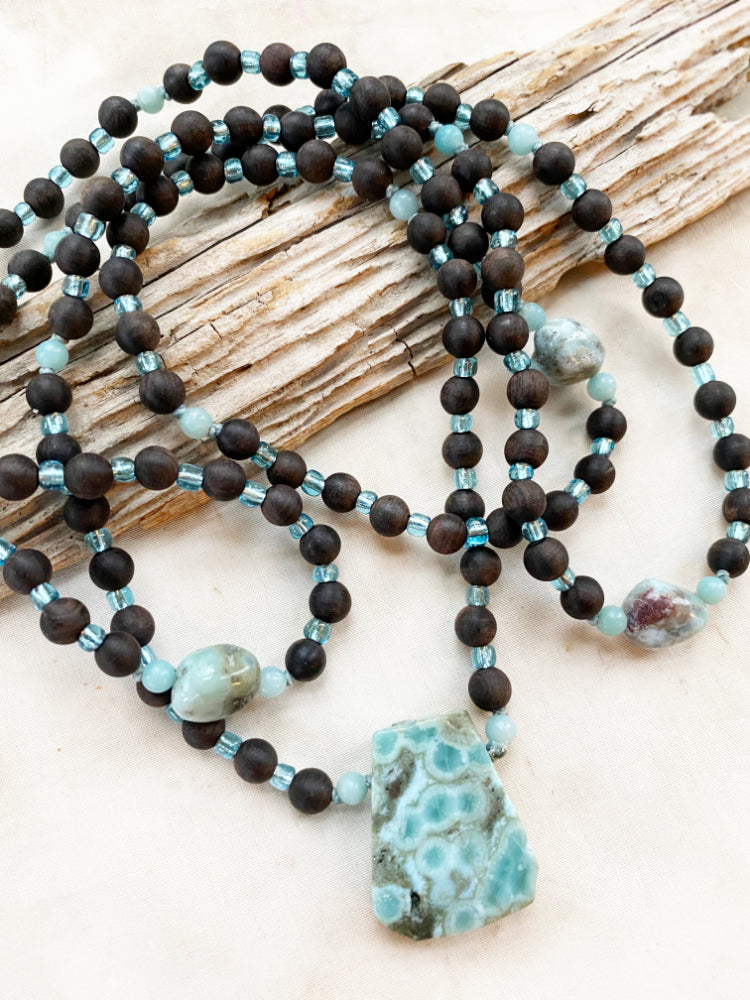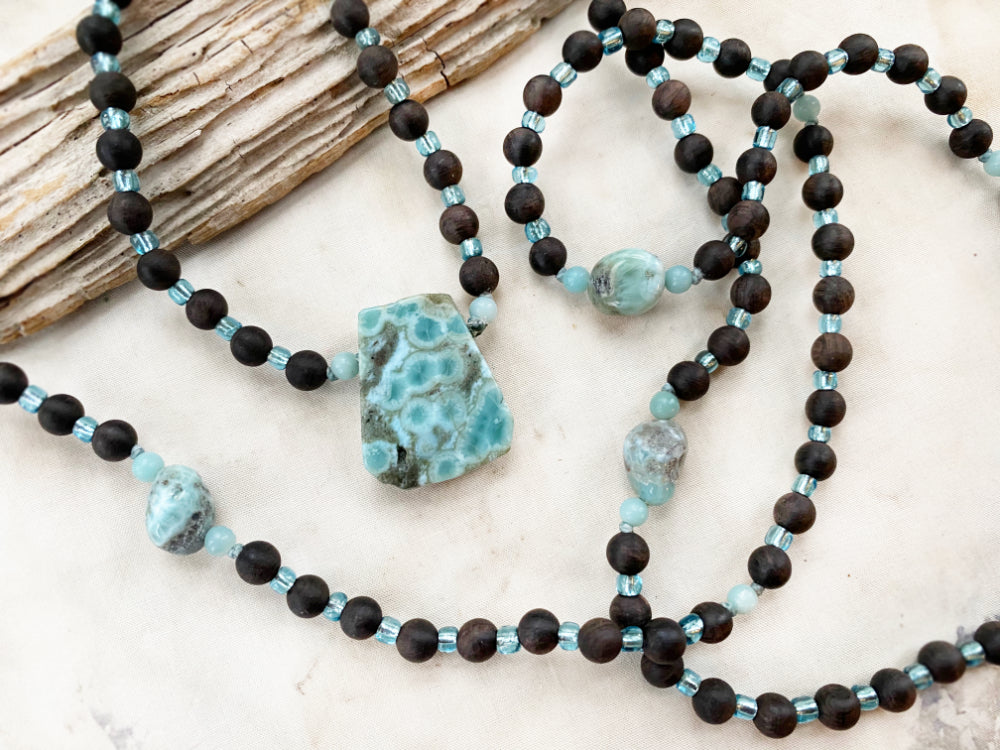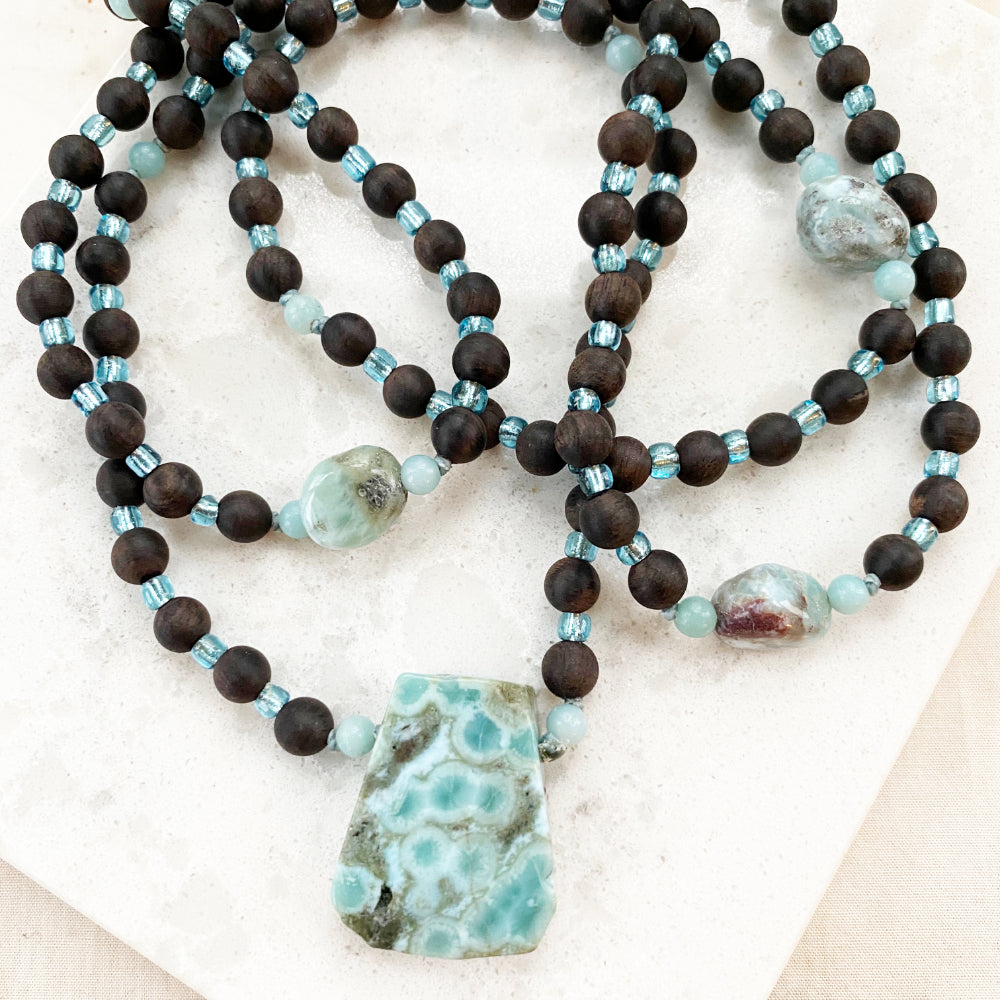 Full 108-bead Agarwood meditation mala
DESCRIPTION
One of a kind, contemporary 108-bead meditation mala with small brown agarwood counter beads. The three dividers are a combination of Larimar and Amazonite. The guru bead is a beautiful slice of Larimar with distinctive patterning that's so characteristic to Larimar.
Agarwood is traditionally regarded as a valuable aid on one's spiritual journey, bringing enlightenment and clarity as well as a sense of deep inner peace. Experienced practitioners recommend agarwood for providing motivation and devotion for meditation.
The wooden counter beads are spaced with translucent blue glass beads, and knotted with dark brown micro-macrame cord at every nine bead interval around a small Amazonite bead. This mala is visually minimalistic, the counter beads are smaller than Spirit Carrier malas usually so the effect is deinty and would suit someone who prefers very light in weight mala that is easy to take along when needed. There's a 'flowing' feel to this mala too, with the wooden beads softly following the contours of your hand when handled.
All around length of mala: 105 cm (41")
Counter bead diameter: 0.6 cm (0.2")
The size of the divider combination: approx. 2 cm (0.8") 
Length of guru bead crystal combination: 2.8 cm (1.1")
This mala comes in one of Spirit Carriers handmade cork ('vegan leather') pouches for safe-keeping.
You'll receive this mala gift-wrapped at no extra charge.

Read more about Spirit Carrier mala beads
CRYSTAL PROPERTIES
LARIMAR
A relatively rare stone, only found in the Dominican Republic. In crystal lore it is associated with the ancient civilization on Lemuria, and also sometimes called a "Dolphin Stone". Larimar is soothing and uplifting, bringing tranquility into heart and mind. It is said to support self-expression, creativity and patience.
AMAZONITE
A stone of self-respect, confidence and grace. Soothes the spirit and calms the soul. Assists in connecting with one's intuition. Enhances creativity and self-expression. Empowers to move beyond fear, to live in alignment with your truth. A talisman for healing and prosperity, also said to bring in new business.
Recently Viewed