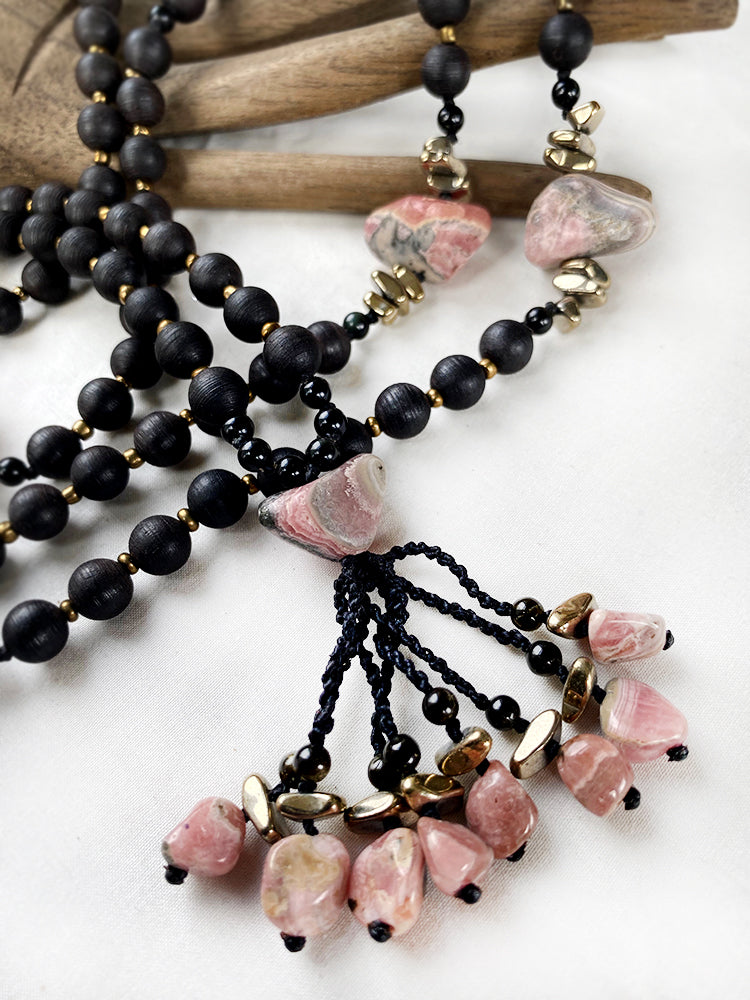 Full 108-bead mala with Agarwood, Rhodochrosite, Hematite & Obsidian
DESCRIPTION
One of a kind, contemporary 108 bead meditation mala with black Agarwood beads. The three dividers are a combination of Rhodochrosite with small gold-plated Hematite and tiny Obsidian crystals. The guru bead consists of an eight-strand tassel with matching crystals. 
The wooden counter beads are spaced with small golden hue glass seed beads in asymmetrical organic shapes, and knotted with black micro-macrame cord at every nine bead interval around a small Obsidian bead. This mala has a stylish, 'flowing' feel, with the wooden beads softly following the contours of your hand when handled, and would make a beautiful meditation companion for someone who prefers a mala that's very light in weight with luxurious, feminine feel.
All around length of mala: 124 cm (49") 
Counter bead diameter: 0.8 cm (0.3") 
The width of the divider combination: approx. 4 cm (1.6") 
Length of guru bead with 'tassel' combination: approx. 6 cm (2.4")
Please note that Spirit Carrier malas come usually in three sizes, determined by the diameter of the main counter beads - either 8 mm, 10 mm or 12 mm. This mala is the smallest size with 8 mm counter bead diameter (particularly suited for wearing as a necklace due to being lighter in weight and shorter in length than the larger meditation malas).
This unique mala comes in one of my handmade fabric drawstring pouch for safe-keeping. If you would rather have a leather pouch, please let me know at the time of purchase.

You'll receive this mala gift-wrapped at no extra charge.

Read more about Spirit Carrier mala beads
HEALING PROPERTIES
AGARWOOD
Traditionally regarded as a valuable aid on one's spiritual journey, bringing enlightenment and clarity as well as a sense of deep inner peace. Experienced practitioners recommend Agarwood for providing motivation and devotion for meditation.
RHODOCHROSITE
A stone of deep emotional healing. Comforting and positive, strengthening feelings of self-love, self-worth and self-forgiveness. Supportive heart-healer stone for those who are grieving or might feel stuck in the process. Repairs damages to one's subtle energy bodies. Helps in recovering lost talents you might have given up on due to past hurts, in order to discover your true purpose in this life.
HEMATITE
Creates a strong sense of self and enhances the creative flow. Relieves stress. Revitalises, enhancing personal magnetism and optimism. Helps in releasing self-imposed limitations to find your own unique gifts. A stone of balance and equilibrium. Grounds when feeling scattered, increases alertness and vigilance.
OBSIDIAN
Quick-acting grounding stone. Cleanses and removes unwanted energies from the environment. Assists in releasing negative emotions, bringing them to the surface to be dealt with. When meditated with, can help discovering the roots of certain life situations. Releases disharmony. Strong shield against negative/chaotic energies.
Recently Viewed