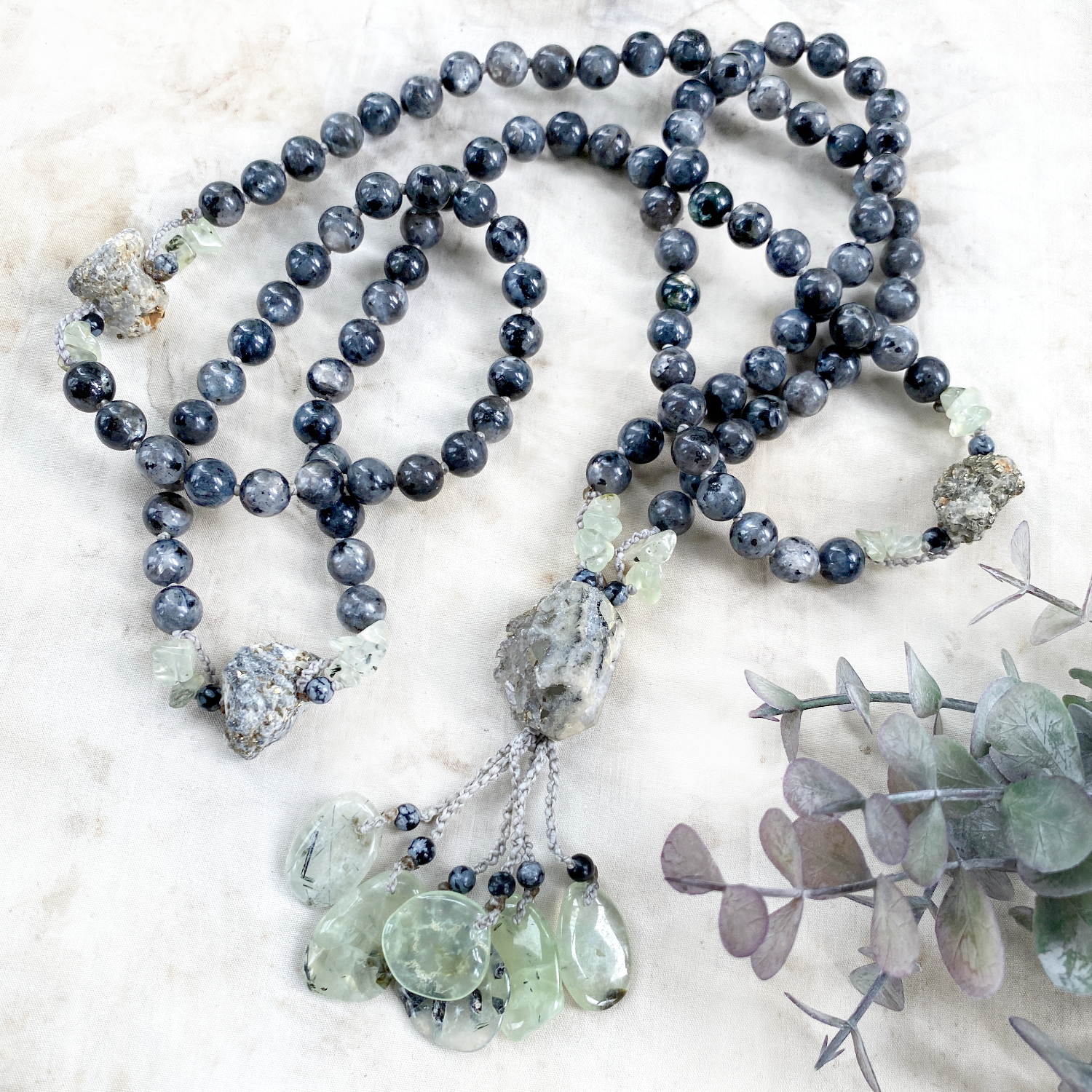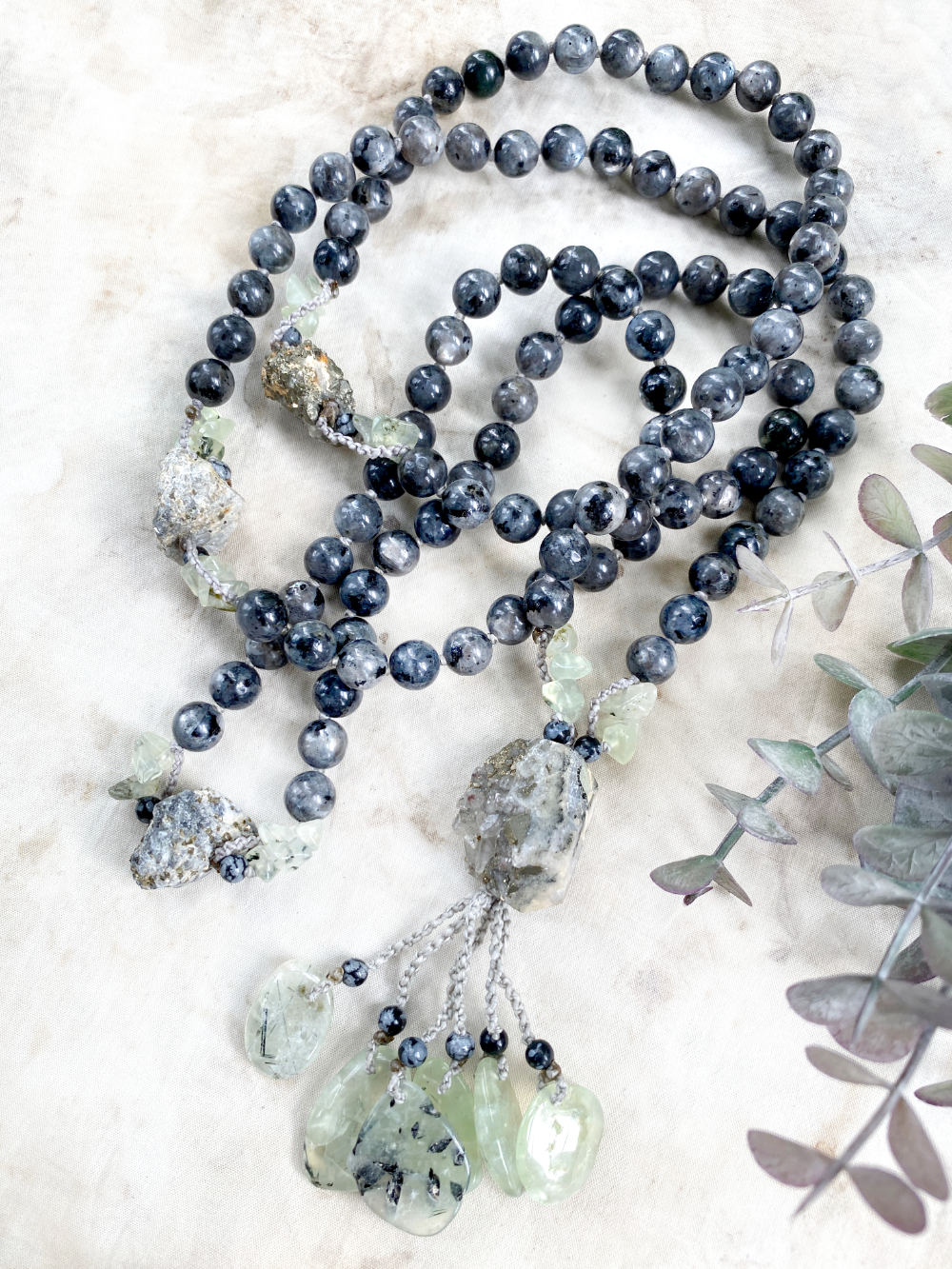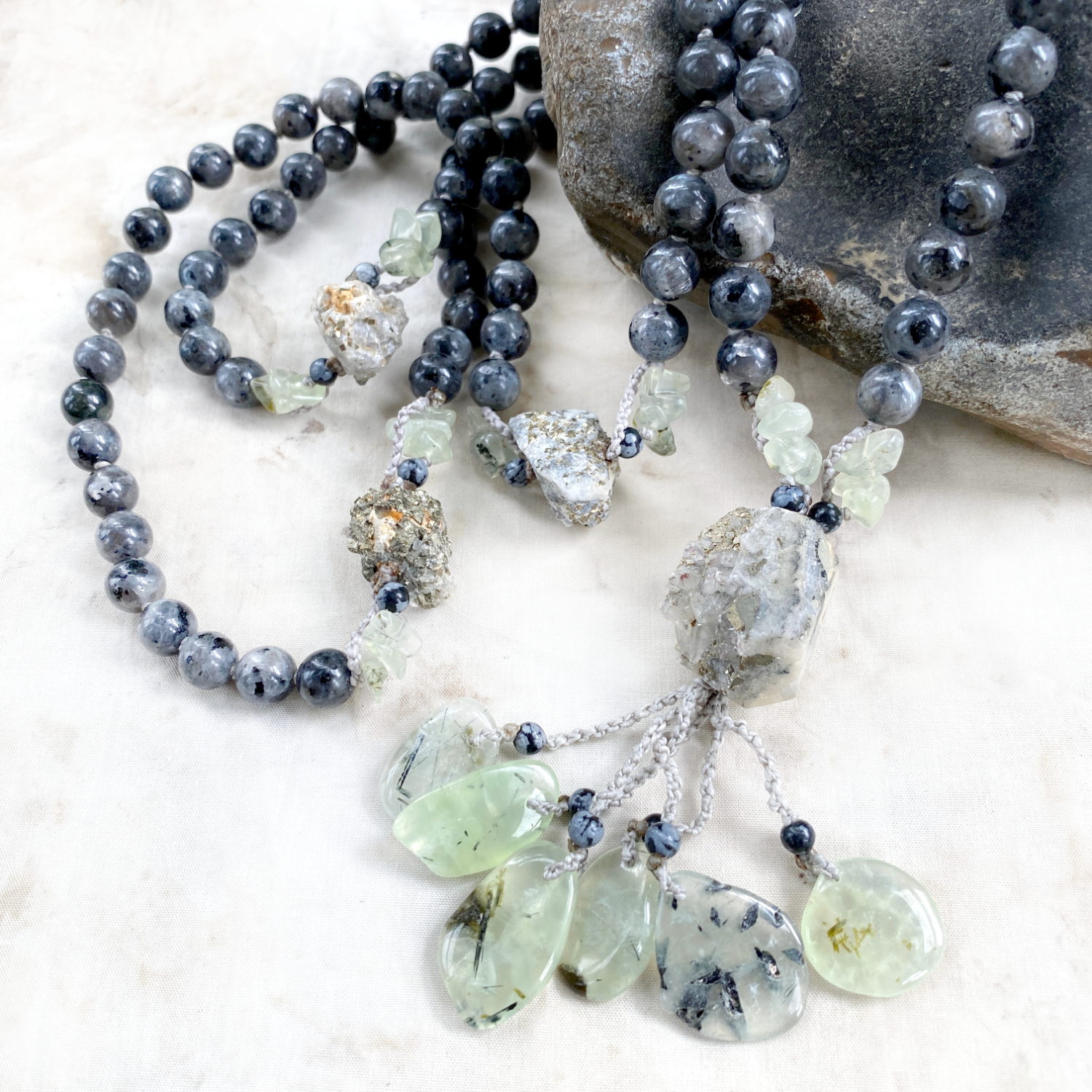 Full 108-bead meditation mala with Larvikite counter beads
DESCRIPTION
One of a kind, contemporary 108-bead meditation mala with Larvikite (Norwegian Moonstone) counter beads. The three dividers are a combination of Marcasite, Snowflake Obsidian and Prehnite. The guru bead consists of Marcasite and a crystal 'tassel' of Prehnite with Snowflake Obsidian accents.
Each counter bead is meticulously knotted by hand - one by one, for durability and ease of handling - using grey micro-macrame cord.
All around length of mala: 116 cm (45.5")
Counter bead diameter: 0.8 cm (0.3")
Length of guru bead with tassel: 7.5 cm (2.95")
This mala comes in one of Spirit Carrier's handmade cork pouches for safe-keeping. Gift-wrapped at no extra charge.
Read more about Spirit Carrier mala beads
CRYSTAL PROPERTIES
LARVIKITE (aka Black Labradorite, Norwegian Moonstone)
Repels negative energy and can make you more adaptable to life's situations. It also stimulates inner visions so it's very suited to meditation. Black Labradorite is also said to connect with nature spirits. On physical level, it is said to be good for renewing and maintaining vitality and youthfulness.
PREHNITE
Protective on all levels, strengthening one's life force. Fosters a sense of trust in the Universe and helps you protect your boundaries so it's easier to say "no" when needed. Stimulates inner knowing of oneself and guides in fulfilling one's potential. Helps to let go of unpleasant memories. Enhances spiritual "knowing". Revitalising and said to bring inner peace. Also said to be "a healer's healer".
MARCASITE
Resonates with the Soul Star chakra, even if being strongly grounding at the same time. Offers strong psychic protection and aligns all the chakras. Brings clarity of thinking and an increase in will-power. Said to promote creativity, spirit awareness and clairvoyance.
SNOWFLAKE OBSIDIAN
Promotes a sense of calm and inner equilibrium, bringing balance to body, mind and spirit. A grounding, protective stone. Eases worries and when carried/worn helps one to stay balanced and centred throughout the day. Native American shamans often carried Snowflake Obsidian as a powerful talisman to avert evil and bring good fortune, also considering it to be the guardian of the Great Spirit.
Recently Viewed