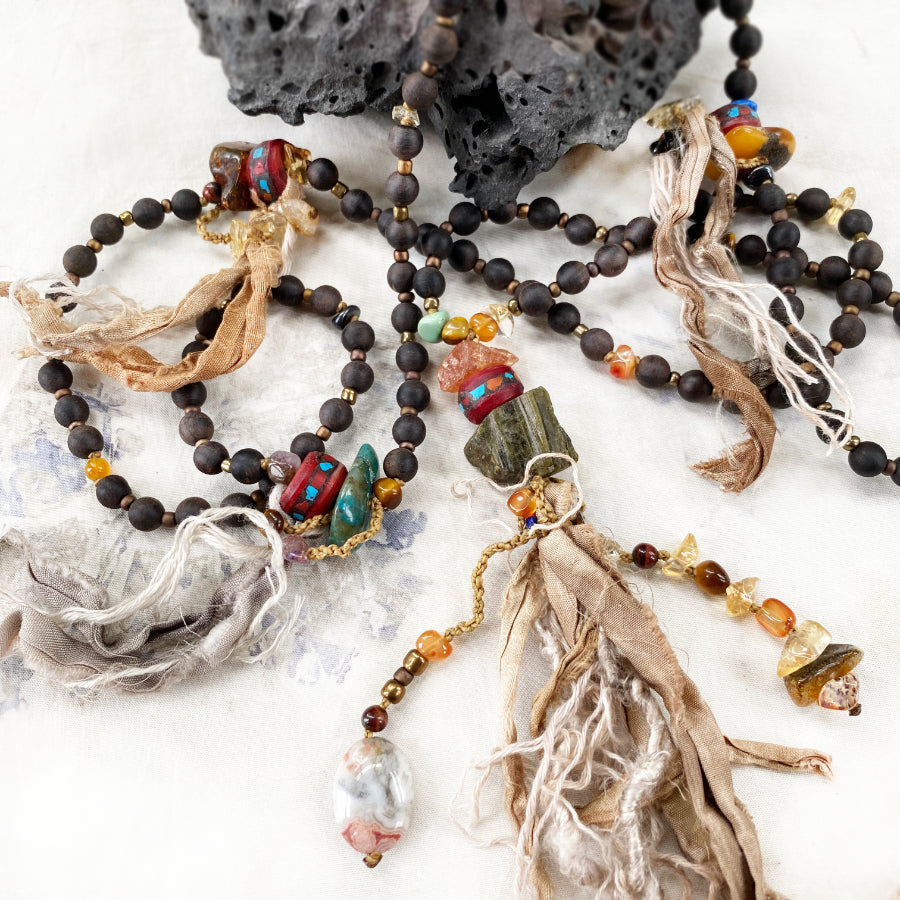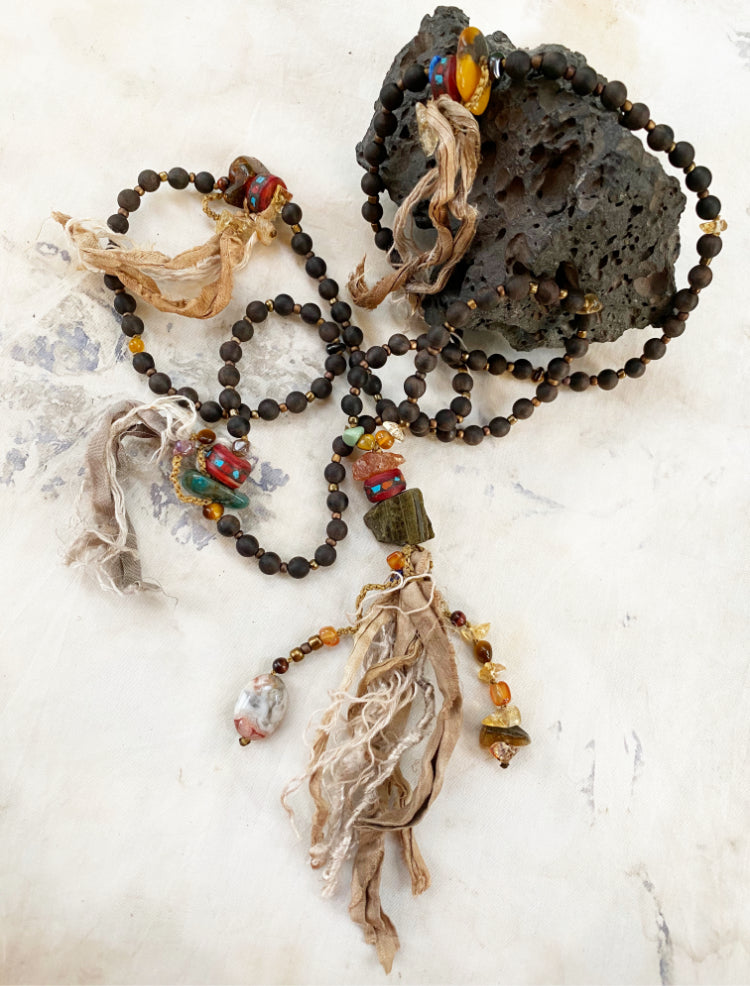 Full 108-bead Agarwood meditation mala
DESCRIPTION
Unique 108 bead meditation mala with agarwood counter beads, emulating the look and feel of some ancient Tibetan mala beads. The three dividers are each a different combination of crystals (Lapis Lazuli, Citrine, Hematite, Amethyst, red & yellow Tiger Eye) and also each divider with an antique yak bone bead that has been inlaid with small slices of Turquoise and Carnelian, with strands of silk and cotton. The guru bead consists of rough Spessartine Garnet and Verdelite, together with a long tassel made of botanically eco-dyed recycled sari silk, soft cotton yarn with two knotted crystal strands of Citrine, Carnelian, Tiger Eye and Crazy Lace Agate.
Agarwood is traditionally regarded as a valuable aid on one's spiritual journey, bringing enlightenment and clarity as well as a sense of deep inner peace. Experienced practitioners recommend agarwood for providing motivation and devotion for meditation.
The wooden counter beads are spaced with matte brown and golden tone glass seed beads in organic shapes, and knotted with brown micro-macrame cord at every nine bead interval around a small crystal, such as Citrines and Carnelians. This mala has a shamanic feel, with the wooden beads softly following the contours of your hand when handled.
All around length of mala: 99 cm (39")
Counter bead diameter: 0.6 cm (0.2")
The width of the divider combination: approx. 2.5 cm (1") 
Length of guru bead & tassel combination: 14 cm (5.5")
This mala comes in one of Spirit Carrier's handmade soft black leather pouches for safe-keeping. If you would rather have a fabric pouch, please let me know at the time of purchase. 
You'll receive this mala gift-wrapped at no extra charge.

Read more about Spirit Carrier mala beads
CRYSTAL PROPERTIES
The main crystal energies in this mala: 

VERDELITE (aka Green Tourmaline)
Connects to the energy of compassion, opening up pathways to self-healing and letting go of old heart wounds. Helpful in implementing new projects with the aim of bringing your true desires to fruition. Balancing and rejuvenating, attracting luck and prosperity.
AMBER
Amber is like sunshine solidified, offering a wonderful sense of health and wellbeing. Transmutes negative energies into positive, excellent for psychic protection. Cheers you up and helps you take action to make your ideas reality - ideal manifestation aid. Cleansing effect on the body, mind and spirit, promoting self-confidence and creative self-expression. Encourages spontaneity, patience and inner wisdom.
TURQUOISE
Turquoise is a strengthening and purifying stone. It fosters honest and clear communication from the heart. Aligns all of the chakras; and can be used to cleanse your energy centres. Balancing stone for the mood and emotions. Promotes self-realisation and aids creative problem-solving.
CRAZY LACE AGATE
A stone of laughter and happiness, offering support and encouragement, elevating one's mood and promoting optimism. Uplifting stone that alleviates emotional pain and promotes self-acceptance. Useful for overcoming any kind of trauma, encouraging one to start over. Promotes inner stability.
SPESSARTINE GARNET
Elevates mood and allows experiences of 'emotional sunshine' into one's life, thus making life more fulfilling. Helps in overcoming the fear of new experiences, encouraging you to live more spontaneously. Balances and vitalises the sacral chakra, supporting creative pursuits and intuition.
LAPIS LAZULI
Creativity super charger stone. Ignites new ideas and encourages different creative ways of thinking. Stone of truthfulness, openness, inner power, intuition and manifestation. Thought to increase self-confidence as well as to promote spiritual healing, mental calmness and strength of will. Powerful tool for dream work. Historically a stone of royalty.
CHRYSOCOLLA
Stone of the Wise Woman, of feminine empowerment. Associated with tranquility and intuition. Brings out one's inner strength, releasing old hurts such as feelings of guilt. Heals heartaches and promotes confidence, sensitivity and motivation. Helps those in position of guiding or teaching others, to communicate their knowledge and experience lovingly to others. Excellent stone for emotional balance and creative endeavours.
Recently Viewed