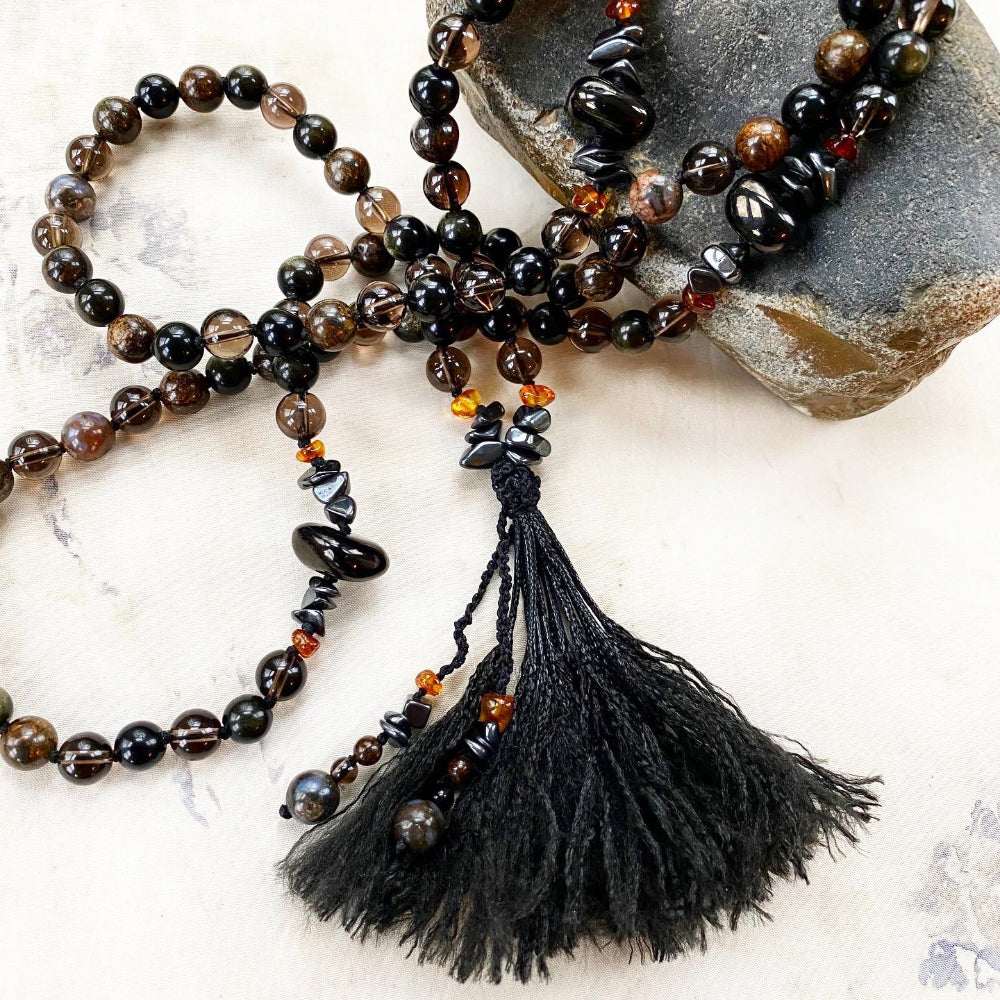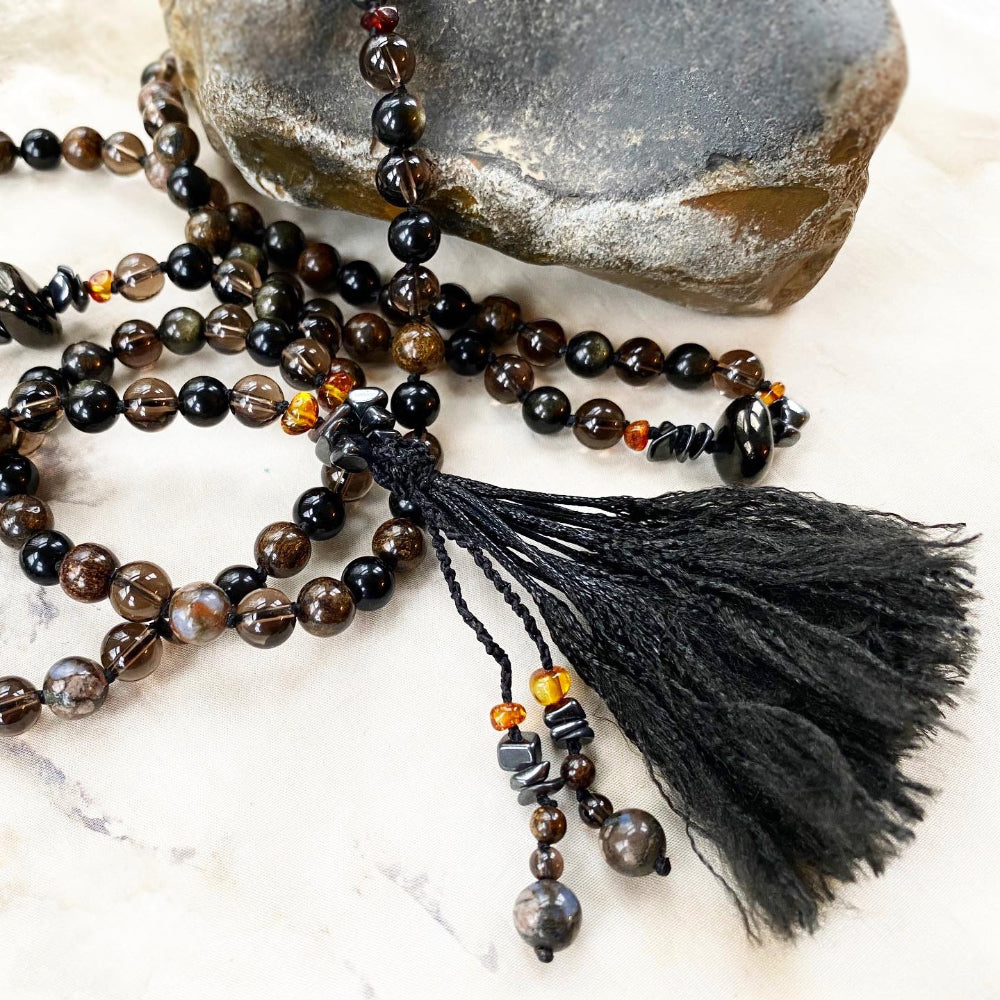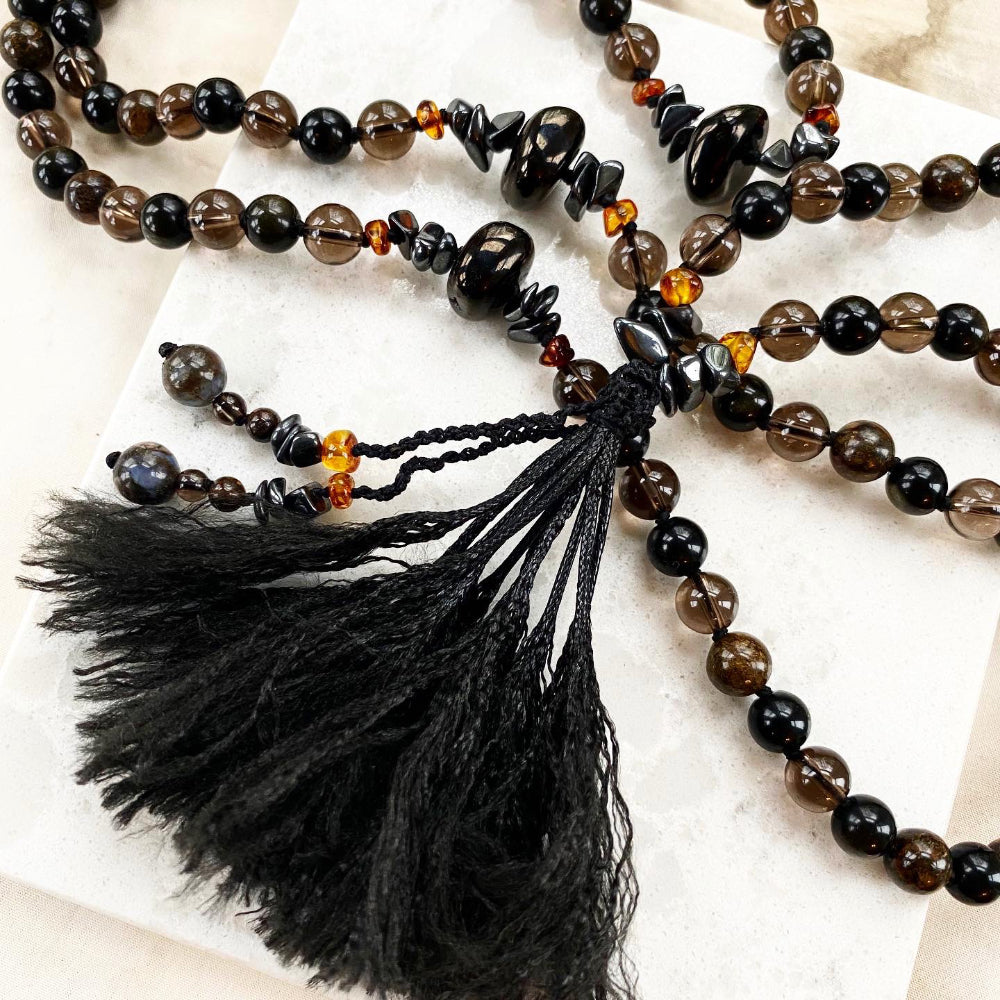 Full 108-bead meditation mala with black tassel
DESCRIPTION
One of a kind, contemporary 108-bead meditation mala with four different types of crystals as counter beads: Smokey Quartz, Golden Sheen Obsidian, Bronzite and Llanite. The three dividers are a combination of smooth Jet accented with small Amber and Hematite crystals. The guru tassel is soft black satin that includes two knotted strands with matching bead details - lovely to hold and handle.
The counter beads are knotted individually for added strength and handling flow, using dark greenish brown micro-macrame cord.

All-around length of mala: 117 cm (46")
Diameter of counter beads: 0.8 cm (0.3")
Width of divider bead combination: 3 cm (1.2")
Length of guru tassel: 7 cm (2.8")
Please note that Spirit Carrier malas come usually in different sizes, determined by the diameter of the main counter beads - either 6 mm, 8 mm, 10 mm or 12 mm. This mala's counter beads are 8 mm in diameter.
This mala comes in one of Spirit Carrier's handmade, luxurious cork ('vegan leather') pouches for safe-keeping.
You'll receive this mala gift-wrapped at no extra charge.

Read more about Spirit Carrier mala beads
CRYSTAL PROPERTIES
SMOKEY QUARTZ
A grounding and calming stone that elevates moods and dissipates negative emotions. "A Stone of Serenity", it is comforting and protective for one's aura. Smokey Quartz is thought to assist in creative endeavours and also in setting personal boundaries. Offers protection against electromagnetic rays. A good healing stone for improving general feeling of well-being. Relieves anxiety and worry, wards off confusion. Shielding crystal to create a calm, safe environment.
GOLDEN SHEEN OBSIDIAN
Protective stone that helps one achieve harmony and solve problems relating to past, present and future. Helps in settling inner emotional conflicts and keeps one from entering into outer conflicts so one is free to follow one's spiritual path. Shielding stone that encourages one to stay positive. Transmuting stone to keep negativity at bay. Said to open a window to one's soul and brings out any hidden talents one may have.

BRONZITE
Encourages loving, non-judgemental mindset. Helps in gaining certainty about one's decisions and the right course of action. Bronzite is said to bring harmony into discordant situations, protective when the wearer might feel a lack of control. Instils a feeling of calmness when having "many irons in the fire". A stone of focused action. Grounds you into the knowing that "All Is Well".
LLANITE
Stone of harmony. Helps you bring together all your powers: physical, mental, emotional, spiritual and use this focus to increase awareness of your possibilities, opportunities and options in creating your ideal life. Empowers you to maintain healthy boundaries and to remain in your own core power. Deeply healing, and helpful in discovering your soul's true purpose. Stimulates creativity. Shields against EMFs.
JET
Stone of protection and purification, helping to keep negativity at bay. Often used to stabilise finances and protect businesses, but also as a shield against psychic attacks and removing energetic attachments. Assists in spiritual advancement and the rise of kundalini energy. Enlists the help of Earth energy in manifesting one's desires. Calming for those battling with difficulties. Comforting stone, mood-balancing, easing anxiety and fears. Increases self-reliance and helps in the process of life changes.
AMBER
Amber is like sunshine solidified, offering a wonderful sense of health and wellbeing. Transmutes negative energies into positive, excellent for psychic protection. Cheers you up and helps you take action to make your ideas reality - ideal manifestation aid. Cleansing effect on the body, mind and spirit, promoting self-confidence and creative self-expression. Encourages spontaneity, patience and inner wisdom.
HEMATITE
Creates a strong sense of self and enhances the creative flow. Relieves stress. Revitalises, enhancing personal magnetism and optimism. Helps in releasing self-imposed limitations to find your own unique gifts. A stone of balance and equilibrium. Grounds when feeling scattered, increases alertness and vigilance.
Recently Viewed