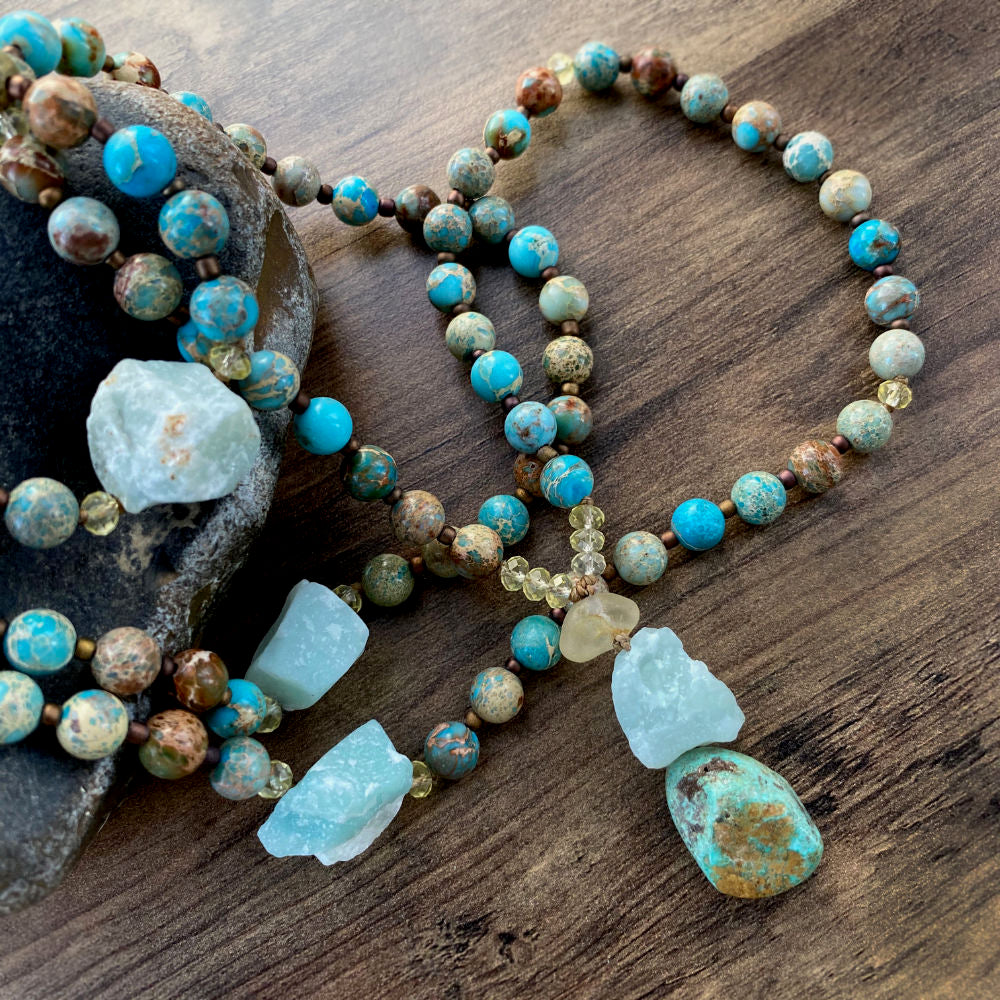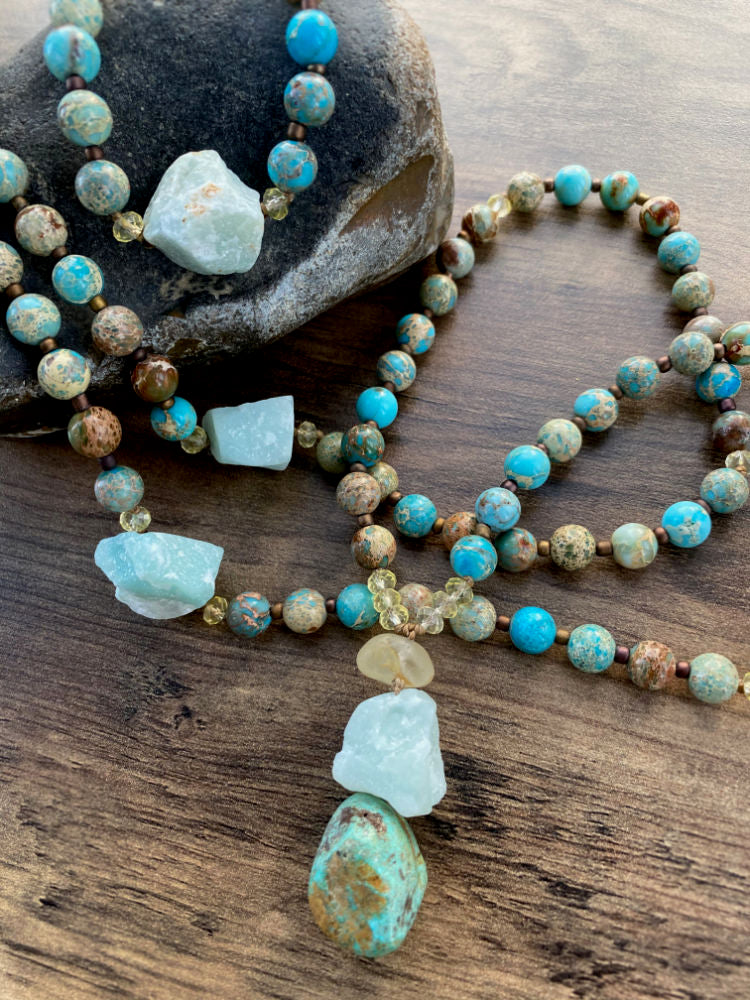 Full 108-bead meditation mala with Imperial Jasper counter beads
DESCRIPTION
One of a kind, contemporary 108 bead meditation mala with Imperial Jasper counter beads. The three dividers are a combination of raw Amazonite and faceted Citrine.
The counter beads are spaced with small matte brown glass seed beads in asymmetrical organic shapes, and knotted with golden brown micro-macrame cord at every nine bead interval around a small faceted Citrine bead. The guru bead consist of Topaz, Amazonite and Turquoise.
All around length of mala: 122 cm (48") 
Counter bead diameter: 0.8 cm (0.3") 
The width of the divider combination: approx. 2.5 cm (1") 
Length of guru bead combination: just under 5 cm (2")
Please note that Spirit Carrier malas come usually in three sizes, determined by the diameter of the main counter beads - either 8 mm, 10 mm or 12 mm. This mala has the 8 mm counter bead diameter and is probably more suited to be worn on you than the larger, heavier malas.
This mala comes in one of Spirit Carrier's handmade cork ('vegan leather') pouches for safe-keeping. Gift-wrapped at no extra charge.

Read more about Spirit Carrier mala beads
CRYSTAL PROPERTIES
IMPERIAL JASPER
Stone of inner peace and clarity. It has a loving and compassionate vibe. Helps with the alignment of one's 'Light' bodies and assists with emotional healing.
AMAZONITE
A stone of self-respect, confidence and grace. Soothes the spirit and calms the soul. Assists in connecting with one's intuition. Enhances creativity and self-expression. Empowers to move beyond fear, to live in alignment with your truth. A talisman for healing and prosperity, also said to bring in new business.
CITRINE
Affects a powerful alignment with the higher self. Balances the emotions and helps in uplifting one's mood to be more sunny and cheerful. Brings clarity of thought, and attracts abundance and prosperity through joy. Powerful transformer in healing work. Increases self-confidence and optimism, cleanses the surrounding energies and promotes creative thinking. Releases, dissipates and transforms denser energies on all levels, mental, emotional and physical. Works to release limitations and blockages particularly around the sacral / solar plexus area.

TOPAZ
Stone of success and good fortune. Aligns and recharges body's meridians.  Clear Topaz aids in spiritual development and in clarifying one's life purpose. With the strong magnification energy of Topaz, you may reach your heart's goals and desired manifestations faster. Increases energy and vitality. Increases cosmic awareness by activating the crown and the soul star chakras. In ancient legends, Topaz was said to make its wearer invisible if needed at times of emergency.
TURQUOISE
Turquoise is a strengthening and purifying stone. It fosters honest and clear communication from the heart. Aligns all of the chakras; and can be used to cleanse your energy centres. Balancing stone for the mood and emotions. Promotes self-realisation and aids creative problem-solving.
Recently Viewed