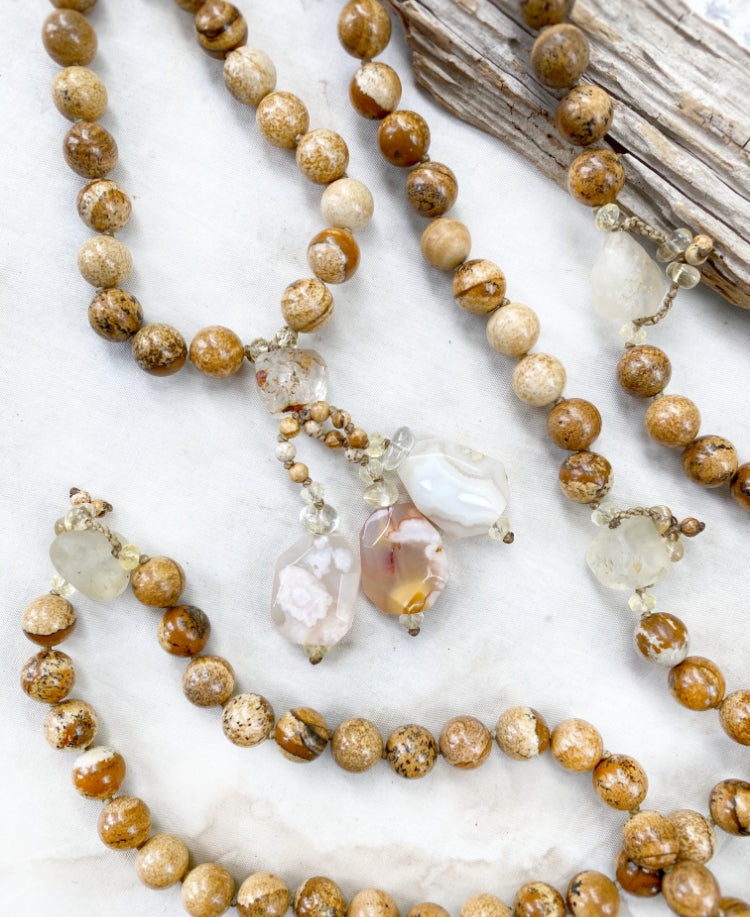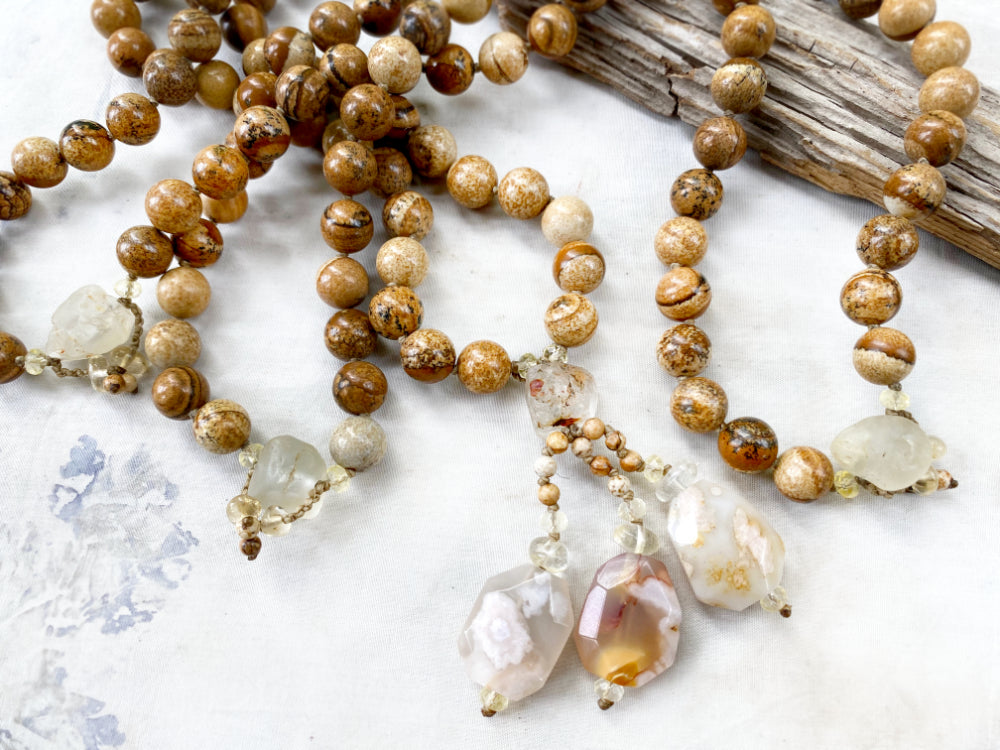 Full 108-bead Picture Jasper meditation mala
DESCRIPTION
One-of-a-kind, contemporary 108-bead meditation mala with Picture Jasper counter beads. The three dividers are a combination of Topaz, Citrine and a small Picture Jasper bead. The guru bead consists of a rough cut Topaz and a 3-strand gemstone 'tassel' ending in faceted Flower Agate crystals.
I have knotted each counter bead one by one for durability and ease of handling, using strong golden brown micro-macrame cord. This mala comes in one of Spirit Carrier's handmade cork ('vegan leather') pouches for safe-keeping.
All around length of mala: 128 cm (50")
Counter bead diameter: 1 cm (0.4")
Length of guru bead combination: 7 cm (2.8")
Please note that whilst the counter bead size makes this mala a stunning meditation aid, the larger size may for some feel too heavy for regular wearing.

I draw artistic inspiration for these contemporary yoga meditation beads from the ancient decorative Buddhist malas from Tibet that were often given as gifts to Chinese courts and called "Chinese court necklaces". I match the stones and crystals carefully to create an energetic combination in the mala that will benefit the keeper in an individual way. All Spirit Carrier malas are one-of-a-kind.
Whilst this mala is made with Tibetan Buddhist bead count (108 beads), all Spirit Carrier malas are dedicated to the Highest Good of All – its future keeper may bless the mala for their own purpose and use it for their own personal way of meditation.
CRYSTAL PROPERTIES
PICTURE JASPER
Associated with expanded creativity, visions, invention and initiative. Helps in grounding ideas into reality. Believed to contain hidden messages from the past. Nurturing and harmonious, it also offers psychic protection during shamanic journeying as well as activates the third eye chakra. Inspires creative visualisation and is excellent for overcoming any creative blocks. Good confidence stone, particularly helpful in business pursuits.
TOPAZ
Stone of success and good fortune. Aligns and recharges body's meridians.  Clear Topaz aids in spiritual development and in clarifying one's life purpose. With the strong magnification energy of Topaz, you may reach your heart's goals and desired manifestations faster. Increases energy and vitality. Increases cosmic awareness by activating the crown and the soul star chakras. In ancient legends, Topaz was said to make its wearer invisible if needed at times of emergency.
CITRINE
Gives a powerful alignment with the higher self. Balances the emotions and makes the mood sunny and cheerful. Brings clarity of thought, and attracts abundance through joy. Powerful transformer in healing work. Increases self-confidence and optimism, cleanses the surrounding energies and promotes creative thinking. Releases, dissipates and transforms denser energies on all levels, mental, emotional and physical. Works to release limitations and blockages particularly around the sacral / solar plexus area.
FLOWER AGATE
Encourages self-growth so you can develop into the best version of yourself. Assists in bringing to light your hidden talents, thus supporting you to reach your full potential. A feminine power stone, with a gentle yet potent energy. Helps release self-doubt and motivates to take action. Excellent manifestation aid, nurturing your dreams to grow from seed to full blossom, and helping the endeavours dearest to your heart to flourish. 
Recently Viewed