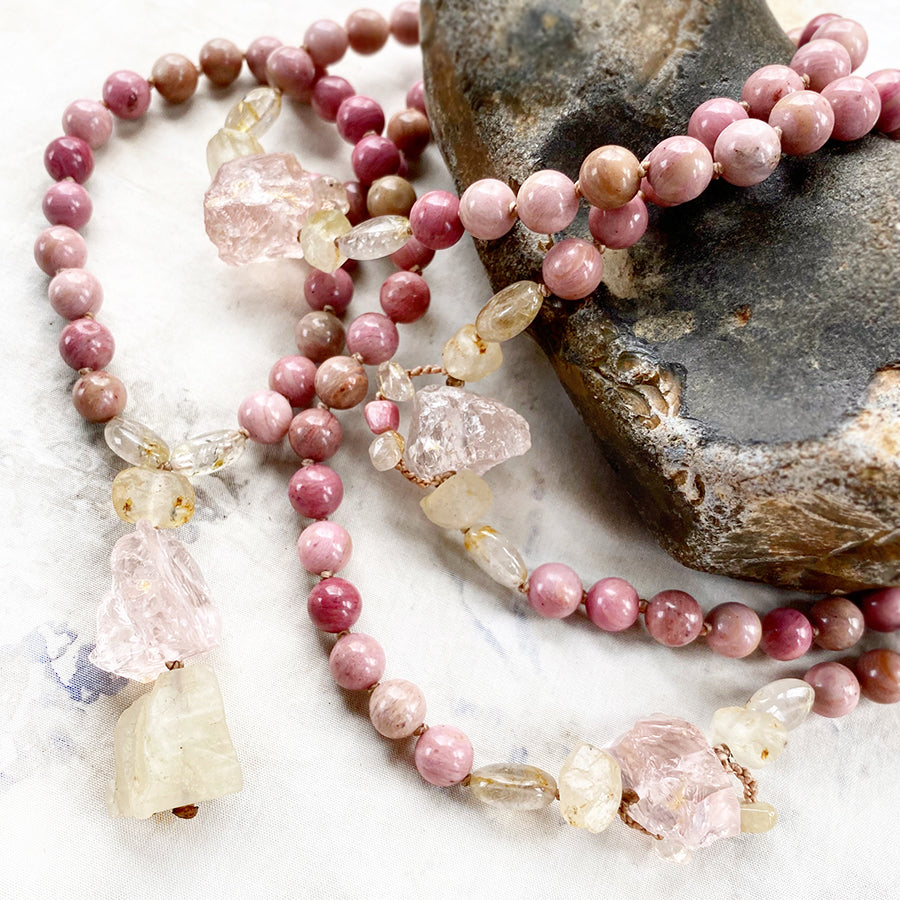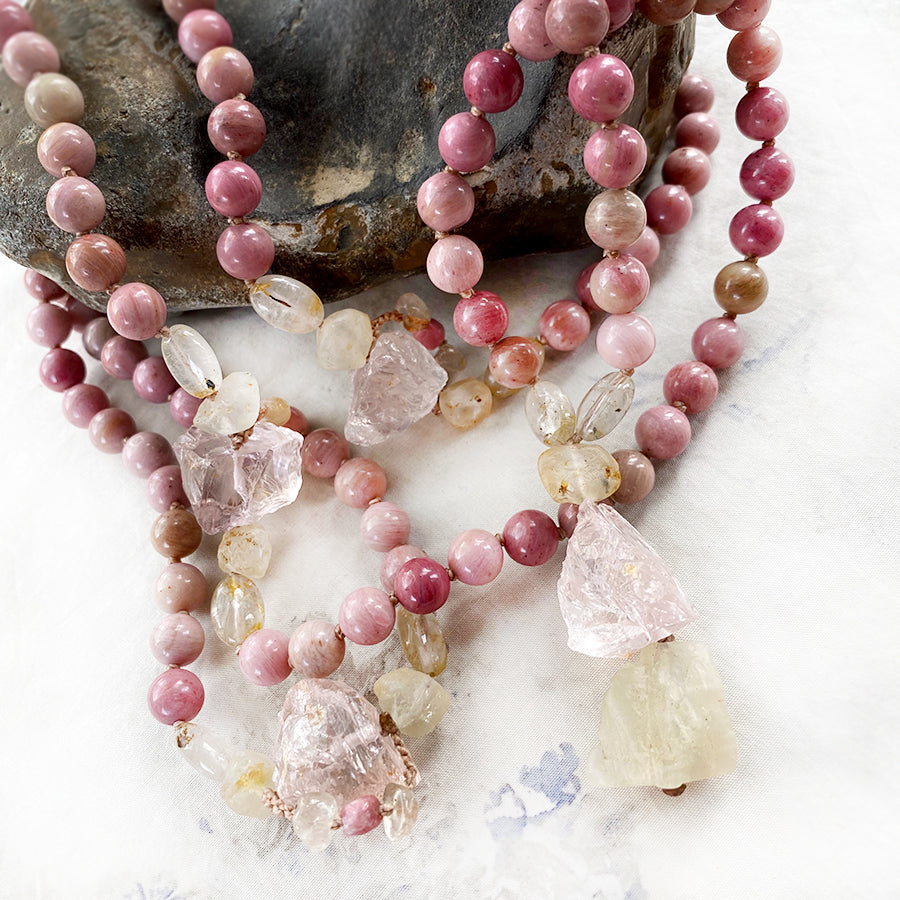 Full 108-bead Rhodonite mala
DESCRIPTION
One of a kind, contemporary 108 bead meditation mala with Rhodonite counter beads. The three dividers are a combination of Ice Rose Quartz, Topaz and Gold Rutile Quartz. The guru bead consists of Topaz, Ice Rose Quartz and Moonstone.
Each counter bead is knotted one by one for durability and ease of handling, using peach tone micro-macrame cord. 
All around length of mala: 120 cm (47")
Counter bead diameter: 0.8 cm (0.3")
The width of the divider combination: approx. 6 cm (2.4")
Length of guru bead crystal combination: 5 cm (2")
Please note that Spirit Carrier malas come usually in three sizes, determined by the diameter of the main counter beads - either 8 mm, 10 mm or 12 mm. This mala is the smallest size with 8 mm counter bead diameter and is probably more suited to be worn on you than the larger, heavier malas.
This mala comes in one of Spirit Carrier's handmade cork ('vegan leather') pouches for safe-keeping. Gift-wrapped at no extra charge.

Read more about Spirit Carrier mala beads
CRYSTAL PROPERTIES
RHODONITE
Known for its capacity to bring emotional healing, releasing blockages in the heart chakra. Balances emotions during chaotic times. Restores calm after emotional upheavals. Beneficial for the harmony of close relationships. A beautiful stone specifically for discovering one's inner gifts and can act as a catalyst for fulfilling one's life purpose. Stone of self-confidence that supports you in trusting your own heart.
ROSE QUARTZ
Powerful love stone, love that is all-encompassing and unconditional. Awakens one's heart to its own innate love, compassion and acceptance. Vibrates its loving energy to all chakras, offering gentle healing. Soothing and calming. Dissolves anger and resentment. Good for raising one's self-esteem and feelings of self-worth. Balances emotions and is said to support all types of healing. Guides one's life path towards a sense of personal fulfilment and contentment.
GOLD RUTILE QUARTZ
A master assistant in self-discovery, a companion in finding one's inner truth, purpose and destiny. Joyful and energising. Thought to offer protection against psychic attacks and helps in opening up to one's Divine strength. Assists in activating one's creativity and manifesting dreams into reality.
MOONSTONE
Useful for feeling balanced or when changing aspects in one's life. Symbolises 'new beginnings'. Brings calmness through awareness. Provides the energy to sustain you through stages of growth. A highly intuitive stone allowing self expression and creativity to flow. Provides protection while travelling. A bringer of good fortune. Stone of feminine wisdom, inner growth and strength. Calming and soothing stone, enhancing intuition and inspiration. White moonstone is stimulating for psychic perception, vision and dream work.
Recently Viewed