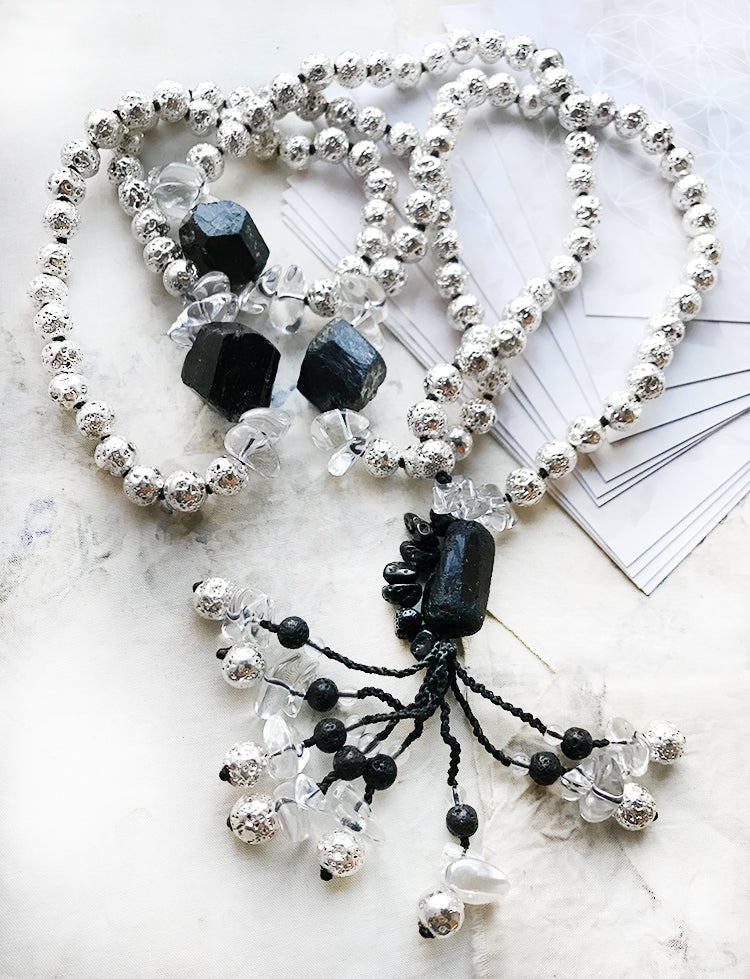 Meditation mala with 108 silverplated Lava beads, Black Tourmaline & Quartz
DESCRIPTION
One of a kind, luxurious 108 bead meditation mala with silverplated Lava Stone counter beads. The three dividers are a combination of Black Tourmaline and clear Quartz. 
Each counter bead is knotted one by one for durability and ease of handling, using black micro-macrame cord. The guru bead consist of Black Tourmaline and Lava Stone, including a knotted crystal 'tassel', very tactile and decorative with matching crystals.
All around length of mala: 116 cm (45.5") 
Counter bead diameter: 0.8 cm (0.3") 
The width of the Black Tourmaline dividers: approx. 2 cm (0.8") 
Length of guru bead combination, incl. tassel: 8 cm (3")
This mala comes in one of my handmade soft black leather pouches for safe-keeping. If you would rather have a fabric pouch, please let me know at the time of purchase. 
You'll receive this mala gift-wrapped at no extra charge.

Read more about Spirit Carrier mala beads
CRYSTAL PROPERTIES
LAVA STONE
Stone of vitality, assertiveness and passion. Provides stability in times of change. Grounding and protective. Supports courage and decisiveness. Helps in finding one's 'life path'. Encourages personal development and growth.
BLACK TOURMALINE (aka Schorl)
One of the most well-known protective stones, shielding its user from negativity. A shamanic stone used for grounding during vision quests. Empowering for those who work in challenging environments. Purifies and transforms denser energies into lighter vibrations and is also detoxifying for the body. If you're sensitive to electromagnetic smog, you may get relief by wearing black Tourmaline.
CLEAR QUARTZ
The universal master crystal that has a harmonising effect on all levels of being. Programmable by intention, so can be used for versatile purposes. Quartz can clear, enhance, amplify, transmute, balance, focus and transmit energy. Raises one's energetic vibration. Brings clarity and filters out distractions. A deep soul cleanser, attuning its keeper to their higher self. Each Quartz crystal is unique with its own character and teachings it offers, all are known as "Stones of Power" and "Master Healers".
Recently Viewed