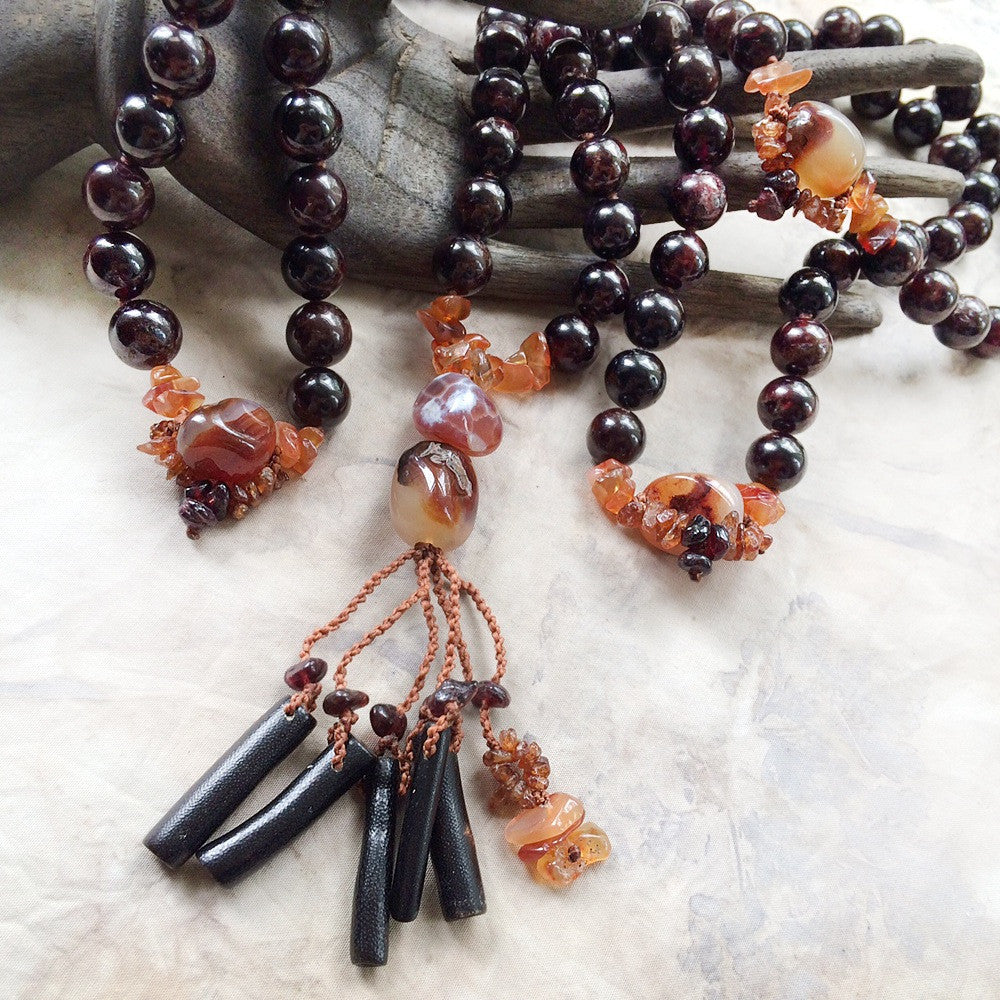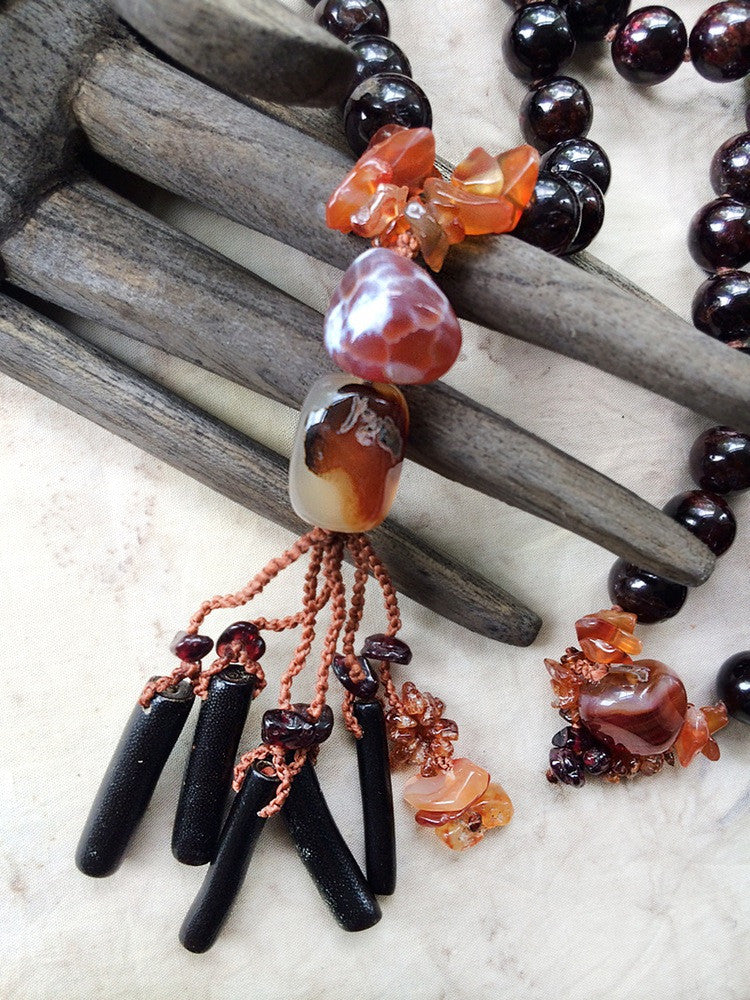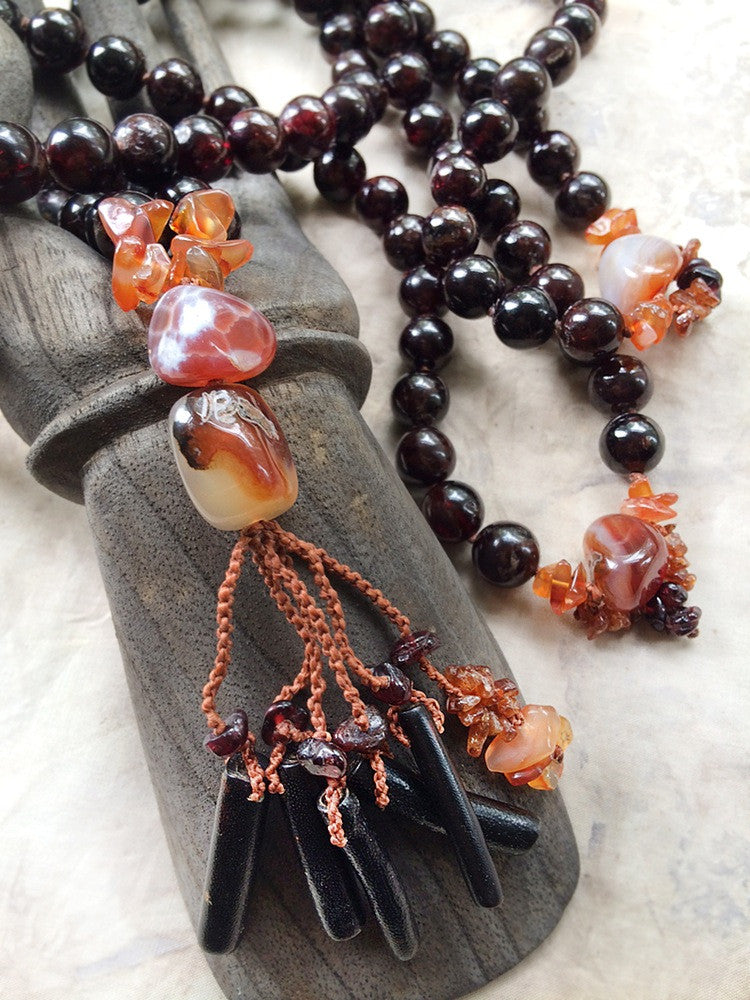 Garnet mala with Carnelian, Fire Agate & Black Coral
DESCRIPTION
One of a kind, contemporary 108 bead meditation mala with Almandine Garnet counter beads. This is a large, weighty, luxurious mala with quite a presence. The three dividers are a combination of Carnelian, Spessartine Garnet and Almandine Garnet. The guru bead consists of Fire Agate, Carnelian, and a 'tassel' of Black Coral with Almandine Garnet highlights.
Each counter bead is knotted one by one for durability and ease of handling, using muted orange micro-macrame cord. 
All around length of mala: 148 cm (52.5")
Counter bead diameter: 1.1 cm (0.43")
The width of the divider combination: 4 cm (1.6")
Length of guru bead crystal combination: 9.5 cm (3.7")
This mala comes in one of my handmade soft brown leather pouches for safe-keeping. If you would rather have a fabric pouch, please let me know at the time of purchase.

Read more about Spirit Carrier mala beads
CRYSTAL PROPERTIES
ALMANDINE GARNET
Stimulates one's life force. Opens the root chakra while drawing earth energy into the body, helping you to feel secure and centred. Awakens the "inner fire" of creativity. Highly protective stone and a great companion to keep you energised. Excellent good fortune and 'success' stone in both social and career ventures, adding positive vibes both in your personal or business life. Stone of purification and cleansing. Symbolises passionate, devoted love.
SPESSARTINE GARNET
Elevates mood and allows experiences of 'emotional sunshine' into one's life, thus making life more fulfilling. Helps in overcoming the fear of new experiences, encouraging you to live more spontaneously. Balances and vitalises the sacral chakra, supporting creative pursuits and intuition.
CARNELIAN
Known as a stone of motivation and courage. Stimulates creativity and increases one's sense of self-worth. Balancing for body's energy levels, restoring vitality and motivation. Said to attract prosperity, new resources and good luck. A success stone that helps you follow through with plans. Stone of action that aids in overcoming procrastination. Helps in gaining more understanding of one's inner self. Stimulating to the Sacral Chakra, which, when in balance, allows one to enjoy life, feel its joys and pleasures, be flexible and 'go with the flow'.
FIRE AGATE
Assists in taking decisive action in unclear situations. Connects with one's inner courage to go after one's goals. Helpful in overcoming creative blocks of any kinds. Promotes inner stability. Forms a protective auric shield. Grounding and revitalising. It can alleviate the emotional charge in problems, and enhances all healing energies. Helps you to tap into your own perfection.
BLACK CORAL
Generates serenity and peace while absorbing negative energy. Offers superior psychic protection. Inspires creativity. Associated with the third chakra. Digs deep to find those hidden emotions that hold you back, be it fear, anger or any other negative emotion that needs to be brought to surface to be healed. Said to help in detoxing the body.
Recently Viewed