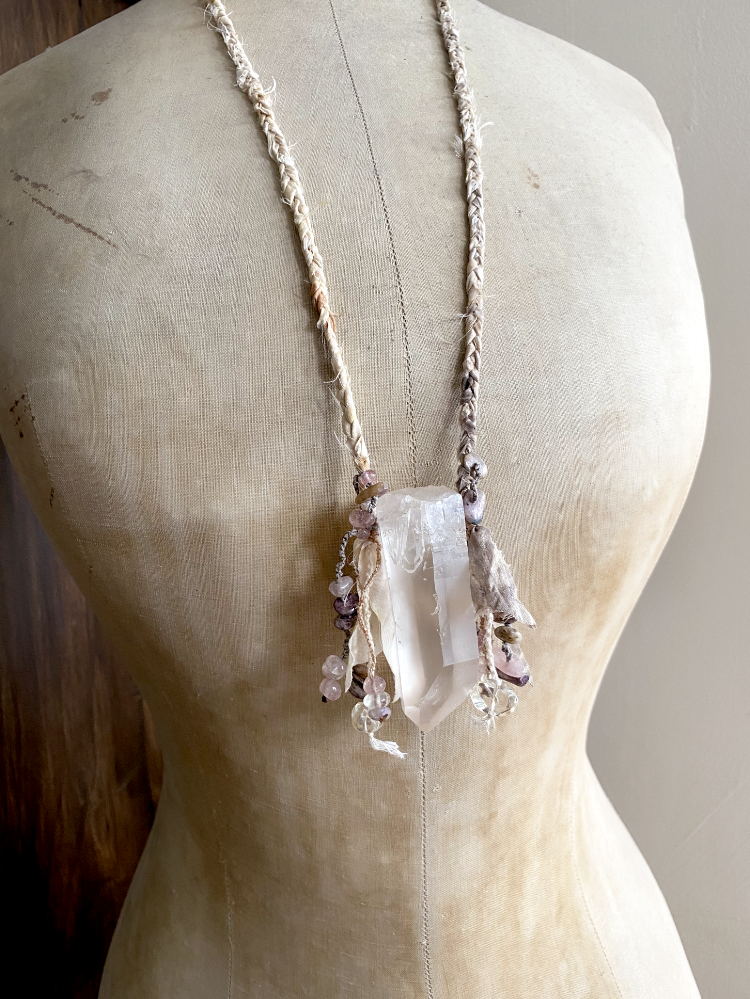 Large Quartz crystal healing talisman in silk braid
DESCRIPTION
Large and commanding raw Quartz point in soft silk braid necklace. This six-sided generator crystal point includes a 5-sided 'Isis' face, a 6-sided face and a 7-sided face. It has 'lightning struck' markings as well as a rainbow in the tip of one of the smaller points that grow along its side. The braid consists of soft raw silk which I have botanically eco-dyed with local plants, combined with unbleached linen yarn and peach tone micro-macrame cord for added strength. The talisman is highlighted with Charoite, Lepidochrosite in Quartz and Citrine crystals adorning both sides of the main Quartz point. 
The necklace braid is set length, allowing the Quartz point to hang down approx. 39 cm (15") measured from the back of the neck to the top edge of the Candle Quartz. The all-around length of the necklace braid is approx. 78 cm (30.5").
The Quartz point is approx. 7 cm (2.8") tall and just over 2.5 cm (1") wide and thick.
There are no metals in this necklace so would be particularly suitable for those with metal sensitivities / metal allergy, energy workers and those who simply prefer not to wear metal.
You'll receive this crystal healing necklace in one of Spirit Carrier's handmade fabric draw-string pouches - great for the safe-keeping of the necklace. Gift-wrapped at no extra charge.

Read here how to take care of your crystal jewellery.
CRYSTAL PROPERTIES
QUARTZ
The universal master crystal that has a harmonising effect on all levels of being. Programmable by intention, so can be used for versatile purposes. Quartz can clear, enhance, amplify, transmute, balance, focus and transmit energy. Raises one's energetic vibration. Brings clarity and filters out distractions. A deep soul cleanser, attuning its keeper to their higher self. Each Quartz crystal is unique with its own character and teachings it offers, all are known as "Stones of Power" and "Master Healers". 
Lightning Struck Quartz Formation: Connecting to all chakras, this high frequency crystal balances one's energy fields, cleansing them of discordant energy. Deeply held emotional patterns, fears and obstacles can be released with the help of this crystal in order to progress on one's soul path. A bridging crystal for consciously directing higher dimensional energies in healing work.
CHAROITE
Stone of insight and transformation. Teaches you to live in the moment, releasing fears. Symbol of endurance, giving courage to start over when needed. Aligns heart and intellect, eases worries and promotes a more relaxed attitude. Useful for alternative therapists: grounds high-frequency vibrations and assists in discerning energy patterns.
LEPIDOCHROSITE IN QUARTZ
Stimulates intuitive spiritual awareness, at the same time gently grounding to Earth energy. Raises consciousness, and can be used for focusing intent during energy healing sessions. Calming and soothing, aids in releasing fears and aligning one with Divine will. A stone of 'allowing' and trusting the flow of life.
CITRINE
Affects a powerful alignment with the higher self. Balances the emotions and helps in uplifting one's mood to be more sunny and cheerful. Brings clarity of thought, and attracts abundance and prosperity through joy. Powerful transformer in healing work. Increases self-confidence and optimism, cleanses the surrounding energies and promotes creative thinking. Releases, dissipates and transforms denser energies on all levels, mental, emotional and physical. Works to release limitations and blockages particularly around the sacral / solar plexus area.
Recently Viewed