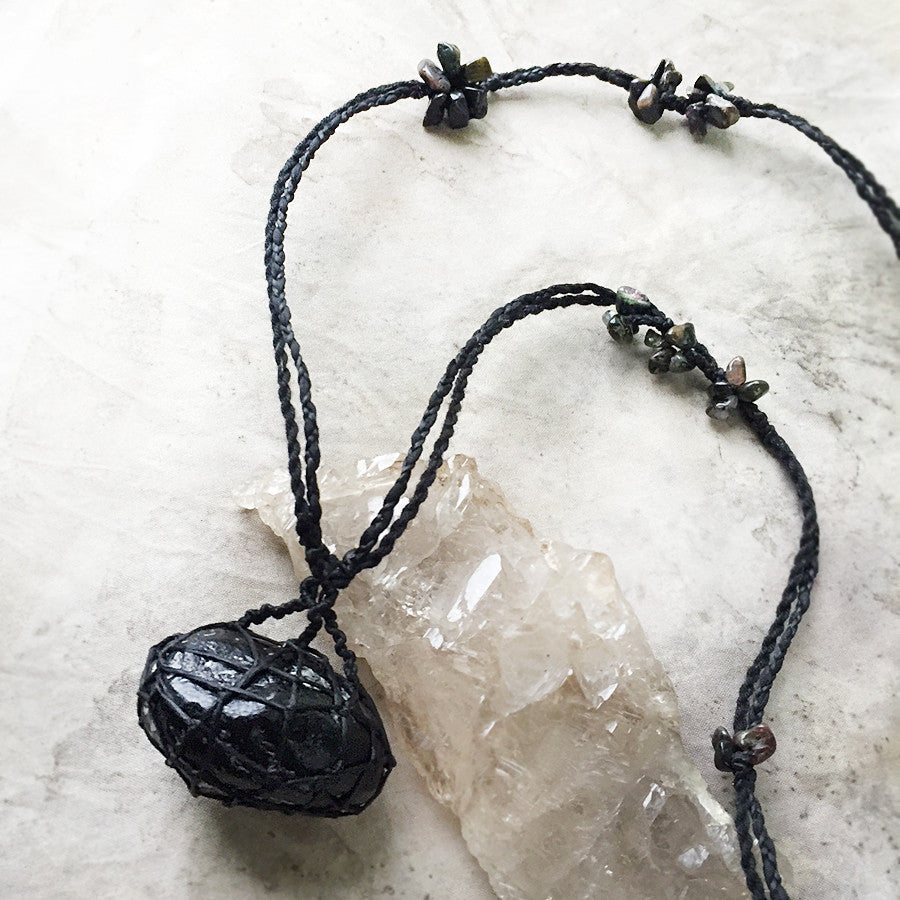 'Gentle Warrior' ~ Apache Tear stone talisman with Black Coral & Tourmaline
DESCRIPTION
Stone talisman with a smooth, natural pebble of Apache Tear (a form of Obsidian), attaching to a twin braid of black silk, black cotton and black micro-macrame cord. The highlighting crystals along both sides of the necklace braid are Black Coral and Tourmaline (including Black Tourmaline). The long braid ends are decorated with the same, and the necklace length is adjustable with a sliding knot to hang the stone at any desired level.
The size of the Apache Tear is 3.5 x 2.5 x 2 cm (1.4" x 1" x 0.8").
You'll receive this crystal healing necklace in one of my handmade fabric draw-string pouches - great for the safe-keeping of the necklace. Gift-wrapped at no extra charge.
CRYSTAL PROPERTIES
APACHE TEAR
Known for easing the stronghold of deeply felt sorrow. Beneficial for healing grief that may be carried in one's energy structure through life times and soul's ancestral connections. Companion crystal for finding light within darkness, accessing purely felt emotions and journeying through them to a sense of optimism. Connecting to Higher Guidance within to bring in new strength and comforting balance.
BLACK CORAL
Generates serenity and peace while absorbing negative energy. Offers superior psychic protection. Inspires creativity. Associated with the third chakra. Digs deep to find those hidden emotions that hold you back, be it fear, anger or any other negative emotion that needs to be brought to surface to be healed. Said to help in detoxing the body.
TOURMALINE
Stone of abundance, protection and healing. Aids understanding oneself and others. Reduces fears and promotes self-confidence. Removes energetic blockages, balancing the male/female energy within the body. A shamanic stone used for grounding during vision quests. Empowering for those who work in challenging environments.
Recently Viewed