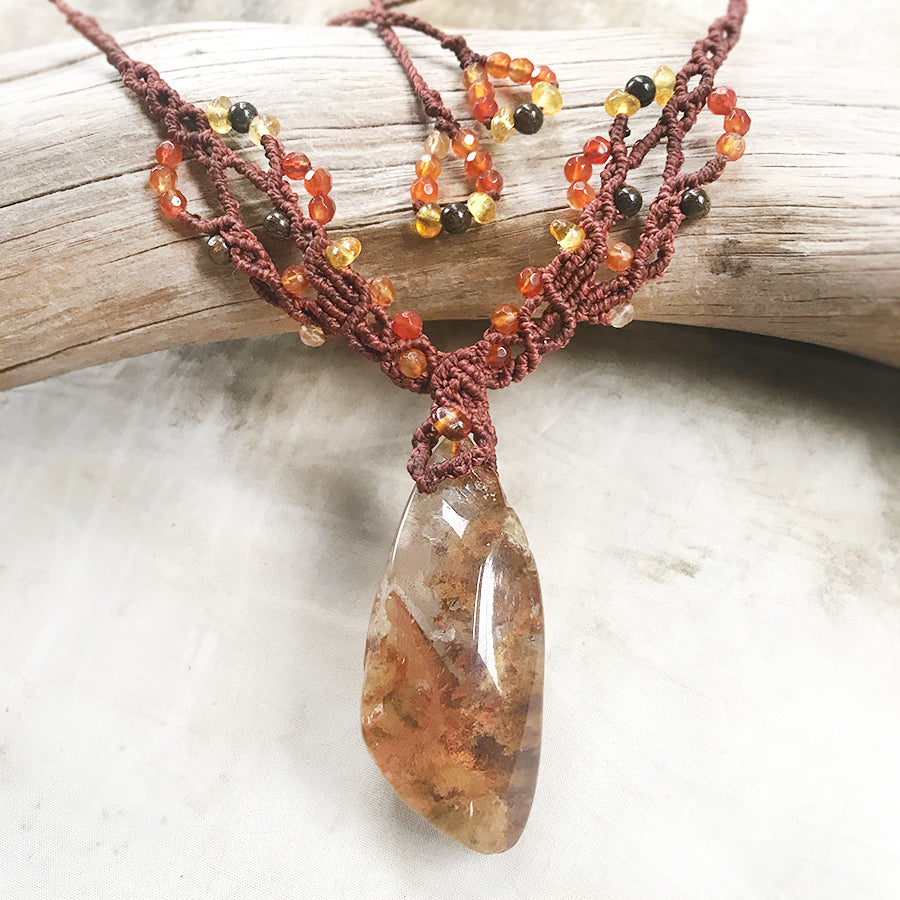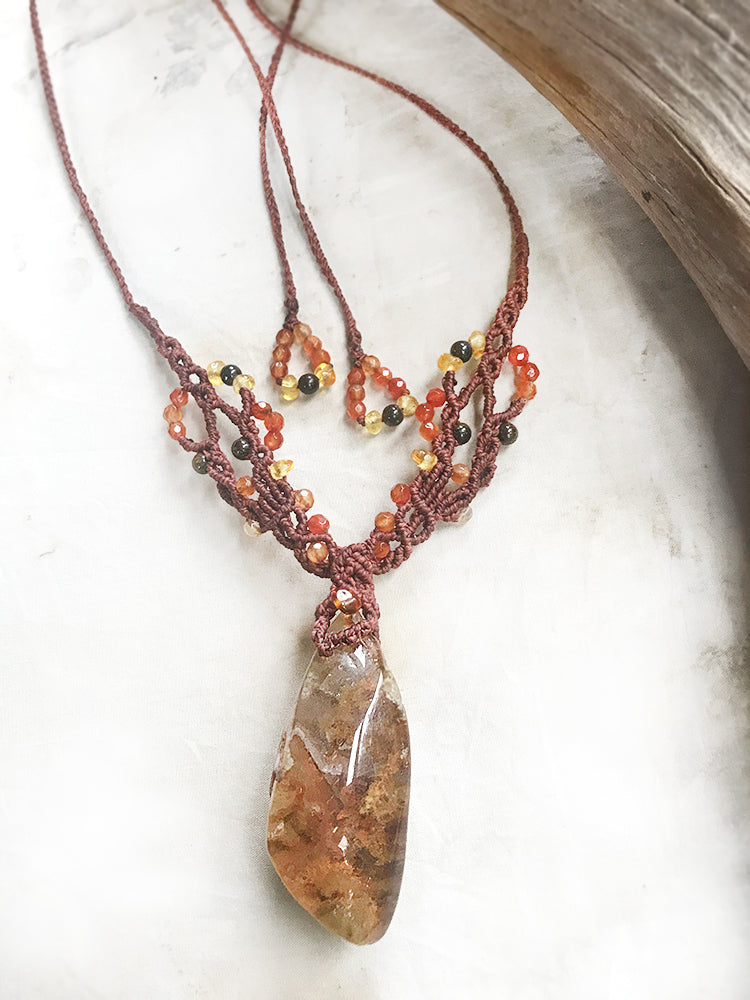 Ghost Quartz crystal healing amulet
DESCRIPTION
Crystal healing amulet with partly polished dome of translucent Ghost Quartz, displaying an abstract landscape of various mineral inclusions within, resulting in a warm glow of earthy yellows and oranges. Do note that there are still some dents and rough areas remaining in this stone which just emphasises its unusual nature. The necklace is intricately knotted with reddish brown micro-macrame cord, highlighted with small Amber, Carnelian and Bronzite crystals.
The length of the necklace is adjustable by sliding the necklace braids through a knotted channel. The adjustment length is from as short as you wish down to solar plexus level. The Ghost Quartz is approx. 6 cm (2.4") tall and approx. 2.5 cm (1") at its widest, and 2 cm (0.8") thick.
There are no metals used in this necklace so would be particularly suitable for those with sensitivities to metals.
You'll receive this crystal healing necklace in one of my fabric draw-string pouches, great for the safe-keeping of the necklace. Gift-wrapped at no extra charge.

Read here how to take care of your crystal jewellery.
CRYSTAL PROPERTIES
GHOST QUARTZ
Enhances one's sensitivity to invisible energies and activates one's own inner healing capabilities. Instils inner harmony and energetic alignment. Helps in manifesting one's desires, offering guidance on the process of life and inner growth. Assists in seeing how the past is part of one's meaningful spiritual path. Provides inspiration to reach your goals. Gazing into this stone is said to bring about a cosmic shift of consciousness.
AMBER
Amber is like sunshine solidified, offering a wonderful sense of health and wellbeing. Transmutes negative energies into positive, excellent for psychic protection. Cheers you up and helps you take action to make your ideas reality - ideal manifestation aid. Cleansing effect on the body, mind and spirit, promoting self-confidence and creative self-expression. Encourages spontaneity, patience and inner wisdom.
CARNELIAN
Known as a stone of motivation and courage. Stimulates creativity and increases one's sense of self-worth. Balancing for body's energy levels, restoring vitality and motivation. Said to attract prosperity, new resources and good luck. A success stone that helps you follow through with plans. Stone of action that aids in overcoming procrastination. Helps in gaining more understanding of one's inner self. Stimulating to the Sacral Chakra, which, when in balance, allows one to enjoy life, feel its joys and pleasures, be flexible and 'go with the flow'.
BRONZITE
Encourages loving, non-judgemental mindset. Helps in gaining certainty about one's decisions and the right course of action. Bronzite is said to bring harmony into discordant situations, protective when the wearer might feel a lack of control. Instils a feeling of calmness when having "many irons in the fire". A stone of focused action. Grounds you into the knowing that "All Is Well".
Recently Viewed