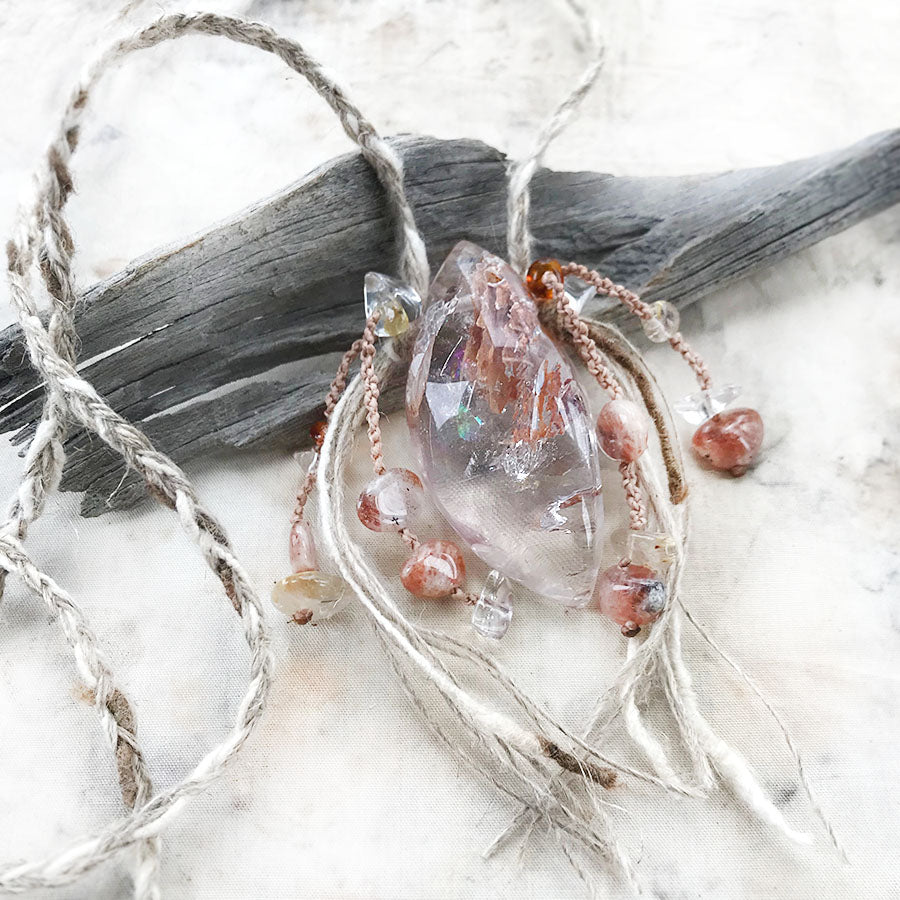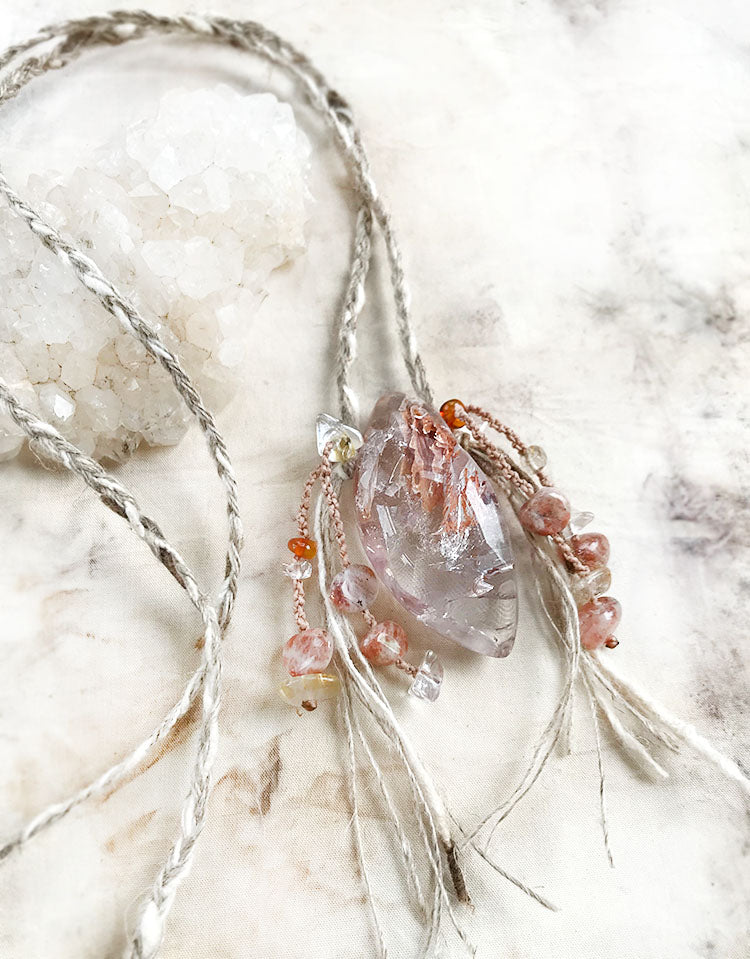 Ghost Quartz crystal healing amulet
DESCRIPTION
Crystal healing talisman with a smooth dome of Ghost Quartz, showing a hauntingly mysterious crystalline inner landscape within. The polished dome includes a 'cave', a deep indentation on its side ad well as a glorious rainbow that shows itself when the light hits the stone at a correct angle. You can gaze into the reddish labyrinth of this beautiful dome to centre yourself, to focus and receive insights on matters close to you. The crystal dome attaches to a necklace braid of softl peace silk yarn and organic, non-bleached linen yarn. The dome's companion crystals include Lepidochrosite, Gold Rutile Quartz and clear Quartz crystals.
The necklace braid is quite long and set length, allowing the crystal dome to hang down approx. 39 cm (15") measured from the back of the neck to the top edge of the dome. The all-around length of the necklace braid is 78 cm (29.5").
The Ghost Quartz is just over 5 cm (2") tall and approx. 2.5 cm (1") at its widest.
There are no metals in this necklace so would be particularly suitable for those with metal sensitivities / metal allergy, energy workers and those who simply prefer not to wear metal.
You'll receive this crystal healing necklace in one of my handmade fabric draw-string pouches - great for the safe-keeping of the necklace. Gift-wrapped at no extra charge.

Read here how to take care of your crystal jewellery.
CRYSTAL PROPERTIES
GHOST QUARTZ
Enhances one's sensitivity to invisible energies and activates one's own inner healing capabilities. Instils inner harmony and energetic alignment. Helps in manifesting one's desires, offering guidance on the process of life and inner growth. Assists in seeing how the past is part of one's meaningful spiritual path. Provides inspiration to reach your goals. Gazing into this stone is said to bring about a cosmic shift of consciousness.
LEPIDOCHROSITE IN QUARTZ
Stimulates intuitive spiritual awareness, at the same time gently grounding to Earth energy. Raises consciousness, and can be used for focusing intent during energy healing sessions. Calming and soothing, aids in releasing fears and aligning one with Divine will. A stone of 'allowing' and trusting the flow of life.
GOLD RUTILE QUARTZ
A master assistant in self-discovery, a companion in finding one's inner truth, purpose and destiny. Joyful and energising. Thought to offer protection against psychic attacks and helps in opening up to one's Divine strength. Assists in activating one's creativity and manifesting dreams into reality.
CLEAR QUARTZ
The universal master crystal that has a harmonising effect on all levels of being. Programmable by intention, so can be used for versatile purposes. Quartz can clear, enhance, amplify, transmute, balance, focus and transmit energy. Raises one's energetic vibration. Brings clarity and filters out distractions. A deep soul cleanser, attuning its keeper to their higher self. Each Quartz crystal is unique with its own character and teachings it offers, all are known as "Stones of Power" and "Master Healers".
Recently Viewed