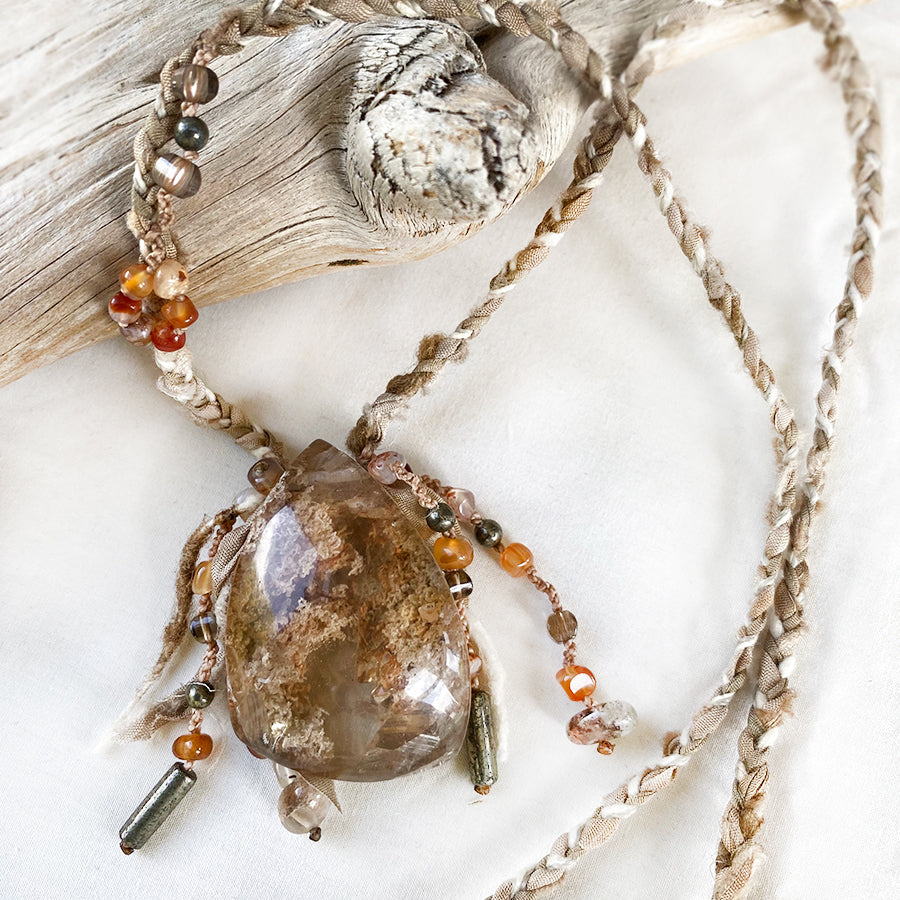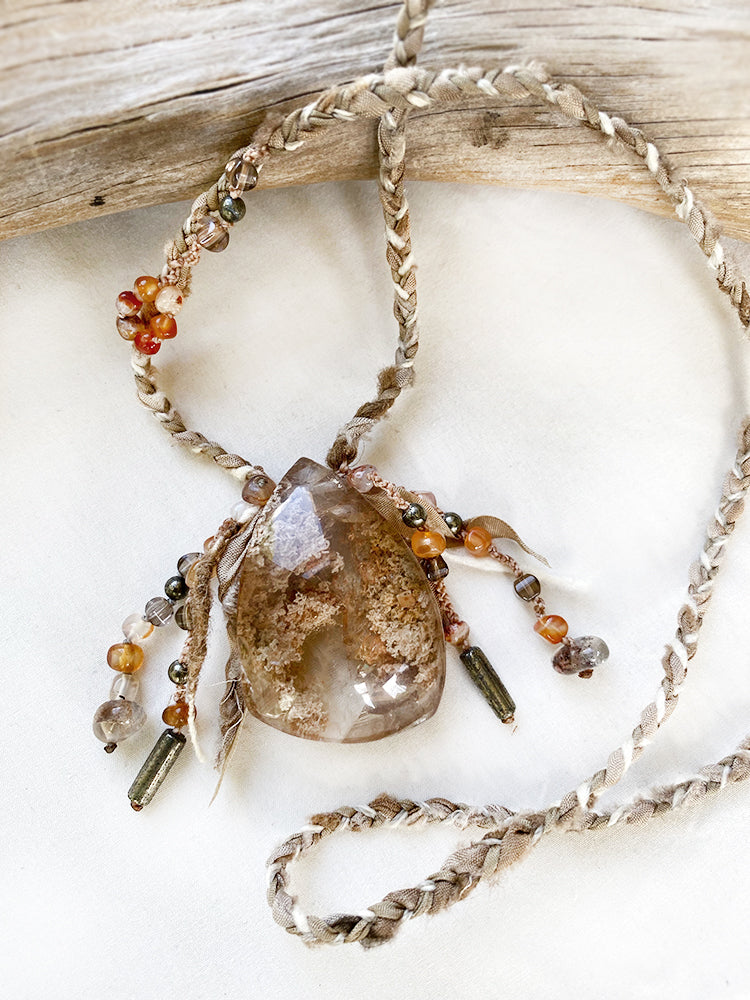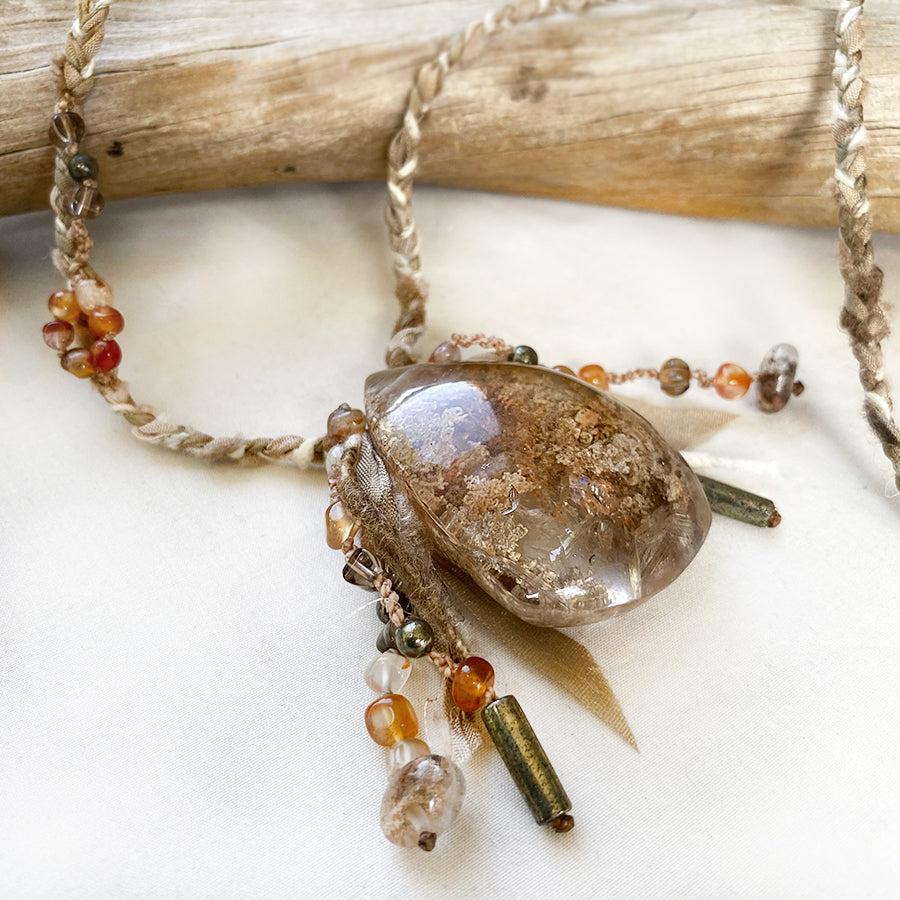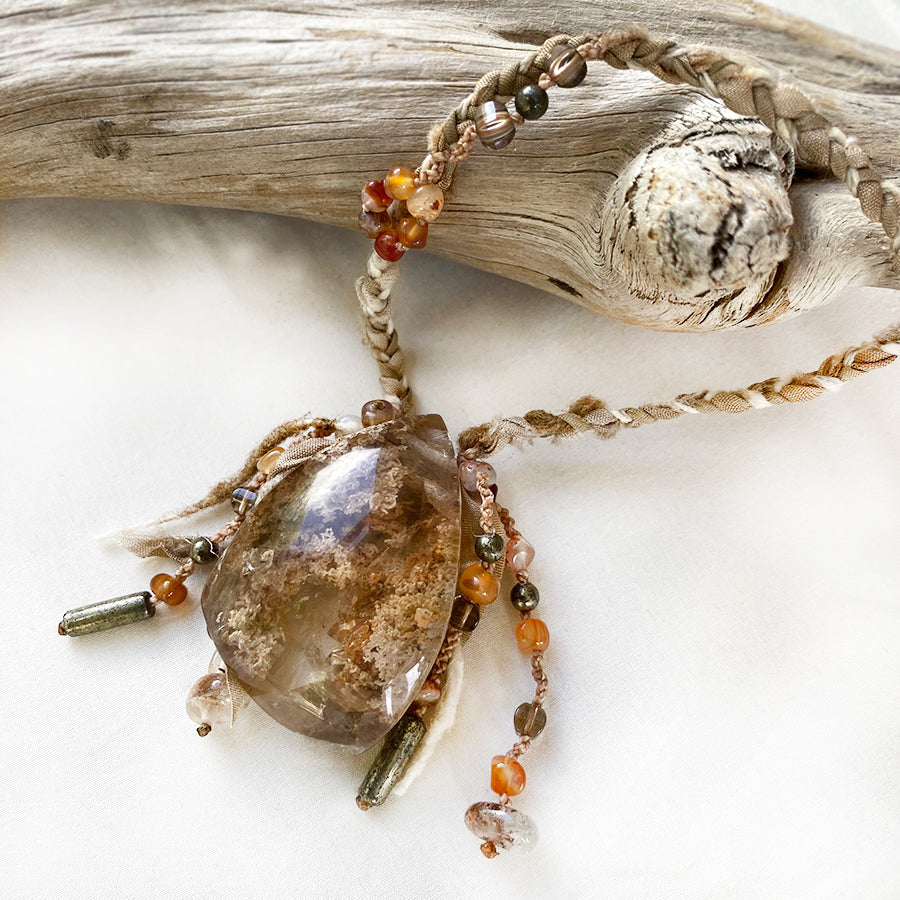 Ghost Quartz crystal healing talisman
DESCRIPTION
Crystal healing talisman with a smooth dome of Ghost Quartz, showing a hauntingly mysterious crystalline inner landscape within. You can gaze into the reddish soft 'clouds' of this beautiful dome to centre yourself, to focus and receive insights on matters close to you. The crystal dome attaches to a necklace braid of peace silk yarn ('peace silk' is a name of silk made by ethical process where no silk worms were harmed), taupe tone silk embroidery ribbon, recycled sari silk (which I have botanically eco-dyed with local plants) and peach shade micro-macrame cord. The dome's companion crystals include Pyrite, Carnelian and Smokey Quartz crystals, which adorn both sides of the dome as knotted strands but also as a decorative detail on one side of the necklace braid.
The necklace braid is quite long and set length, allowing the crystal dome to hang down approx. 37 cm (14.5") measured from the back of the neck to the top edge of the dome. The all-around length of the necklace braid is 74 cm (29").
The Ghost Quartz is approx. 5 cm (2") tall and just over 3 cm (1.2") at its widest.
You'll receive this crystal healing necklace in one of my handmade fabric draw-string pouches - great for the safe-keeping of the necklace. Gift-wrapped at no extra charge.

Read here how to take care of your crystal jewellery.
CRYSTAL PROPERTIES
GHOST QUARTZ
Enhances one's sensitivity to invisible energies and activates one's own inner healing capabilities. Instils inner harmony and energetic alignment. Helps in manifesting one's desires, offering guidance on the process of life and inner growth. Assists in seeing how the past is part of one's meaningful spiritual path. Provides inspiration to reach your goals. Gazing into this stone is said to bring about a cosmic shift of consciousness.

CARNELIAN
Known as a stone of motivation and courage. Stimulates creativity and increases one's sense of self-worth. Balancing for body's energy levels, restoring vitality and motivation. Said to attract prosperity, new resources and good luck. A success stone that helps you follow through with plans. Stone of action that aids in overcoming procrastination. Helps in gaining more understanding of one's inner self. Stimulating to the Sacral Chakra, which, when in balance, allows one to enjoy life, feel its joys and pleasures, be flexible and 'go with the flow'.
PYRITE
Taps into your innate abilities, bringing confidence and perseverance to aim for your goals. A shielding stone that helps you see the truth in the motives of others. Increases vitality and enhances your assertive qualities. Helpful in turning melancholy into feeling empowered and more light-hearted. Helps in letting go thoughts of misfortune and worry, thus making it an excellent stone for manifesting abundance. Symbolises the warmth and presence of sun, attracting also abundance of love, friendship and success. Also excellent stone against electromagnetic fog.
SMOKEY QUARTZ
A grounding and calming stone that elevates moods and dissipates negative emotions. "A Stone of Serenity", it is comforting and protective for one's aura. Smokey Quartz is thought to assist in creative endeavours and also in setting personal boundaries. Offers protection against electromagnetic rays. A good healing stone for improving general feeling of well-being. Relieves anxiety and worry, wards off confusion. Shielding crystal to create a calm, safe environment.
Recently Viewed