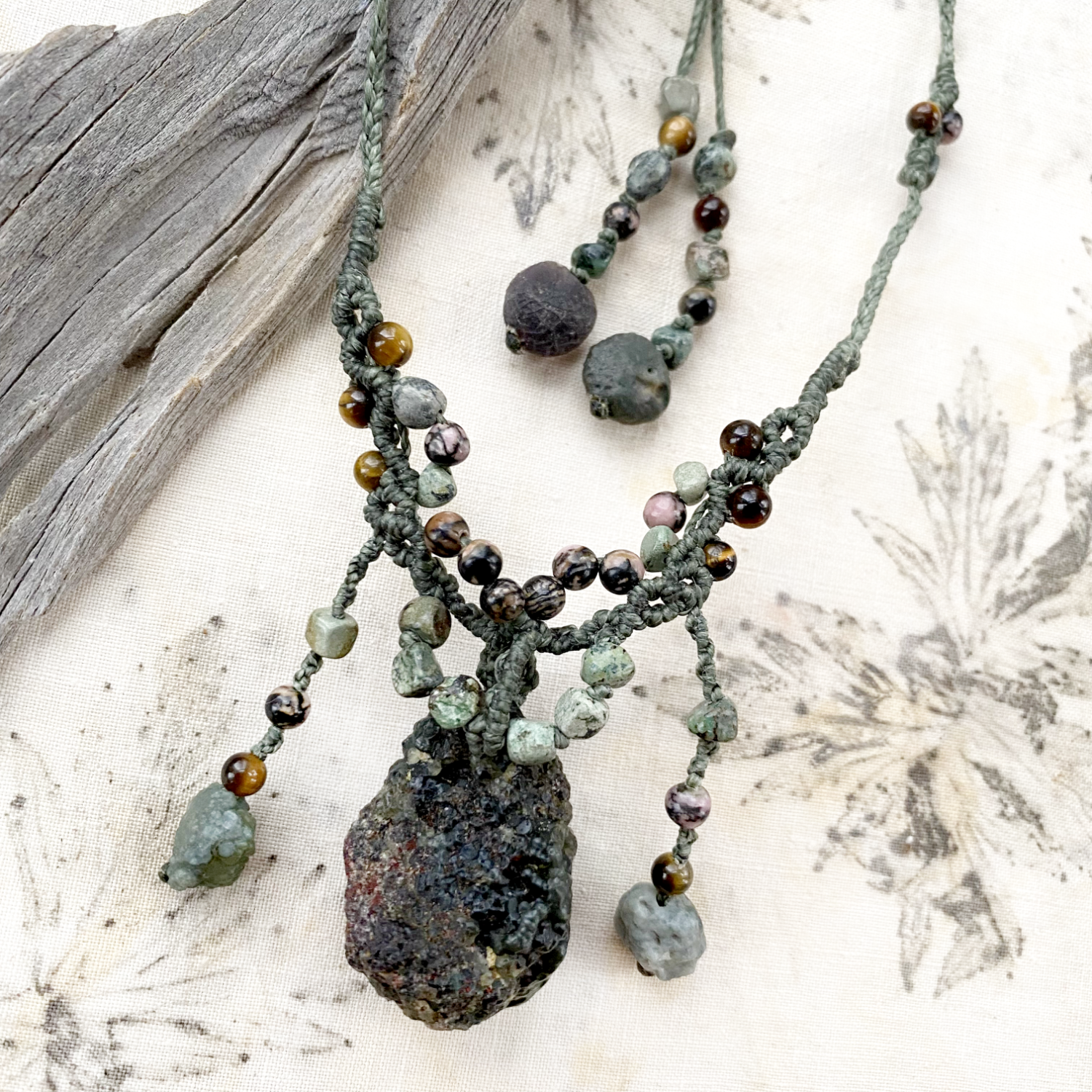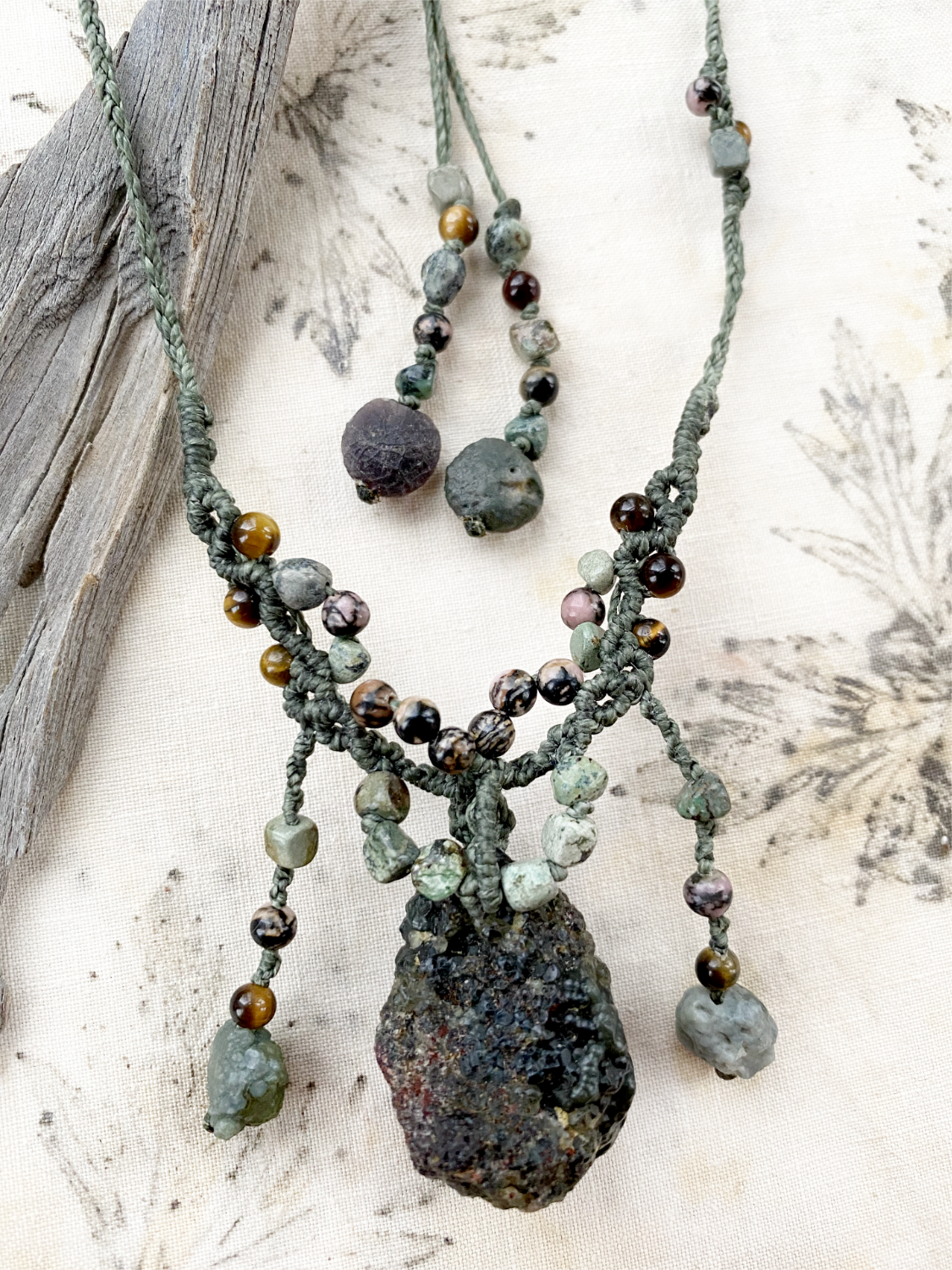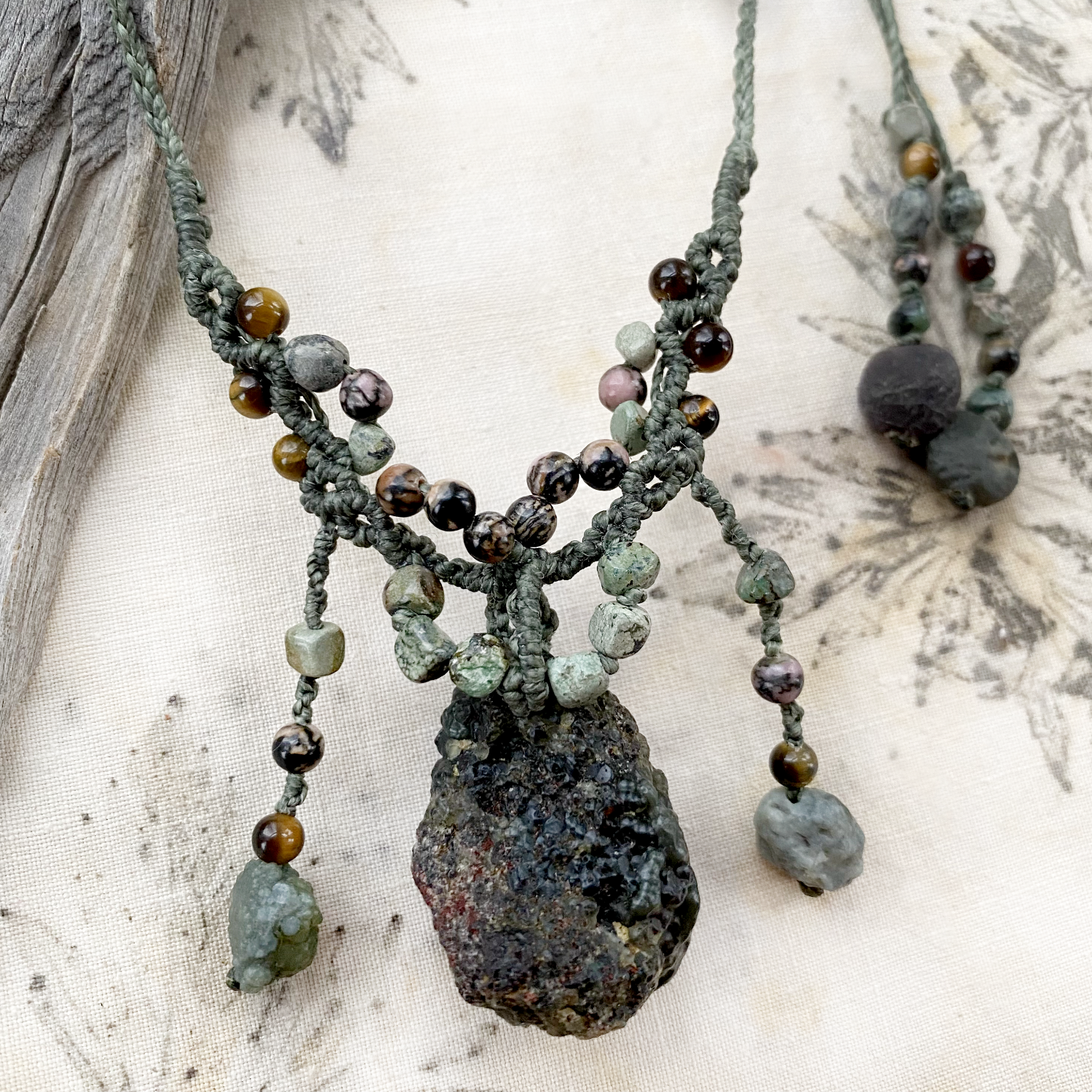 Gobi Desert Agate crystal healing amulet
DESCRIPTION
Rugged and rough, this natural pebble of Gobi Desert Agate is dark in tone with subtle shades of green and red, showing a hidden glow if viewed backlit. The necklace is intricately knotted with dark forest green micro-macrame cord, strong and durable but soft and comfortable to wear. The amulet is highlighted with African Turquoise Jasper, Rhodonite and Tiger Eye crystals. There's a knotted strand dangling on both sides of the main stone, both ending in a smaller rough Gobi Agate pebble. 
The length of the necklace is adjustable from very short down to just above heart level. The Gobi Agate is just over 3 cm (1.2") tall and the knotted strands on both sides extend down approx. 4.5 cm (1.8")
There are no metals in this necklace so would be particularly suitable for those with metal sensitivities / metal allergy, energy workers and those who simply prefer not to wear metal jewellery.
You'll receive this crystal healing necklace in one of Spirit Carrier's fabric draw-string pouches, great for the safe-keeping of the necklace. Gift-wrapped at no extra charge.

Read here how to take care of your crystal jewellery.
CRYSTAL PROPERTIES
GOBI DESERT AGATE
Stone of transformation and resilience. Helps you to remain flexible when facing challenges, and open up to help from higher dimensions. Expands understanding of your life path so that wiser choice are possible. A gentle stone to help you with self-compassion and to restore your inner balance.

RHODONITE
Known for its capacity to bring emotional healing, releasing blockages in the heart chakra. Balances emotions during chaotic times. Restores calm after emotional upheavals. Beneficial for the harmony of close relationships. A beautiful stone specifically for discovering one's inner gifts and can act as a catalyst for fulfilling one's life purpose. Stone of self-confidence that supports you in trusting your own heart.
AFRICAN TURQUOISE JASPER
Calming and soothing stone that creates a feeling of tranquility and comfort. Encourages personal growth, opening the mind to new ideas and possibilities. Also known as an abundance stone.
TIGER EYE
Powerful stone to connect with one's personal strength. Excellent for attracting prosperity. Highly spiritual energy, useful in understanding any life cycle that one is living through. Helps in seeing through illusions and discerning the truth in any situation. A highly protective stone. Good for strengthening one's boundaries and developing will power and courage.
Recently Viewed