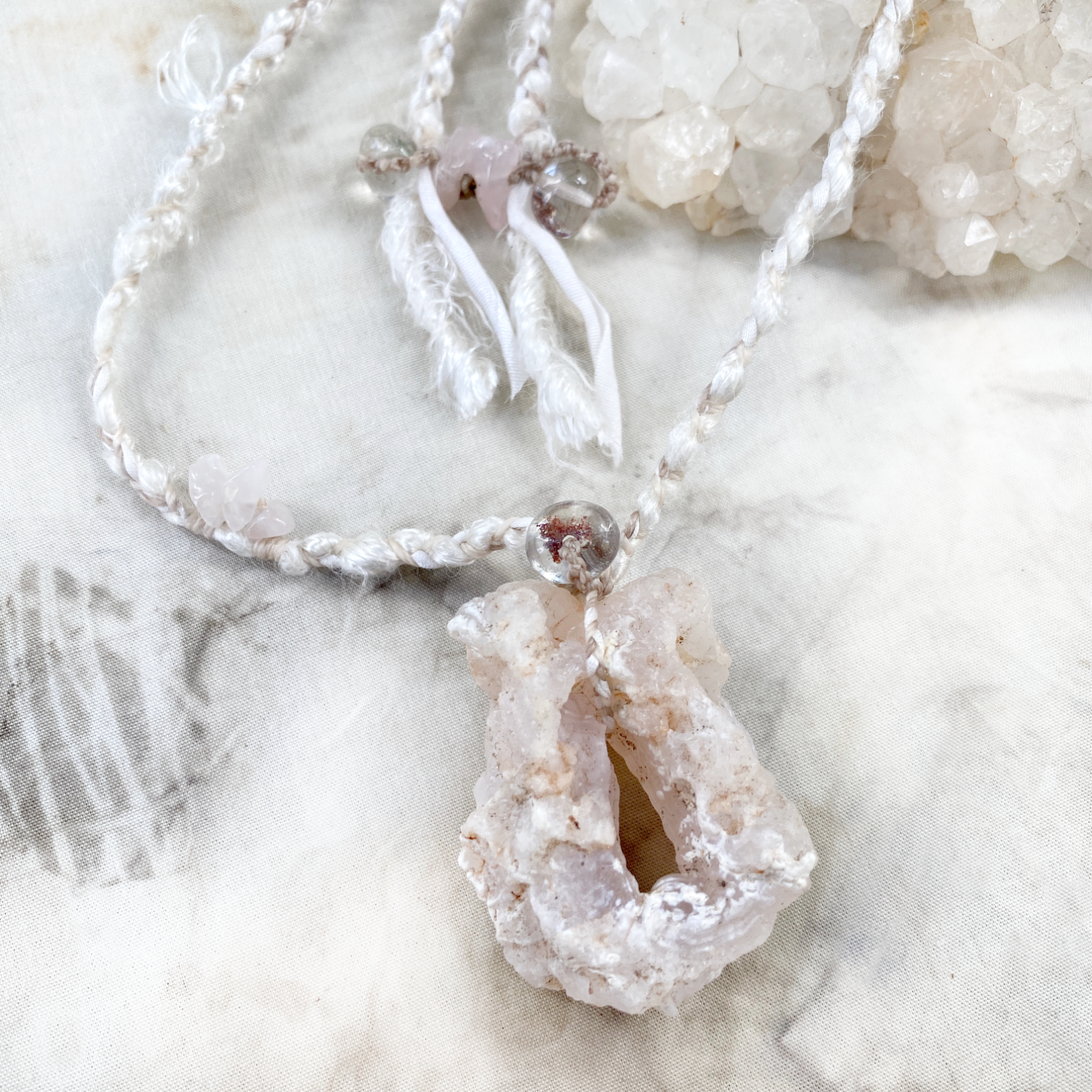 'Goddess Rose' ~ crystal healing talisman
DESCRIPTION
Simply a unique rarity. The gentle strength and pure energy vibe of this subtle pink Chalcedony is unmatched. This stone has a natural hole through which it attaches to a soft silk braid of banana silk and white embroidery silk ribbon. The silk braid is combined with beige tone micro-macrame cord for added strength. The highlighting crystals are Shaman Dream Stone and Rose Quartz which also adorn the ends of the necklace braids. The long braid ends are left open so you can tie the stone to hang at any desired level.
The pink Chalcedony is approx. 4 cm (1.6") tall and 3 cm (1.2") at its widest.
There are no metals in this necklace so would be particularly suitable for those with metal sensitivities, energy workers and those who simply prefer not to wear metal.
You'll receive this crystal healing necklace in one of Spirit Carrier's handmade fabric draw-string pouches - great for the safe-keeping of the necklace. Gift-wrapped at no extra charge.

Read here how to take care of your crystal jewellery.
CRYSTAL PROPERTIES
PINK CHALCEDONY
'Goddess Stone' - gentle, nurturing and reassuring. Assists in releasing effects of shock or trauma, renewing hope. Encourages letting go of the old and moving forward towards the new. Helps to dispel depression, anger and feelings of unworthiness. Empowers those who feel unloved. Builds courage, inner strength and self-confidence. Supportive in matters of communication, persuasion and learning new skills. Helps in attracting lucky changes when needed, particularly in the field of finances.
SHAMAN DREAM STONE (aka Lodolite, Garden Quartz)
Associated with the crown chakra, enhances one's sensitivity to invisible energies, helps in manifesting one's desires, brings harmony to one's aura, emanates strong yet gentle healing energies. Harmonises the higher vibrational energies of the aura and the light body. Gazing into this stone is said to bring about a cosmic shift of consciousness.
ROSE QUARTZ
Powerful love stone, love that is all-encompassing and unconditional. Awakens one's heart to its own innate love, compassion and acceptance. Vibrates its loving energy to all chakras, offering gentle healing. Soothing and calming. Dissolves anger and resentment. Good for raising one's self-esteem and feelings of self-worth. Balances emotions and is said to support all types of healing. Guides one's life path towards a sense of personal fulfilment and contentment.
Recently Viewed