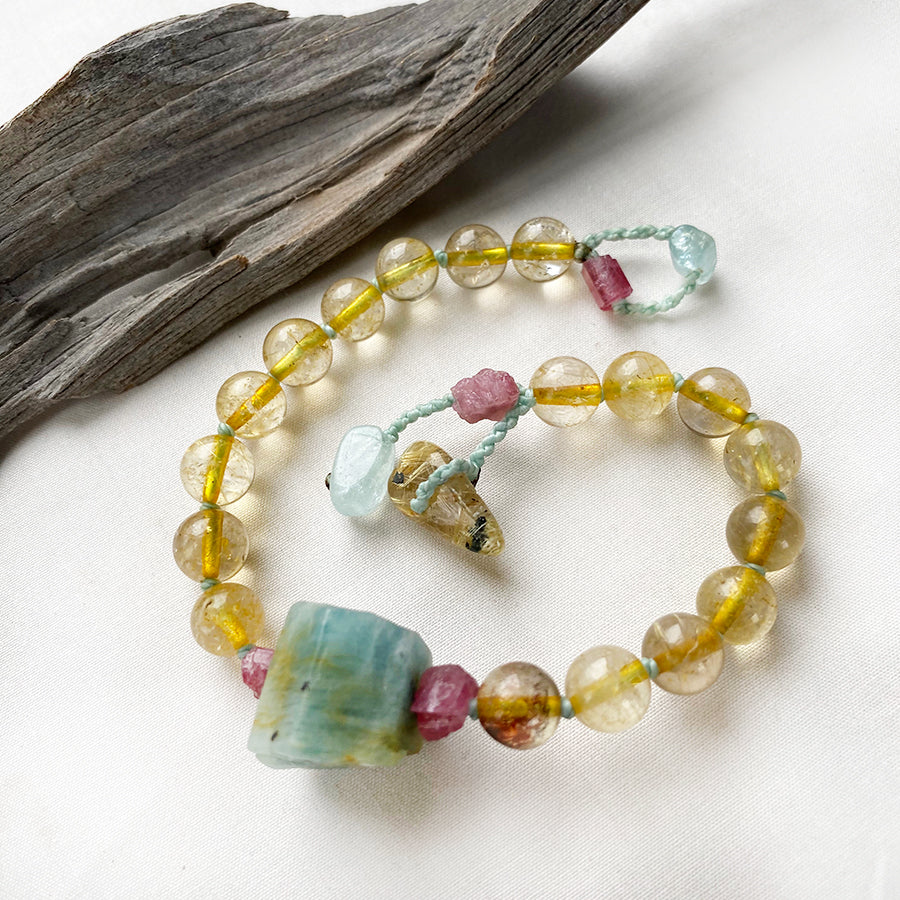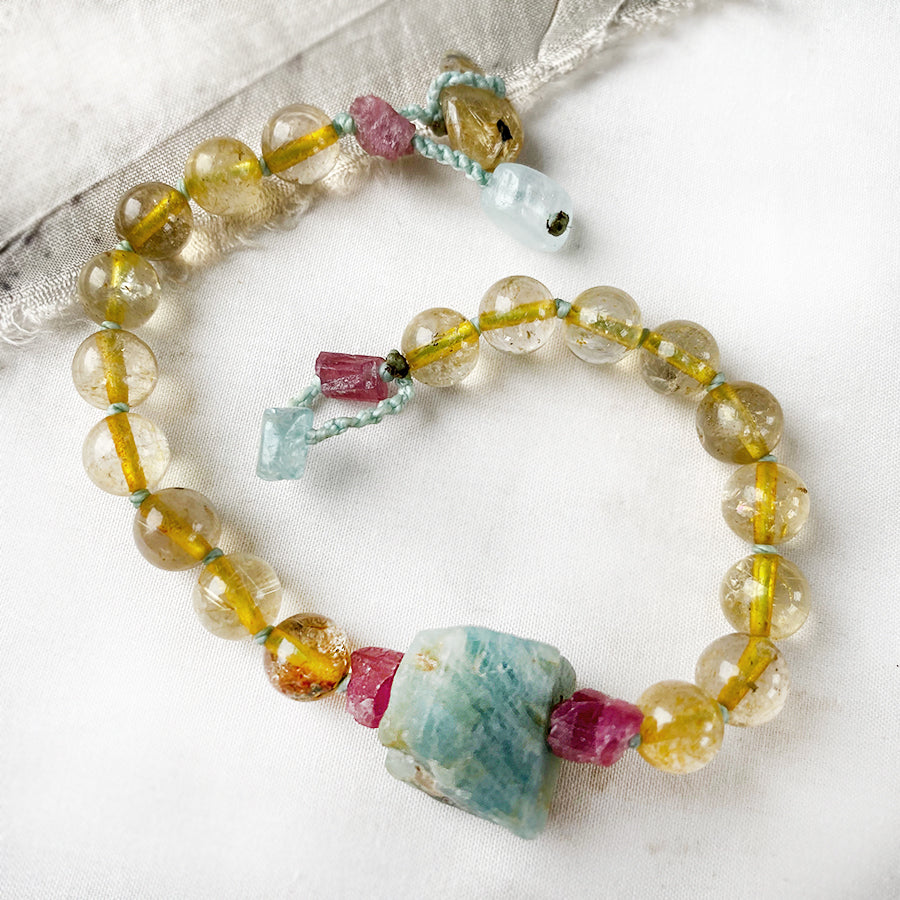 Gold Rutile Quartz mala bracelet ~ for wrist size up to 7.5"
DESCRIPTION
Meditation mala bracelet in bright colourful tones, with 18 Gold Rutile Quartz counter beads and a divider of rough Aquamarine and two raw Rubellite crystals. The two closure toggles are Aquamarine and Gold Rutile Quartz - both can be slipped through the toggle loop in to secure the bracelet close. The counter beads are knotted individually for strength and flexibility, using light blue micro-macrame cord.
This is a handy meditation / mantra aid for times when you'd like something smaller than a full mala. You can still count up to 108 with these bracelet beads - or in multiples of 27 if you prefer. Simply count back and forth over the divider as many rounds as needed. Use the toggle crystal as the guru bead.
Whilst the total length of this bracelet, including the toggle, is 21 cm (8.3") it would make a good fit for up to a 7.5" wrist circumference, although if you prefer a more loose fit, this is fine for a smaller wrist too (loose fit can be slipped on without opening the toggle closure). The counter bead diameter is 0.8 cm (0.3").
This mala comes in one of Spirit Carrier's handmade, lined fabric pouches for safe-keeping. If you would rather have a leather pouch, please leave a note in the form field to let me know when you purchase.

Gift-wrapped at no extra charge.

Read more about Spirit Carrier mala beads
CRYSTAL PROPERTIES
GOLD RUTILE QUARTZ
A master assistant in self-discovery, a companion in finding one's inner truth, purpose and destiny. Joyful and energising. Thought to offer protection against psychic attacks and helps in opening up to one's Divine strength. Assists in activating one's creativity and manifesting dreams into reality.
RUBELLITE (aka Pink Tourmaline)
Considered a rare, valuable crystal, Rubellite (pink Tourmaline) stimulates the heart chakra and life-force energy. A stone of quiet authority, instilling peaceful vibes in the midst of disputes. Harmonises one's feminine energies and has a nurturing energy. Helps in overcoming fears of lack and supports those who might not feel like belonging in this world to find joy of life.
AQUAMARINE
Connected with the throat chakra, easing verbal self-expression. Helps you communicate your own truth and find your voice. Helps in looking at emotional situations from other perspectives, assists in opening up intuition and to calmly be in the flow of life. Aquamarine also aids in reaching deep meditative states. Resonates with the energy of the ocean. Stone of courage and protection.
Recently Viewed