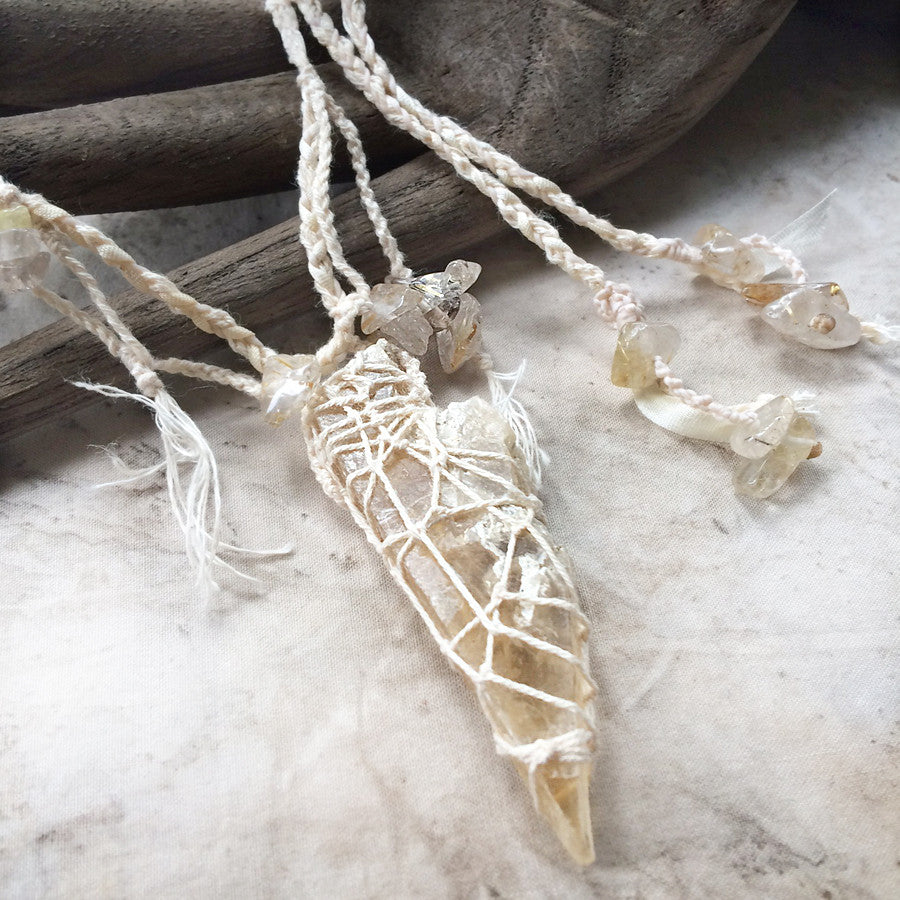 'Light Connector' ~ Angel Wing Selenite crystal healing amulet with Gold Rutile Quartz
DESCRIPTION
Crystal healing amulet with a lovely golden hue Selenite, natural and un-drilled. The netted, un-drilled Selenite attaches to a necklace braid of white silk and unbleached cotton, combined with pale cream tone micro-macrame cord. The highlighting crystals are Gold Rutile Quartz. The long braid ends are also decorated with Gold Rutile Quartz crystals and are left open so you can tie the amulet to hang at any desired level.
The Selenite is approx. 5.5 cm (2.2") tall and 2 cm (0.8") at its widest.
There are no metals in this necklace so would be particularly suitable for those with metal sensitivities, energy workers and those who simply prefer not to wear metal.
You'll receive this crystal healing necklace in one of my handmade fabric draw-string pouches - great for the safe-keeping of the necklace. Gift-wrapped at no extra charge.
Please note: Avoid getting Selenite wet as it will crumble / dissolve in water.
CRYSTAL PROPERTIES
ANGEL WING SELENITE
This crystal of the golden ray often finds you at the time of a great shift in your energy pattern. Relieves anxiety and opens up inner knowing about your life path ahead. Strengthens psychic communication skills and assists in connecting with your spirit guides and the angelic realm. Activates chakras from third eye, through crown to soul star and higher.
GOLD RUTILE QUARTZ
A master assistant in self-discovery, a companion in finding one's inner truth, purpose and destiny. Joyful and energising. Thought to offer protection against psychic attacks and help in healing karmic issues. Gold Rutile Quartz is thought to be helpful in manifesting one's dreams into reality.
Recently Viewed