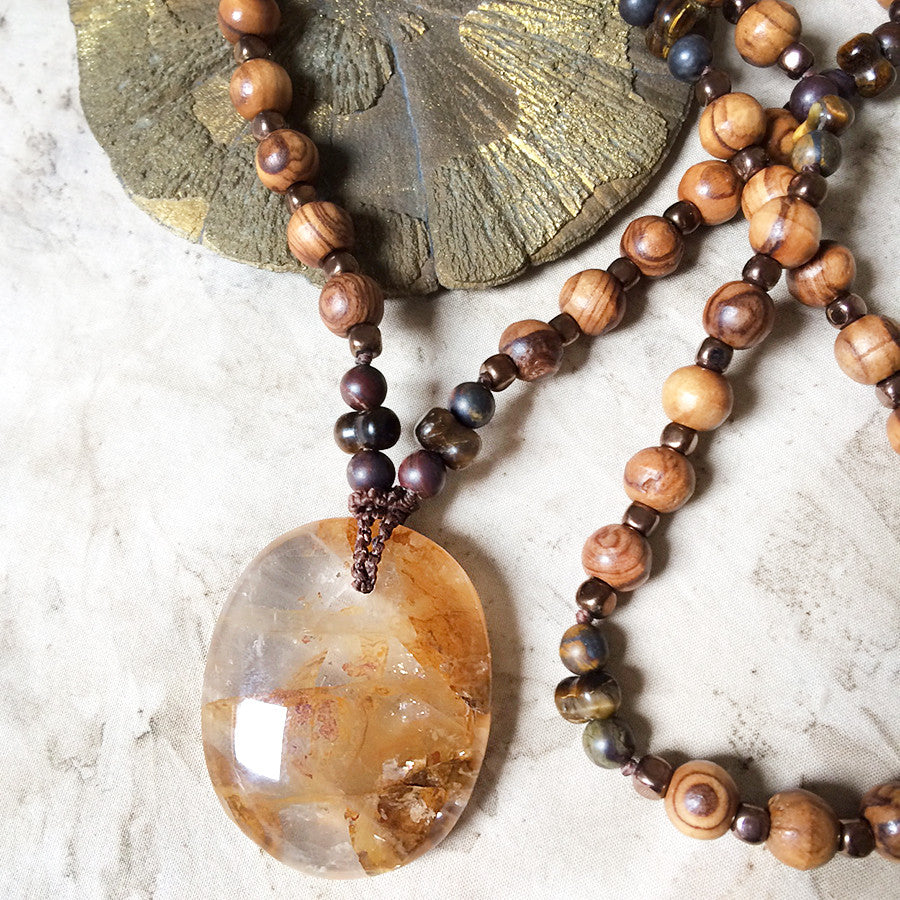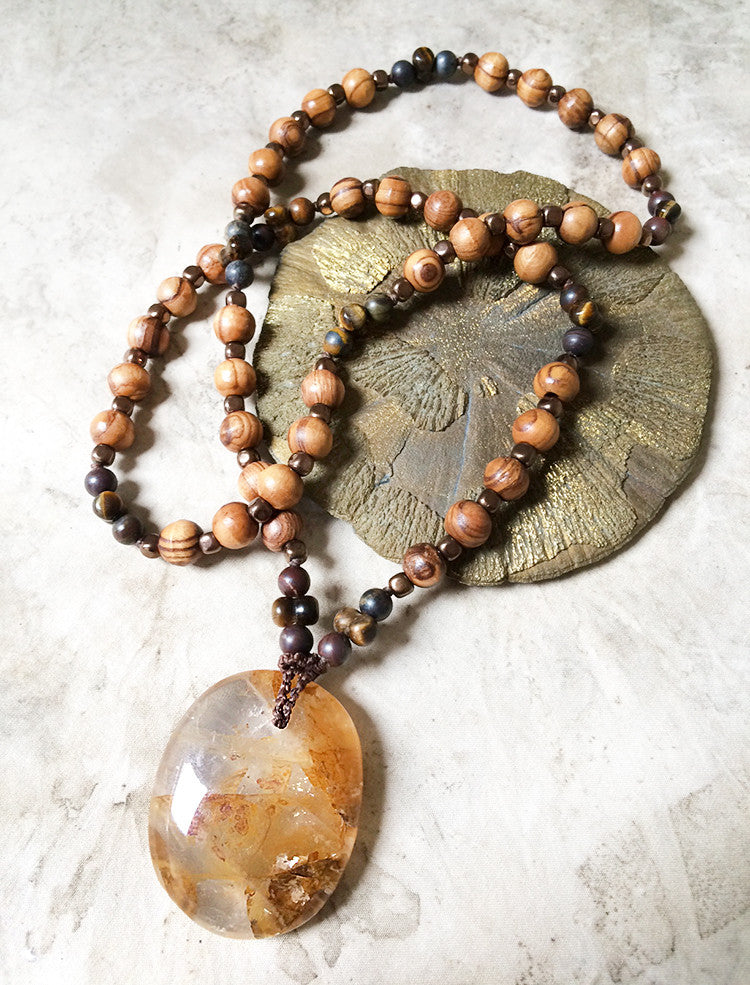 'Golden Healer' Quartz crystal amulet with Hematite, Tiger Eye, Tiger Iron & olive wood
DESCRIPTION
Crystal energy talisman with polished, partly translucent Golden Healer Quartz oval, displaying a lovely golden landscape within. This necklace is beaded with reddish brown olive wood beads, spaced with small copper-plated Hematite beads (dark shiny copper tone) with intermittent highlights of Tiger Eye & Tiger Iron, and knotted with dark brown micro-macrame cord. Copper is a good energy conductor and together with the olive wood creates a warm, energising vibe. Olive wood symbolises peace, abundance and wisdom.
The length of the necklace is set with an all-around length of 66 cm (26")  so it simply slips over your head without the need for a clasp. The Golden Healer Quartz is just over 4 cm (1.6") tall and just over 3 cm (1.2") wide at its middle.
You'll receive this crystal healing necklace in one of my fabric draw-string pouches, great for the safe-keeping of the necklace. Gift-wrapped at no extra charge.
Read here about how to take care of your natural crystal jewellery.
CRYSTAL PROPERTIES
GOLDEN HEALER QUARTZ
Crystal of the Golden Ray, raising one's energy vibration / frequency. Facilitates spiritual communications across distances. A master healer that works multi-dimensionally. Strengthens the third chakra, uniting one's own will with divine will. Promotes a positive outlook on life.
HEMATITE
Creates a strong sense of self and enhances the creative flow. Relieves stress. Revitalises, enhancing personal magnetism and optimism. Helps in releasing self-imposed limitations to find your own unique gifts. A stone of balance and equilibrium. Grounds when feeling scattered, increases alertness and vigilance.
TIGER EYE
A power stone for attracting prosperity. But it has also a highly spiritual energy and is helpful in understanding any life cycle that one is living through. It helps in seeing through illusions, in discerning the truth in any situation. A highly protective as well as grounding stone. Good for strengthening the solar plexus (3rd) chakra.
TIGER IRON
A stone of vitality, confidence and motivation, bringing energy and strength. Beneficial for empaths who may easily feel drained from taking on other people's emotions. A creativity stone that assists in bringing out one's hidden talents.
Recently Viewed