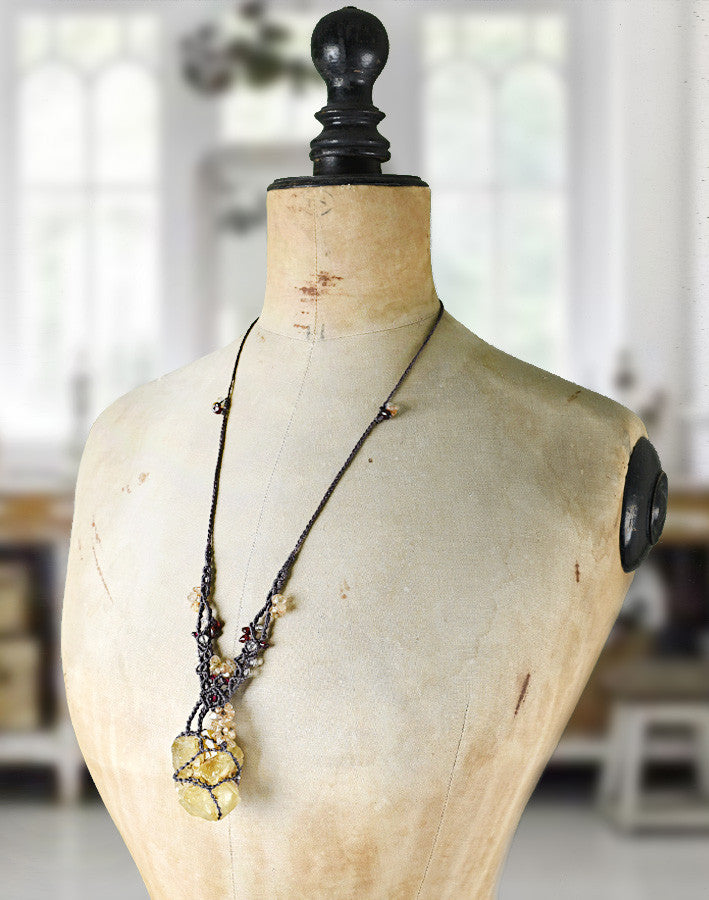 'Golden Insight' ~ Yellow Fluorite crystal amulet with Gold Rutile Quartz & Almandine Garnet
DESCRIPTION
Crystal healing amulet with raw, un-drilled, yellow Fluorite crystal. The necklace is intricately knotted with muted purple micro-macrame cord. The lace-like knotting is highlighted with small Gold Rutile Quartz, Almandine Garnet and clear Quartz crystals. Both sides of the necklace braid are adorned with a small floret of matching crystals too. There is a particularly elaborate and detailed finishing of the adjustable necklace cords, a 'crystal leaf' to adorn your back - particularly lovely when worn with a dress that has a low cut back.
The length of the necklace is adjustable from very short down to just above solar plexus level. The yellow Fluorite is approx. 4.5 cm (1.8") tall, approx. 3 cm (1.2") wide at the middle and just over 2 cm (0.8") thick. Whilst this stone isn't overly big, it is quite weighty. It has a very sculptural feel and its natural the cubic structure well.
There are no metals in this necklace so would be particularly suitable for those with metal sensitivities / metal allergy, energy workers and those who simply prefer not to wear metal jewellery.
You'll receive this crystal healing necklace in one of my fabric draw-string pouches, great for the safe-keeping of the necklace. Gift-wrapped at no extra charge.
CRYSTAL PROPERTIES
YELLOW FLUORITE (also called Golden Fluorite)
Crystal of creativity, unity and intellect. Boosts one's imagination and resourcefulness, as well as aptitude and discernment. Enhances the mindful focus needed to bring one's goals into reality through action and intent. Helps in absorbing new information. Advances the mind to greater mental, psychic and spiritual awareness. Expands creativity and opens up more options to explore.
GOLD RUTILE QUARTZ
A master assistant in self-discovery, a companion in finding one's inner truth, purpose and destiny. Joyful and energising. Thought to offer protection against psychic attacks and help in healing karmic issues. Gold Rutile Quartz is thought to be helpful in manifesting one's dreams into reality.
ALMANDINE GARNET
Stimulates one's life force. Opens the root chakra while drawing earth energy into the body, helping you to feel secure and centred. Awakens the "inner fire" of creativity. Highly protective stone and a great companion to keep you energised. Excellent good fortune and 'success' stone in both social and career ventures, adding positive vibes both in your personal or business life. Stone of purification and cleansing. Symbolises passionate, devoted love.
CLEAR QUARTZ
The universal master crystal that has a harmonising effect on all levels of being. Programmable by intention, so can be used for versatile purposes. Quartz can clear, enhance, amplify, transmute, balance, focus and transmit energy. Raises one's energetic vibration. Attunes its keeper to their higher self. Known as the "Stone of Power" and "Master Healer".
Recently Viewed