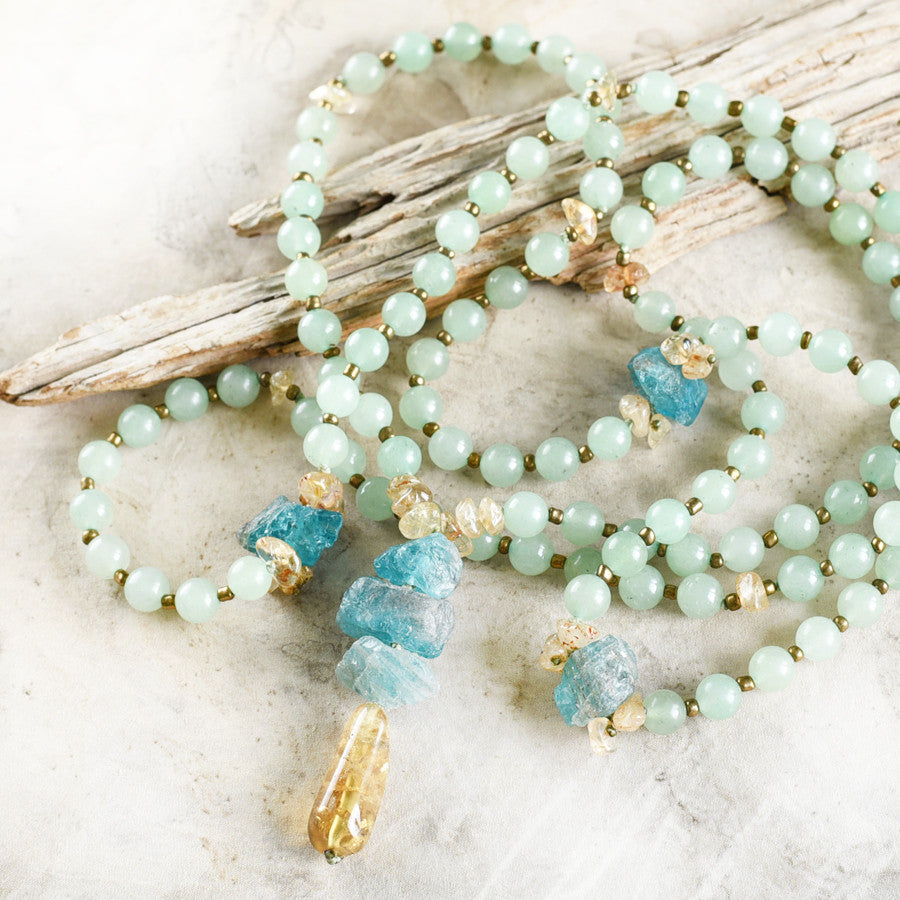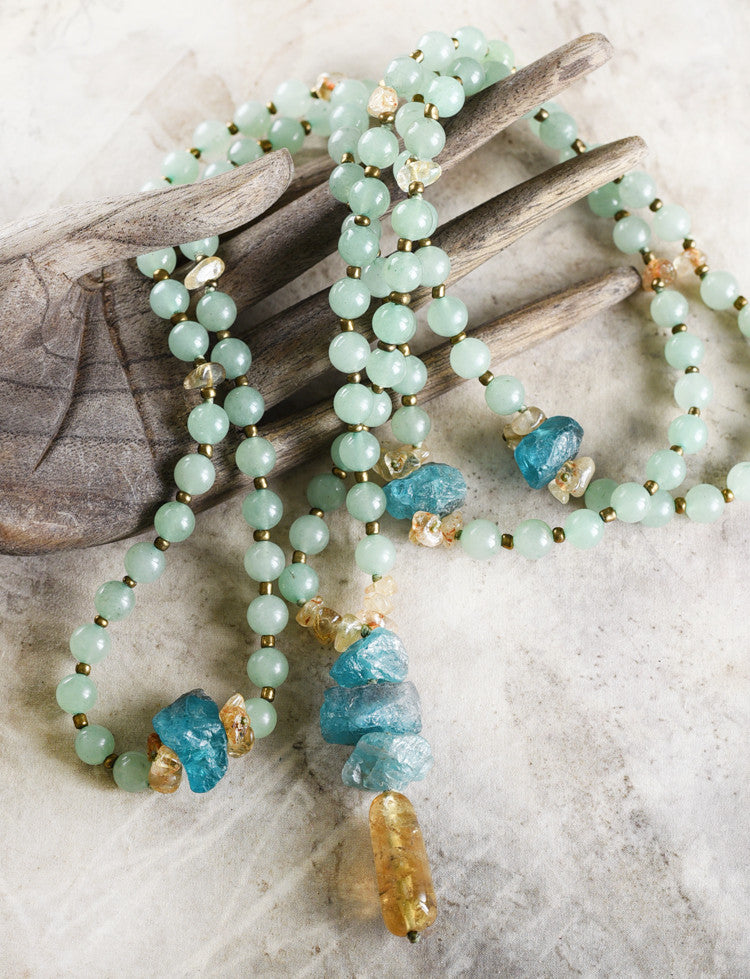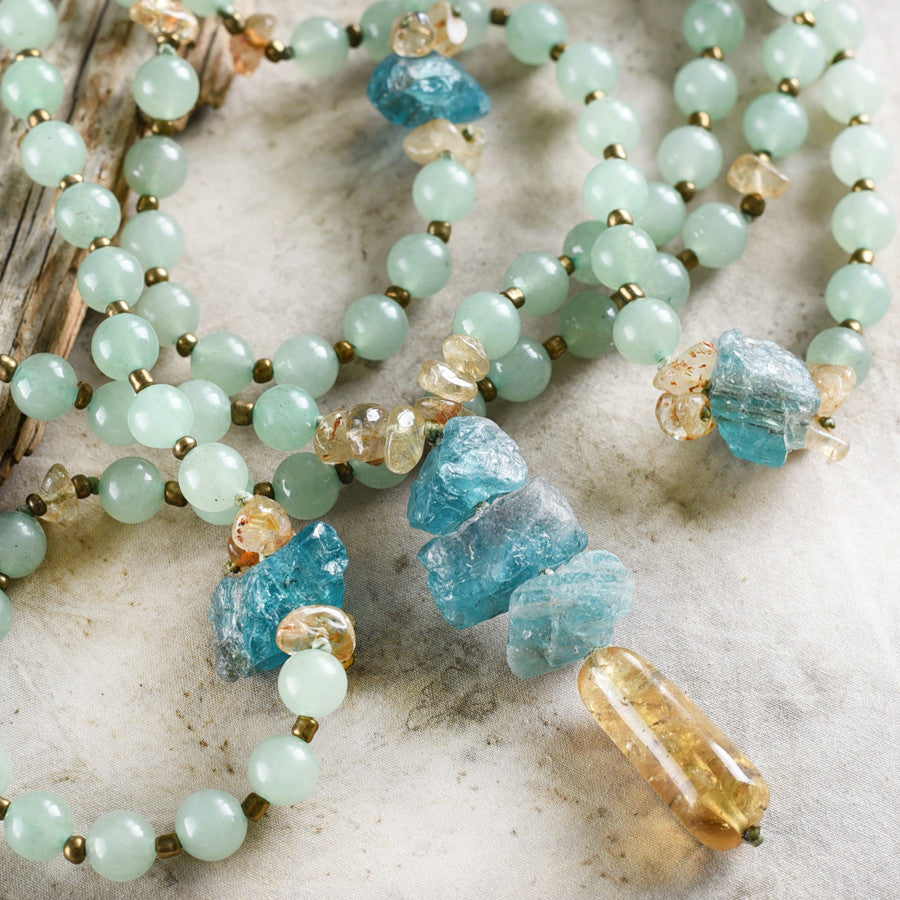 Green Aventurine mala with Apatite, Gold Rutile Quartz & Citrine
DESCRIPTION
One of a kind, contemporary 108 bead meditation mala with Green Aventurine counter beads. The three dividers are a combination of Apatite and Gold Rutile Quartz. The guru bead consists of three rough Apatite crystals and one smooth, natural and un-heated Citrine crystal with a beautiful golden honey hue.
The Aventurine counter beads are spaced with matt golden sheen Balinese ceramic beads in asymmetrical organic shapes. The mala is knotted with light green micro-macrame cord, including a small Gold Rutile Quartz crystal at every nine bead intervals. Whilst this mala is long, it's not too heavy, so would suit wearing wrapped around either longer or shorter. There's a bright, luxurious feel to this unique mala. 
All around length of mala: 127 cm (50")
Counter bead diameter: 0.8 cm (0.3")
The size of the dividers: approx. 2 cm (0.8") at longest measurement 
Length of guru bead combination: 6 cm (2.4")
This mala comes in one of my handmade soft brown leather pouches for safe-keeping. If you would rather have a fabric pouch, please let me know at the time of purchase. 
You'll receive this mala gift-wrapped at no extra charge.
Read more about Spirit Carrier mala beads
CRYSTAL PROPERTIES
GREEN AVENTURINE (also referred to as Adventurine)
Known as 'Stone of Opportunity', considered to be the luckiest of all crystals, especially in manifesting prosperity. The energy of this stone is thought to boost one's chances in every situation. Releases old habits, disadvantageous patterns and disappointments, increasing one's optimism and confidence. Enhances motivation, perseverance and creativity. Helps in embracing change, even with a sense of humour. Also a comforting and harmonious heart healer.
GOLD RUTILE QUARTZ
A master assistant in self-discovery, a companion in finding one's inner truth, purpose and destiny. Joyful and energising. Thought to offer protection against psychic attacks and help in healing karmic issues. Gold Rutile Quartz is thought to be helpful in manifesting one's dreams into reality.
APATITE
Enhances one's insight and imagination, and gives increased self-confidence. Blue Apatite connects to high level of spiritual guidance and is helpful in letting go of anything that no longer serves your highest good. Apatite crystal is also said to be a good aid in curbing one's appetite!
CITRINE
Affects a powerful alignment with the higher self. Balances the emotions and helps in uplifting one's mood to be more sunny and cheerful. Brings clarity of thought, and attracts abundance through joy. Powerful transformer in healing work. Increases self-confidence and optimism, cleanses the surrounding energies and promotes creative thinking. Releases, dissipates and transforms denser energies on all levels, mental, emotional and physical. Works to release limitations and blockages particularly around the sacral / solar plexus area.
Recently Viewed