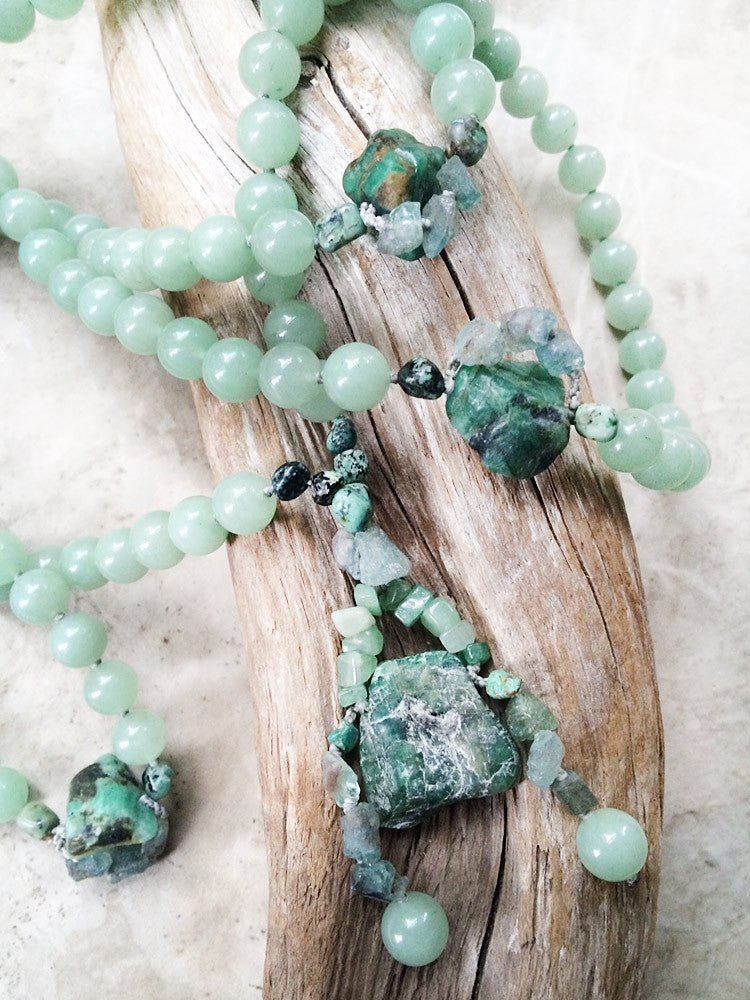 Green Aventurine mala with Emerald, Apatite & African Turquoise Jasper
DESCRIPTION
One of a kind, contemporary 108 bead meditation mala with green Aventurine counter beads. The three dividers are a combination of Emerald, Apatite and African Turquoise Jasper. The guru bead also consists of African Turquoise Jasper, Apatite, Emerald and green Aventurine. This is an amazing Heart chakra mala, enveloping you in universal love and abundance!
Each counter bead is meticulously knotted by hand - one by one, for durability and ease of handling - using light grey micro-macrame cord.
All around length of mala: 134 cm (52.5")
Counter bead diameter: 1 cm (0.4") 
The width of the divider combination: approx. 2.5 cm (1") 
Length of guru bead combination: 7 cm (2.75")
This mala comes in one of my handmade soft brown leather pouches for safe-keeping (and gift-wrapped for no extra charge). If you would rather have a fabric pouch, please let me know at the time of purchase.
Read more about Spirit Carrier mala beads
CRYSTAL PROPERTIES
GREEN AVENTURINE
Comforts, harmonises and protects the heart. One of the main stones to attract luck, abundance and success. Helps in working through any remaining unresolved emotional issues. Has a soothing energy, and is known as "stone of personal growth".
EMERALD
Stone of love. Opening and nurturing to the heart chakra. Benefits heart-based intuition. Promotes joyous emotions, enhances emotional and spiritual balance. Restores confidence where needed. Brings visionary insight, especially relating to one's vocation and life purpose. In crystal lore, Emerald is the sacred stone of the goddess Venus. It was the symbol of eternal life in ancient Egypt. (Emerald is one of the four 'precious' gemstones, the other three being Ruby, Sapphire & Diamond. Other gemstones are considered 'semi-precious'.)
AFRICAN TURQUOISE JASPER
Calming and soothing stone that creates a feeling of tranquility and comfort. Encourages personal growth, opening the mind to new ideas and possibilities. Also known as an abundance stone.
APATITE
Enhances one's insight and imagination, and gives increased self-confidence. Blue Apatite connects to high level of spiritual guidance and is helpful in letting go of anything that no longer serves your highest good. Apatite crystal is also said to be a good aid in curbing one's appetite!
Recently Viewed