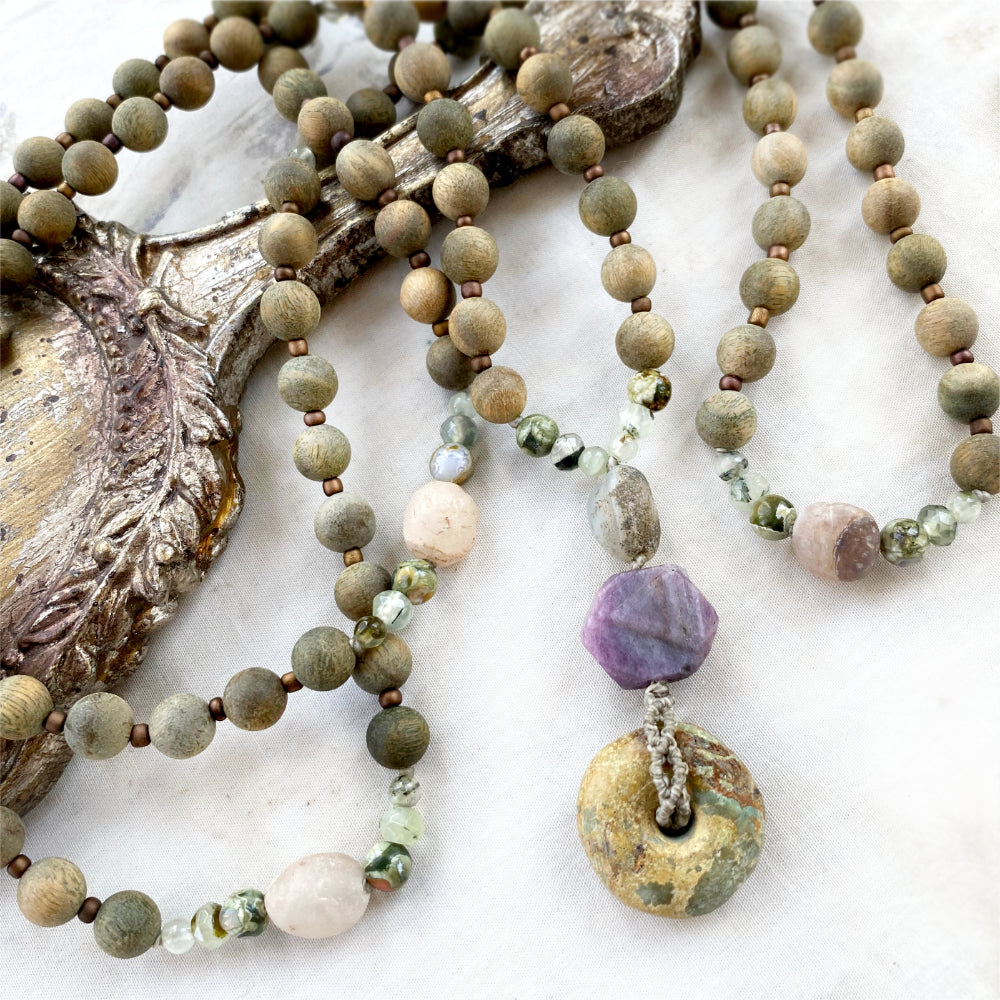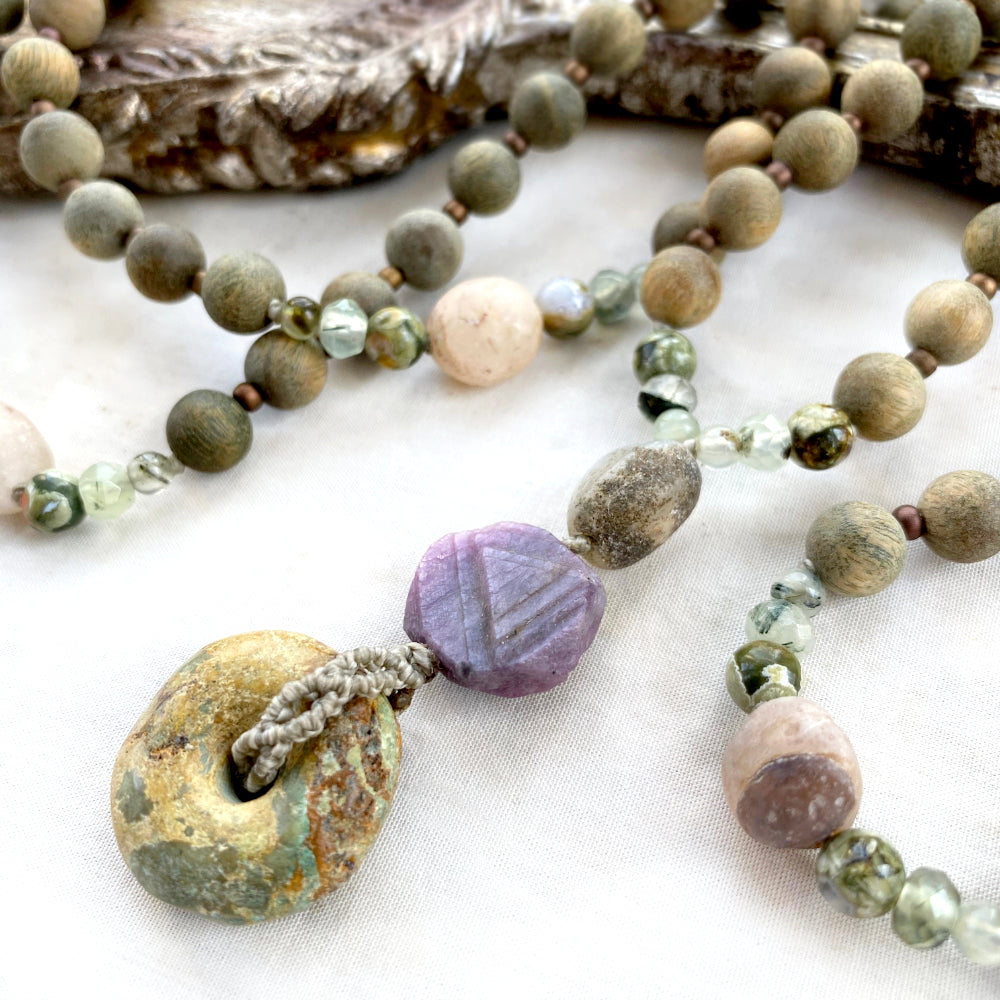 Green sandalwood meditation mala with Gobi Desert Agate, record-keeper Ruby & Turquoise
DESCRIPTION
Full 108-bead meditation mala with green sandalwood counter beads. A wooden mala represents life, growth and renewal, with a strengthened connection to earth. In addition, sandalwood symbolises peace of mind, contentment, safety and trust. It is also associated with helping to make one's wishes true.
The three dividers are a combination of rough Gobi Desert Agate with small Rhyolite and Prehnite crystals. The guru bead consists of Gobi Desert Agate, a wonderful record-keeper Ruby (characterised by raised triangle formation on the stone's surface), and Turquoise.
The wooden counter beads are spaced with small matte brown glass seed beads in asymmetrical organic shapes, and knotted with light grey micro-macrame cord at every nine bead interval around a small Prehnite bead. This mala has a fresh, earthy feel, with the wooden beads softly following the contours of your hand when handled, and would make a beautiful meditation companion for someone who prefers a mala that's very light in weight with soft colours and tactile textures.
All around length of mala: 130 cm (51")
Counter bead diameter: 0.8 cm (0.3")
The width of the divider combination: approx. 4 cm (1.6")
Length of guru bead combination: 5.5 cm (2.2")
Please note that Spirit Carrier malas come usually in three sizes, determined by the diameter of the main counter beads - either 8 mm, 10 mm or 12 mm. This mala is the smallest size with 8 mm counter bead diameter (particularly suited for wearing as a necklace due to being lighter in weight and shorter in length than the larger meditation malas).
This mala comes in one of Spirit Carrier's handmade cork fabric pouches for safe-keeping. If you would rather have a leather pouch, please let me know at the time of purchase.

You'll receive this mala gift-wrapped at no extra charge.
CRYSTAL PROPERTIES
RUBY
Increases vitality and one's life-force energy, Very energising, excellent for women. Promotes clear mind, motivation and concentration. Associated with love, passionate commitment and heart-based closeness, offering help in shedding past hurts. Encourages you to 'follow your bliss' and have courageous attitude. Supports closeness and commitment. Shielding crystal to keep your energy field in your own command. 
RECORD-KEEPER CRYSTALS: Characterised by the appearance of raised or sunken "record-keeper" triangles on the faces of the crystal. Activate dormant intuitive abilities and enhance one's psychic skills. Can be used to access the knowledge and wisdom of ancient civilizations from Akashic Records.
TURQUOISE
Turquoise is a strengthening and purifying stone. It fosters honest and clear communication from the heart. Aligns all of the chakras; and can be used to cleanse your energy centres. Balancing stone for the mood and emotions. Promotes self-realisation and aids creative problem-solving.
GOBI DESERT AGATE
Stone of transformation and resilience. Helps you to remain flexible when facing challenges, and open up to help from higher dimensions. Expands understanding of your life path so that wiser choice are possible. A gentle stone to help you with self-compassion and to restore your inner balance.
PREHNITE
Protective on all levels, strengthening one's life force. Fosters a sense of trust in the Universe and helps you protect your boundaries so it's easier to say "no" when needed. Stimulates inner knowing of oneself and guides in fulfilling one's potential. Helps to let go of unpleasant memories. Enhances spiritual "knowing". Revitalising and said to bring inner peace. Also said to be "a healer's healer".
RHYOLITE
Balancing stone on all levels, alleviating anxiety and worries. Builds emotional strength in view of fulfilling ones dreams and goals. Shifts energy towards moving forward, assists in visualising desired change. Ignites creativity, helping to make things happen in one's life and to tap into one's innate abilities. Also thought to help its keeper to look and feel younger!
Recently Viewed